Walking across the campus of a big Midwestern university, I hear drumming. The drumline from the school's marching band is practicing outdoors, with a very loud metronome. Big speakers blast out the regular electric beats — quite a lot louder than twenty drummers drumming. These beats sound like gunshots.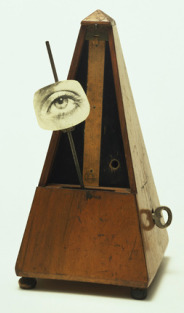 The music is intricate with a lot of syncopation, and these kids fit it all in, around the clicks. This kind of practicing is not so unusual in college and high school bands. Technology has allowed Maelzel's metronome to roar.
Previously, I've been aware of string quartets that practiced with amplified metronomes, souped-up clickers loud enough to be heard in a full-volume rehearsal. Old metronomes required quieter playing.
I don't believe we know just when musicians started to play through whole passages, or whole pieces, with the metronome running. A few, like Arthur Schnabel, lined up the metronome's ticking with off-beats, or inner parts of beats, in the music being practiced.
In a 1948 essay, Arnold Schoenberg complains of the current style of performing "suppressing all … unnotated changes of tempo." He writes: "Almost everywhere in Europe music is played in a stiff, inflexible metre — not in a tempo, i.e. according to a yardstick of freely measured quantities."
Do we turn ourselves into machines: running on a treadmill at the gym, our hands gripping a game-controller, or practicing over and over with a metronome?