After several master classes at the Ecole Normale de Musique in Paris, given by several of us pianists, a student asked me: "Isn't it all just a matter of opinion?"
And after so many diverging ideas and approaches, strongly expressed, who could blame anyone for asking that question? With so many differences, perhaps opinions just seem like … random thoughts?
I told him what I believe. "In music — or politics, or anything — the 'best' opinions are based on information," I say.
Example 1:
After Herbert Blomstedt conducted Mozart's C-Major Symphony, K. 388, I asked him why there's no minuet in the piece. Mozart scratched it out in his manuscript, Blomstedt says. "Why did he do that," I persist. "No minuet is necessary or possible," Blomstedt opines, "it's Italian opera overture music…"
Example 2:
A prominent pianist is talking about his own changing way of playing Beethoven's Fourth Concerto — different at each performance, he says. I ask him if Beethoven's many elaborate annotations in a copy of the piece, documented by Barry Cooper, have any bearing on what he does, in these varying performances of his.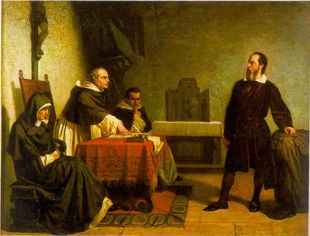 Cristiano Banti: Galileo Facing the Inquisition
My colleague falls silent. I speculate on what such early recordings of the concerto as Wilhelm Furtwängler's with Conrad Hansen, with its considerable tempo modifications within movements, may show us about the flexibility of earlier performance practice in this music? Silence.
We would be terrified of a surgeon who made incisions according to his whims. "Let's try here…" Should we tolerate that in music?