The simplest things can be the most telling. A very small, simple bit of music reveals everything about a player's technique, sound — dare I say, soul?
Consider the two-note slur: a group of two notes, frequently a descending step, connected, bound, by a legato phrasing tie (slur). A very basic building block, frequently realized very poorly, even by celebrated, professional executants.
Classical musicians often strongly desire to perform music that is physically hard to play, a virtuoso challenge. Conductors perform Mahler. Pianists are attracted to the intricacies of Ravel. It may be excellent music — and then there's that opportunity to adroitly cue the third horn!
Haydn's piano music might be rejected by some of the young virtuosos in my school because it's too easy. In the conservatory's series of performances of Haydn's "complete" piano sonatas, I have felt that some performers regarded this material as beneath them. And it's a paradox: It's too easy for them — and far too difficult too!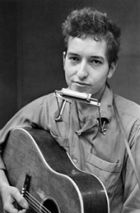 In the pop world, it may be different. Is Bob Dylan admired for his virtuoso "chops"? Among some rockers and rock critics, there's a focus on something like "truth" or communicative power that might perplex a lot of classical players. Some classical listeners, teachers, and performers still expect virtuoso pyrotechnics all the time, and feel cheated if they're not there — in a piece, a program, a recording. "Does he have fingers?", we ask.
Some have extolled the value of physical struggle in artistic communication (Edward Said, Roland Barthes). Cornelius Cardew saw it as a matter of politics or social order. Conventional instrumental virtuosity is a bourgeois acquisition — it takes time to develop, and expert advice to cultivate. Money and "leisure" are necessary to get these skills. And speaking of claviers — well, pianos are expensive.
Some, like Alvin Curran, have sought to notate pieces that can be played by many, a manifesto of inclusion. Gebrauchsmusik?


Alvin Curran: Endangered Species