Norwood Pennewell, of the Garth Fagan Company, danced exquisitely in "Prelude," performed at the Nate Holden Center — it's my no. 1 pick.  Now in his 50s, Pennewell's continuing power and delicacy raises the hairs on the back of my neck. It's thrilling to watch.
How glorious to see Pina Bausch's "Kontahkof," captured in both radiant close-up and distant landscape by Wim Wenders' film "Pina," returned to its perfect dance-hall set on the company's tour to BAM. The existence of Wenders' specific, loving eye feels to linger on the company forever more — watching the troupe restored to its perfect-sealed set feels extra magic now, like inspecting a village housed in a snowglobe or a bottled ship with all sails hoisted.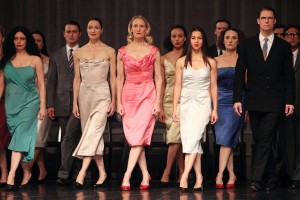 And for youthful dancers, nothing beats watching the young artists in Batsheva, presented by CAP-UCLA at Royce Hall for the company's 50th anniversary. They're so young, yet they inhabit every inch of their bodies. Watching them in Ohad Naharin's "Sadeh21," innocence collides with superior knowing. As my mother would say, "They're trouble." And endlessly riveting.
Best accompaniment for dance performance this year tied for me between Stephin Merritt (Magnetic Fields), whose gratifying, singular tunes provided a blessed conviviality to Rashaun Mitchell's fascinating, feather-light "Performance," presented at REDCAT at Disney Hall. And who knew the impact of watching the Monica Bill Barnes dancers move to the words of a taped interview between Ira Glass and one of the performers? Watching that weird synergy build — at the Long Beach Carpenter Center — was mysteriously effecting.
And for the history books, I am glad to be able to say I saw Ivan Vasiliev dance on the Mikhailovsky Ballet's first tour of the U.S. How long he will be able to carry on the pyrotechnics he displayed in "Flames of Paris" is questionable, but what a freakin' show. Maybe his missile-thighs will carry him for a while — his dramatic plies have the power to propel him to unbelievable heights and swing him low on his landings. Few are so amazing, and lucky.
And lastly, a shout out to local L.A. dance studio owner, Ryan Heffington, whose choreography figures in Sia's "Chandelier" and "Elastic Heart," plus Arcade Fire's "We Exist." A master of storytelling that juxtaposes unexpected emotion,  Heffington was due for tremendous viewership and acclaim, which is coming now in spades. Both of "Chandelier" and "We Exist" are nominated for 2014 Music Videos Grammys.