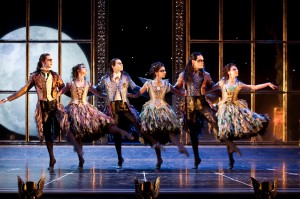 Considered the consummate classical ballet, "The Sleeping Beauty" features devilishly hard technical challenges, with nowhere to hide. Traditional stagings — like Pacific Northwest Ballet's long, rich, drafty one — have pretty vapid storylines. Instead, the audience identifies with the dancers' technical struggles. That's the meaningful, heroic story.
In "Matthew Bourne's Sleeping Beauty" (2012),  which opened in Los Angeles at the Ahmanson Theatre on Thursday night, the visionary Bourne – the world's only living director/choreographer who can fashion original, novel-rich ballet scenarios – upends Tchaikovsky's weak, flowery tale in favor of a lusty quest for priceless virginal blood. I reviewed the piece for the OC Register, which unfortunately hoists a paywall for the first week. Here is a version of it:
As usual, Bourne's confident creative editorial strokes were teased to near-perfection by the conviction of his New Adventures dancer/actors and the shiny brilliance of his longstanding design team: Lez Brotherston (set/costumes), Paule Constable (lighting) and Paul Groothuis (sound design). Unlike Bourne's best works, however, the choreography itself – step by step – doesn't add any extra effervescence to the affair.
Purity is summoned forth from its contrast; here it is an ancient and hereditary darkness that both maintains and devours the fin-de-siècle Royal family. In Bourne's defining invention, the baby Aurora (an expressive puppet) is delivered to the childless king and queen by Carabosse (Adam Maskell), the evil fairy as gargoyle-esque drag giantess. (That plot point finally answers why Carabosse has such a volcanic eruption, cursing the baby with a pinprick-death, when she's overlooked.)
Slides narrate these facts. There is no public christening scene here, just an unspooling of guest visitations into the baby's cloaked chambers, a pitched battle to cease and restore the princess' potential.
The forecast for Aurora (Hannah Vassallo) is both more hopeful and overcast here than in any other version. While King Benedict (Edwin Ray) and Queen Eleanor (Daisy May Kemp) are all gentle and luminous (too good to conceive?), Aurora is feisty and strong, yet also indelibly tainted from birth. Coyly rambunctious from the start, by 16 she's dancing barefoot in a fair white dress whose hem is woven through with black embroidery.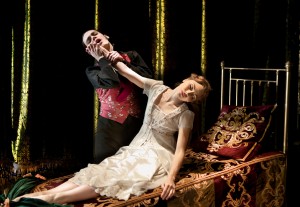 It's fitting that her otherworldly protectors, the dark, nocturnal Lilac Fairy (Christopher Marney) and his associates – Ardor (Kate Lyons), Hibernia (Katy Lowenhoff), Autumnus (Joe Walkling), Feral (Ashley Shaw) and Tantrum (Liam Mower) – are not that innocent either. Can these fairies, and this girl, commingle darkness and light? The question deepens to the point where Carabosse's son, the cold vampire Caradoc (also Maskell), strokes and preps Aurora to be his bride after her true love, vampire-boy Leo (Dominic North), wakes her.
It's an appealing, effortless vibe – chic milieu, nasty villains, imperfect heroes, time travel, blood lust – revealed with well-played details and an edited Tchaikovsky score that (unlike some of his other works) has not yet oversaturated the planet. It's rational, too: Bourne's characters are always responsive to one another; no one dances into the ether. And yet while there are fewer scene changes and pantomimes here than in Bourne's "Swan Lake," the undistinguished movement makes it feel like there is a lot less dancing going on.
Cued by Tchaikovsky's score, "Sleeping Beauty" will always evoke ballet's formal rules and proportions as well as the dastardly technical challenges of the Marius Petipa original. No one is expecting Bourne's dancers to do pointe work, but where are the balances or the escalating turns? (A few fleeting seconds when Aurora is wearing one shoe is the only nod to pointe possibilities.)
The choreography has no discernable leitmotif, and stage design is awkward in Act I because dual conveyer belts (used to transport fairies) consume the back half of the space. The belts are a likely nod to the constant whisper of Petipa's bourée feet, but the action loses flavor immediately and one wishes that upstage corners were available for diagonal patterns. There is some impressive petit allegro by the fairies in Act I, but otherwise the dances are surprisingly unremarkable.
The situation improves in Act II when the belts are gone and the full stage is employable. There's a gorgeous duet between the elegant Lilac Fairy and lumbering Leo that finally evokes a Petipa-esque nobility. Also winning is a vampire dance, held in a modern club, set to Tchaikovsky's Act IV Polacca variation. The slouchy, cool, red-clad vampires slice and swerve inside the neon-darkened room, then grow ecstatic upon Aurora's sparkling white-cloud arrival.
It's so brilliant, really: Who else would love this turn of events – a restored, nubile 100-year-old – more than a vampire? It's as if they'd been ticking off each and every year, waiting for her like a bottle of Château Latour down in the cellar.
'Matthew Bourne's Sleeping Beauty'
Where: Ahmanson Theatre, 135 N. Grand Ave., Los Angeles
When: Though December 1. 8 p.m. Tuesdays-Fridays, 2 and 8 p.m. Saturdays, 1 and 6:30 p.m. Sundays. No performance on Thanksgiving. Additional 2 p.m. show on Nov. 29.
How much: $20-$125
Suitability: Older children (10+) and adults
Tickets: 310-972-4400
Online: centertheatregroup.org