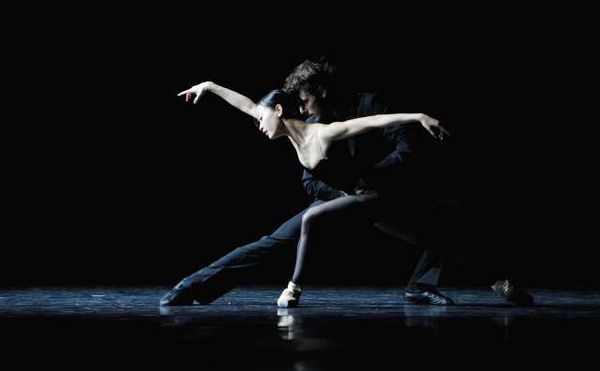 [This ran in the L.A. Times.]
Thirty-plus years after founding La La La Human Steps, Montreal-based choreographer-director Édouard Lock has become a sort of philosopher-king for the fierce and intelligent abstract dance made popular in the 1980s. While other members of that chic choreographic wave (Bill T. Jones, Karole Armitage) have since ventured into explorations of history, narrative and world cultures, Lock, 59, is still ruthlessly focused on the manipulation of human gesture that arose from a revelation he had in his 20s.
"You kind of figure out at some point that movement is about 90% aesthetic and 10% functional," Lock explained by telephone from Vancouver, Canada, on a North American tour that brings his company to the Irvine Barclay Theatre this week. "People hold a cup of coffee in a certain way — not because it's functional but because it says something about them, because they're being observed; they even do it when they're alone."
Lock's signature style — a hybrid of full-bodied classical/contemporary ballet pas de deux whipped off in warp speed, with frequent jarring aerial launches — employs that crazy speed so as to detangle gesture from its expected meaning and build a repetitive fury that rewrites it. Speed is also meant to push his dancers "to the edge of [their] control," Lock explains, to force them to go beyond "a simply charismatic interpretation" of performing that "maintains a wall between the audience and the dancer."
Born in Casablanca to Spanish parents of Jewish descent, Lock immigrated to Montreal when he was 21/2 and was already a 20-year-old literature student when he discovered dance. He picked his memorable company name to indicate his intellectual beliefs about form and creation.
"Language has its merits not so much in the meaning of the words, but in the structure and the way words are placed next to each other and the flow of it," he explained. "I think the same rules apply to dance. And my mother told me that 'la la la' was something that I used to say a lot when I was a kid. So I just used it as a reference to language that has yet to have meaning but is beginning to define its structure."
Lock chose not to title his current work — a piece that takes musical and emotional cues from Purcell's "Dido and Aeneas" and Gluck's "Orpheus and Eurydice." Written by frequent collaborators Gavin Bryars and Blake Hargreaves, and created completely independently from the choreography, the 95-minute minimalist score is performed live by a piano, viola, cello and saxophone (which carries the vocal line). The work takes inspiration from "the sort of fantastical relationship to love that both [plotlines] have," Lock says. "With 'Dido,' love can kill. With 'Orfeo,' love can be so extreme that you delve into death to bring the object of desire back."
Celebrated Mariinsky ballerina Diana Vishneva, who'd sought Lock out to choreograph something for her, was the original artist to develop and tour the piece when it played Europe last year. For this North American leg, however, Vishneva couldn't appear and her role has been split between two company dancers.
After decades watching Lock's relentlessly hard, spooling movement phrases, some critics have begged for more variety, and certain descriptions of "New Work" suggest new variances (more floor work, more stillness). Yet these also may just be a temporary result of the autumnal nature of the piece. Of Dido and Orfeo's stories, Lock says: "They're both very passionate discourses, but they are discourses at the end of a relationship … at the end of things … a subject more real to me now than the endlessly seductive nature of beginnings."