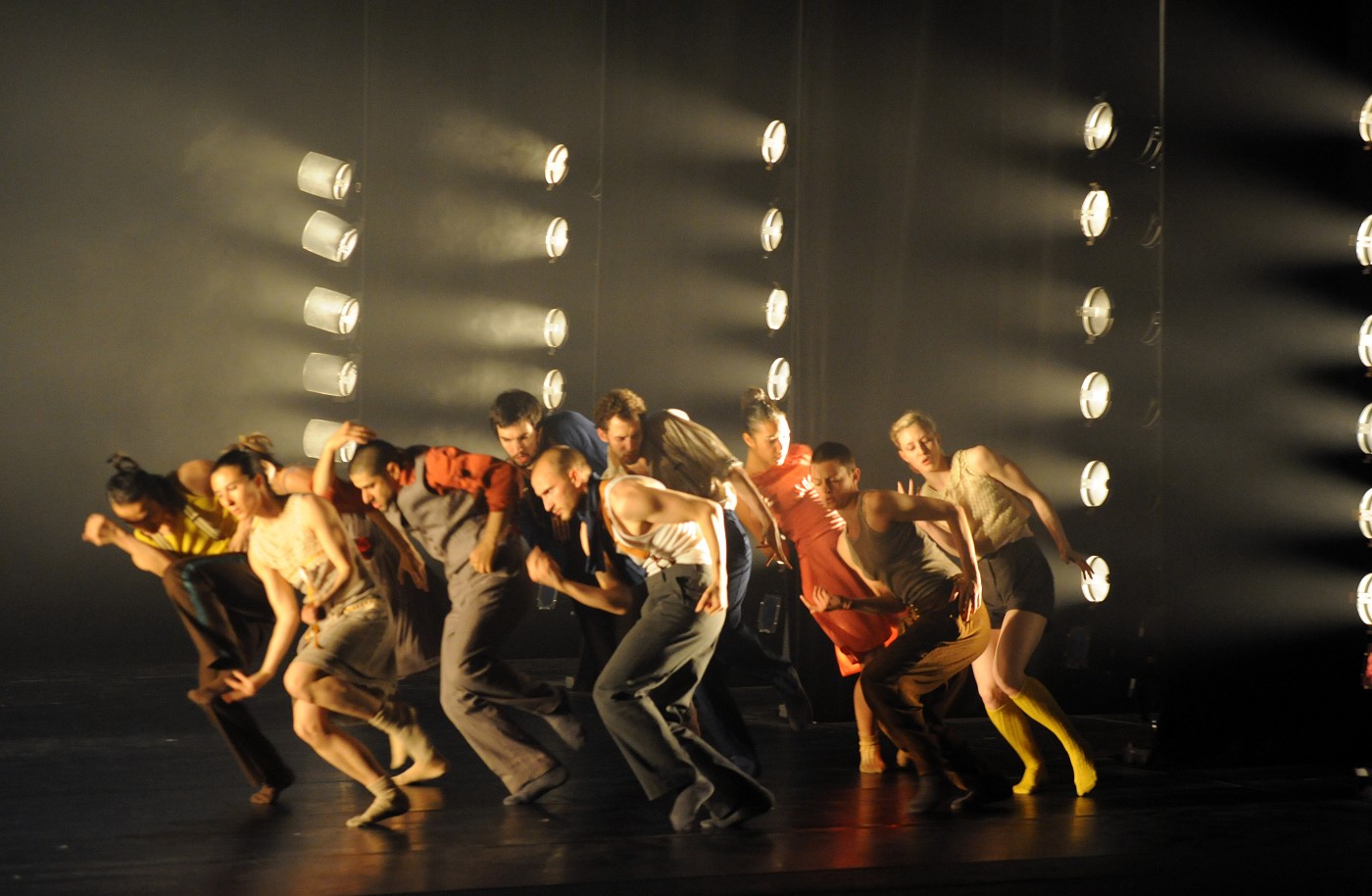 [This piece originally ran in the L.A. Times.]
In a week of dramatic Mideast news, including the release of Sgt. 1st Class Gilad Shalit and the death of deposed Libyan leader Moammar Kadafi, Royce Hall audiences who caught the United States premiere of Israeli-born choreographer/composer Hofesh Shechter's "Political Mother" traveled beyond these headlines into a rigorous theatrical commentary on collective life during 21st century wartime.
Now the only U.S. city to have seen both of Shechter's two international tours (the mixed bill "Uprising/In Your Rooms" played Royce Hall in 2009), Los Angeles is fortunate to bear witness to the arrival of a dance/theater artist with this much commitment and voice. In "Political Mother" (2010), his first full-length piece, Shechter delivers 70 minutes of loud, suffocating musical and theatrical homogeneity in order to indicate the real brutalism that a society bears after years of unrelenting political tension and frustration.
The piece opens with formally poised samurai in stylized armor and sword who suddenly, violently, crashes to the ground in a hara-kiri plunge. A crowd of dancers emerges from a blackout like a storm of tumbleweeds in desert-sand fatigues -– rising, falling, twitching, skipping -– they move continuously but always with semi-collapsed and contracted carriage (is that sword still there?). Shaped by despair, their arms lift skyward but never fully extend; torsos droop or fling back, never stand simply erect; all eye contact or gaze is missing. This absence of complete limb extension or facial gaze weirdly and instantly strips them of all individuality and character. (Is this then what it means to be human? The reaching we do? How and where we fix our eyes?)
Besides their capped postures, these groups are hemmed in by an ingenious sonic barrier – instead of a scrim there is a literal wall-of-sound, composed by Shechter, made manifest. The ground level features a row of militaristic drummers (whose eyes we can see); stacked atop of them, in a second tier, is a row of heavy-metal guitarists flanking a central showman-figure (sometimes a black-suited dictator, sometimes a shrieking rock vocalist).
A second group of dancers emerges, in more colorful clothes, who present more organized, ritualistic Semitic phrases, like Teyve-style shimmying torsos, and legs stepping in single time while fingers tickle the air by their faces. Yet there is no interaction between the two groups, nor any penetration into the area where the musicians play, until the very last moments.
"Political Mother" is not an easy work: The relentless sonic discordance and movement repetition drove a number of folks out of the theater. Much like the stark Japanese Butoh dance tradition, there seems little forward motion within the grim and disfigured expressions at first, yet there is a real integrity and dedication to the chosen stylistic parameters that eventually pays off. When Shechter's beaten tribe finally accumulates a new gesture, and then a new sense of bearing, it is as thrilling and organic and consequential as a genetic leap.