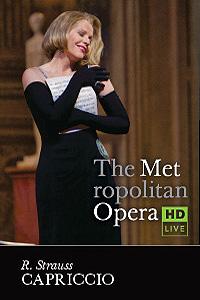 Normally, my single question to you at the end of this post would be posed via Twitter or Facebook. But so many smart classical-music mavens are my Artsjournal neighbors that I thought I might borrow some of your tidewrack readers for just one time.
Recently I saw and heard the Met's production of Richard Strauss's Capriccio, starring Renée Fleming, at a fairly comfortable, stadium-seating multiplex cinema in Suffolk County, Long Island, New York.
The theater was almost full — and I may have been the youngest customer. I was truly happy that so many of my Long Island neighbors would attend the showing of a somewhat undervalued, orphaned work, thought to be talky and, except for the last "moonlight" solo, not sensational diva material.
I loved every thrilling moment. How beautifully conducted, directed, sung! The witty, valedictory plot illuminates the classic battle of "words or music," and although Fleming unfortunately channeled coy Ginger Rogers in Tom, Dick and Harry (filmed in 1941, only a year before the birth of Capriccio), the whole experience was almost faultless. Who cared if, supine on a sofa, the star made ridiculous love to a rose?
Yet, good readers, here's my question. I have no trouble understanding the differences between live and HD-projected opera. Complain about vulgar closeups all you want. Sure, real voice is like real mayonnaise compared to Hellman's in a jar. I know that, and you know that, but when I'm hungry for it, I'll have my mayo any way I can. Both kinds of performance are salted with the same tears.
Here's the thing. I attended this opera movie with a lovely friend, a composer and performer who will travel for hours to hear live anything. You couldn't find better concert company.
When the last note of Strauss was sung, and the strings and horns faded into nothing, she hooted and clapped her enormous approval.
"Brava! Bravo!" as the cast grinned and bowed on the screen. "Bravo! Brava!" The sound of one fan clapping.
No humans were on that stage ledge; the Metropolitan Opera cast was many miles away. No other audience members, save myself, added to my dear friend's highly audible delight. All our dour companions in art stood and filed out, silent.
XXXXXXXXXXXXXXXXXXXXXXXXXXXXXXX
So, is applause for those onstage, for those in the audience around you who may have shared your pleasure, or for yourself?
I will collect and post your responses.