The Jazz Journalists Association announces the 2023 Jazz Heroes — "activists, advocates, altruists, aiders and abettors of jazz," formerly the A Team — emphasizing as it has annually since 2001 that jazz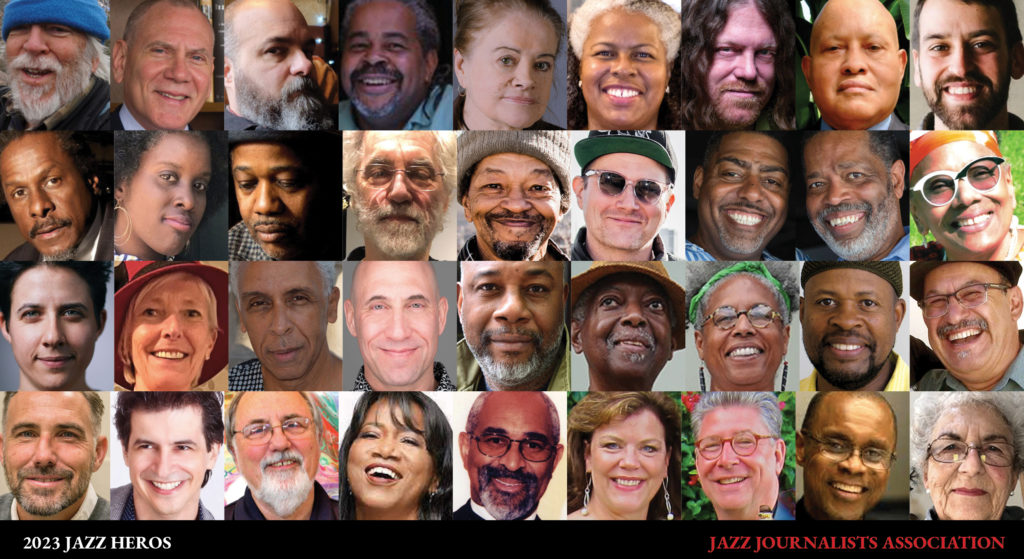 is culture that comes from the ground up, by individuals crossing all demographic categories, working frequently with others and beyond basic job definitions or profit motives to sustain and spread the vital music born in America. This year the JJA (a non-profit professional organization for journalists covering jazz) is honoring 36 such Heroes in 32 US cities. If we had the capacity, we could do twice that number. Indeed, here's the Honor Roll of all "A Team" members and Jazz Heroes since the initiative began.
Personality profiles and portraits of each Hero, written by members of their communities, are posted at JJAJazzAwards.org. Besides being hailed online, which the JJA hopes will interest local media in advancing the human interest elements of stories about neighbors putting themselves out for the sake of creative music, Heroes receive engraved statuettes at events in their localities during the summer.
The Heroes, by city:
Albuquerque – Mark Weber, radio-show host, writer-photographer, record producer
Atlanta – Dr. Gordon Vernick, trumpeter and educator at George State University
Austin – Pedro Moreno, founder of Epistrophy Arts
Baltimore – Eric Kennedy, drummer and pre-K-to-college teacher/mentor
Boston – Carolyn J. Kelley, Jazz All Ways/Jazz Boston
Bronx – Judith Insell, Bronx Arts Ensemble director/programmer, violist
Brooklyn – Andrew Drury, drummer, Continuum Arts & Culture
Chicago — Carlos Flores, Chicago Latin Jazz Festival curator
Cleveland – Gabriel Pollack, Bop Stop, Cleveland Museum of Art
Dallas – Freddie Jones, trumpeter, founder of Trumpets4Kids
Denver – Tenia Nelson, keyboardist-educator, A Gift of Jazz board member
Detroit – Rodney Whitaker, bassist and educator
Hartford – Joe Morris, guitarist/mentor
Indianapolis – Herman "Butch" Slaughter and Kyle Long, preservationists on radio
Los Angeles – LeRoy Downs and Frederick Smith, Jr., Just Jazz media partners
Minneapolis-St. Paul – Janis Lane-Ewart, public radio stalwart
Missoula – Naomi Moon Siegel, trombonist, Lakebottom Sounds
New Hampshire-Vermont Upper Valley – Fred Haas and Sabrina Brown, Interplay Jazz & Arts Camp
Morristown – Gwen Kelley, HotHouse magazine publisher
New Orleans – Luther S. Gray, percussion and parade culture preservationist
New York City – Brice Rosenbloom, Boom Collective producer
Philadelphia – Homer Jackson, Executive Director, Philadelphia Jazz Project
Pittsburgh Gail Austin and Mensah Wali, founders of the Kente Arts Alliance
Portland OR – Yugen Rashad, host at KBOO community radio
San Francisco Bay Area – Jesse "Chuy" Valera, Latin jazz maven, KSCM host
San Juan – Ramon Vázquez, bassist and community organizer
San Jose – Brendan Rawson, Executive Director San Jose Jazz, producer of Ukraine exchange project
Sarasota – Ed Linehan, Sarasota Jazz Club president
Seattle – Eugenie Jones, singer-songwriter, Music for a Cause
Stanford – Fredrick J. Berry, trumpeter-educator, College of San Mateo + Stanford Jazz Orchestra
Washington, D.C. – Charlie Young III, coordinator Instrumental Jazz Studies, Howard Univ.
Wilmington NC – Sandy Evans, North Carolina Jazz Festival, Jazz Lovers newsletter
More information about the campaign, part of the JJA's programs aligning with Jazz Appreciation Month and International Jazz Day, is reported at JJANews.org. One exciting tidbit is that the JJA's 2023 Jazz Heroes were announced on April 6 — 100 years to the day after King Joe Oliver's Creole Jazz Band with Louis Armstrong recorded an early high of jazz development, the classic "Dipper Mouth Blues."
\