I'm inordinately proud of the new JJANews website because it makes easily accessible the videos, podcasts, articles with photos and online-realtime activities of the Jazz Journalists Association, such as lthe March 26 public Book Bash! with authors, editors and publishers, being held on on our unique virtual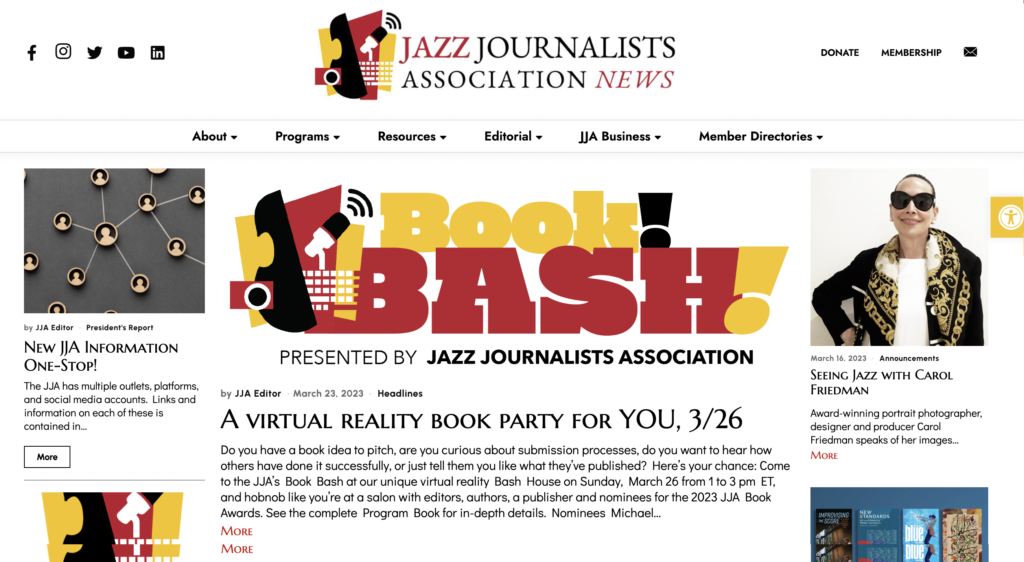 reality SyncSpace.live site — plus background/office assets, in a clear, functional way. Kudos to designer Melanie Nañez. You have to visit the site yourself to see what it really has to offer.
My gratification extends, though, to the range of activities this small although international professional membership organization has initiated to keep jazz media in public discussion. In the past year JJA members have launched a podcastThe Buzz, taking on issues like "White Critic/Black Music" — and Seeing Jazz Photography Master classes, such as one being held Saturday March 26 with Award winning Carol Friedman discussing her selected images, live and interactive, the hour-long program later archived at our YouTube channel. It's held three innovative events at SyncSpace — which allows attendees to have private, personal encounters as well as participate in panels, presentations, live music events and a Screening room full of jazz videos seen no where else.
The JJA has published articles from correspondents in Havana, Vienna, Romania, Bergamo and elsewhere. Its 220-some members post news of their latest accomplishments month, and individually are addressing jazz in all its forms, in every available media, pushing into new areas same as jazz musicians restlessly expand the bounds of what's been considered acceptable in music. Jazz journalists, mostly freelancers, have to be deft, quick, adaptable in the fast-changing media marketplace. And we should not be limited as writers OR broadcasters OR photographers OR videographers, because most of us have learned to do whatever we can to advance our messages about the joys and relevance of music.
So big websites such as JJANews, with its portals to diverse departments themselves rich in content, surely seem like good models for going forward. Sites that feature cross-platform multi-media are sure to outlast those trying to refresh conventions of print newspapers and magazines. True, the JJA as a membership-driven professional organization does not have a viable business model — there's no advertising to sell, few grants to apply for, and its generous sponsors (currently the Joyce and George Wein Foundation, Arkadia Records, the Jazz Foundation of America) are highly prized. But still — this is the way. Look and listen back to history, for guidance as well as pleasure. True direction is forward ho.