Roscoe Mitchell — internationally renown composer, improviser, ensemble leader, winds and reeds virtuoso who has pioneered the use of "little instruments" and dramatic shifts of sonic scale in the course of becoming a "supermusician . . .someone who moves freely in music, but, of course, with a well established background behind . . ."* reveals his equal freedom in another medium in his first exhibition,
"Keeper of the Code: Paintings 1963 -2022," which opened Jan 20 (closing March 23) at the Chicago gallery Corbett vs. Dempsey.
A crowd of avant-gardists was in attendance at a dry but nonetheless spirited two-hour reception, impressed by the vibrancy of Mitchell's nearly three dozen works, mostly on canvas, ranging in size from 4″ x 4″ to 4′ x 4′. Present and past members of the AACM (Association for the Advancement of Creative Musicians, the collective Mitchell helped establish with Muhal Richard Abrams, Anthony Braxton, Amina Claudine Myers, Wadada Leo Smith, Henry Threadgill and others in mid '60s) where there, such as Mwata Bowden, Junius Paul, Mike Reed (of Constellation, the Hungry Brain, Pitchfork, the Chicago Jazz Festival programming committee), Tomeka Reid and Kahil El Zabar — along with colleagues Angel Bat Dawid (clarinetist/pianist/vocalist of International Anthem's The Oracle), cornetist Josh Berman, pianist-synthesist Jim Baker and drummer Michael Zerang.
Aaron Cohen (co-author of Gentleman of Jazz, Ramsey Lewis' autobiography slated for May publication), author-educator Paul Steinbeck (Sound Experiments: The Music of the AACM and Message to Our Folks: The Art Ensemble of Chicago), Chicago Reader writer Bill Meyer, Hot House presenter-producer Marguerite Horberg, keeper-of-the-Fred-Anderson-flame Sharon Castlewitz and
photographer Lauren Deutsch (also former executive director of the Jazz Institute of Chicago) as well as gallerists John Corbett (a prolific author, School of the Art Institute of Chicago professor, past Berlin Jazz Fest artistic director) and Jim Dempsey (formerly of SAIC and the Gene Siskel Film Center), stood listening raptly to Mitchell, amid tables and racks of gongs, hand percussion and horns, poerform with his Sound Ensemble — multi-instrumentalist Scott Robinson and baritone Thomas Buckner — and flutist extraordinaire Robert Dick as a guest.
The music — freely improvised — was hushed, suspenseful, most attentive to timbres, tensions, contrasts, comparisons and interactions of sounds (Sound is the title of Roscoe Mitchell's groundbreaking debut recording). It was not melodically or rhythmically driven, but haunting in its passage.
As mentioned on its website, "Creative music has always been a feature of the gallery's activities. In addition to having its own record label, CvsD is proud to represent Peter Brötzmann and the estate of Sun Ra." Multidisciplinary and cross-displinary aspects of 'creative music' are, of course, principles that date to "Ellington, Armstrong, Matisse and Joyce" (cf. Jazz Modernism, by late Northwestern University professor Alfred Appel Jr.).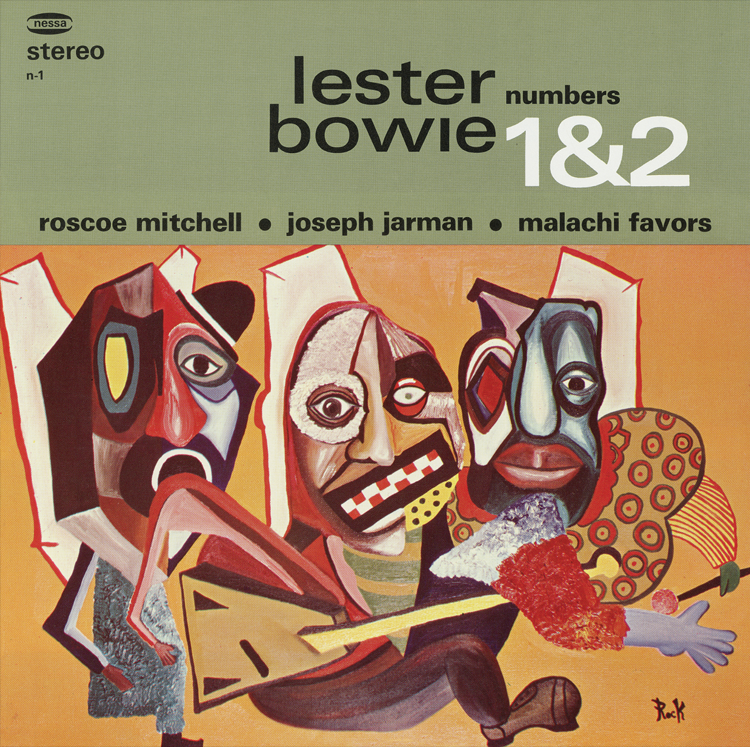 Mitchell, an NEA Jazz Master, United States Artists (Doris Duke Charitable Foundation) awardee, and holder of many other honors, is a Chicago native, now 82. He remembers being entranced by crayons and drawing as a child. His first adult works in the exhibit, vivid and leaning into direct if crude technique, have appeared as album cover art, first in 1967 for Numbers 1 & 2, the debut recorded meeting of Mitchell with trumpeter Lester Bowie (under whose name it was released, due to contractual obligations), reedsman and poet Joseph Jarman and bassist Malachi Favors, all original members of the Art Ensemble of Chicago. Drummer Famadou Don Moyé joined them in 1970, during the band's sojourn in Paris.
But Mitchell deliberately suspended his painting practice in the early '70s in order to concentrate more on music creation. The result is documented on nearly 100 albums with a vast array of collaborators and content — the most recent being The Sixth Decade: From Paris to Paris featuring the Art Ensemble co-led by Moyé (the AEOC's only other surviving founder) with newer enlistees — for instance, Moor Mother.
Upon retiring in 2016 from his position as Darius Milhaud Chair of Composition at Mills College in Oakland, CA and returning to his Wisconsin home, where he had pandemic down-time, Mitchell picked up his brushes agin. The majority of the Corbett v. Dempsey show come from these extremely productive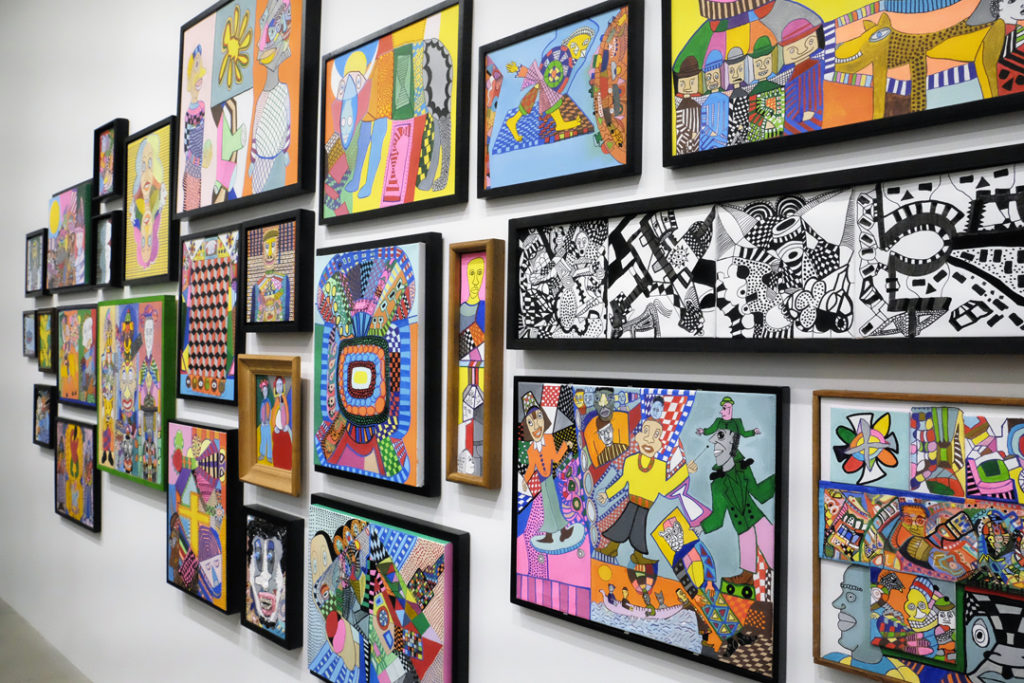 past six years of practice, depicted in the gallery's installation of several videos shot by Wendy Nelson, Mitchell's wife.
Self-taught regarding visual art — though he says he's looked at "everyone," Mitchell's current style demonstrates extraordinary concentration for detail, a fecund imagination, surprising juxtapositions of colors and geometric elements, connections to or suggestions of African art, masks, Chicago's Hairy Who and COBRA groups, local street portraitist Lee Godie, Van Gogh and even Ivan Albright. There's a playfulness, demonstrated for instance by several works that make sense any direction they're hung. African-American themes that emerged from CvD's recent Emilio Cruz exhibit and the Bob Thompson retrospective at University of Chicago's Smart Museum (at which Corbett spoke) contextualize Mitchell's painting, too.
It has not been unusual that AACM musicians or other exploratory instrumentalists have painted: Muhal, Wadada and Braxton all represented themselves visually, as has Ornette Coleman, Marion Brown, Miles Davis, Oliver Lake and oh yes, Pee Wee Russell. But the dry, incisive humor (several paintings can be hung any-side-up), habit of defining parameters then stress-testing them, commitment to and follow-through on unusual ideas, re-sizing of details and main themes, seems uniquely characteristic of this artist, this individual: Roscoe Mitchell.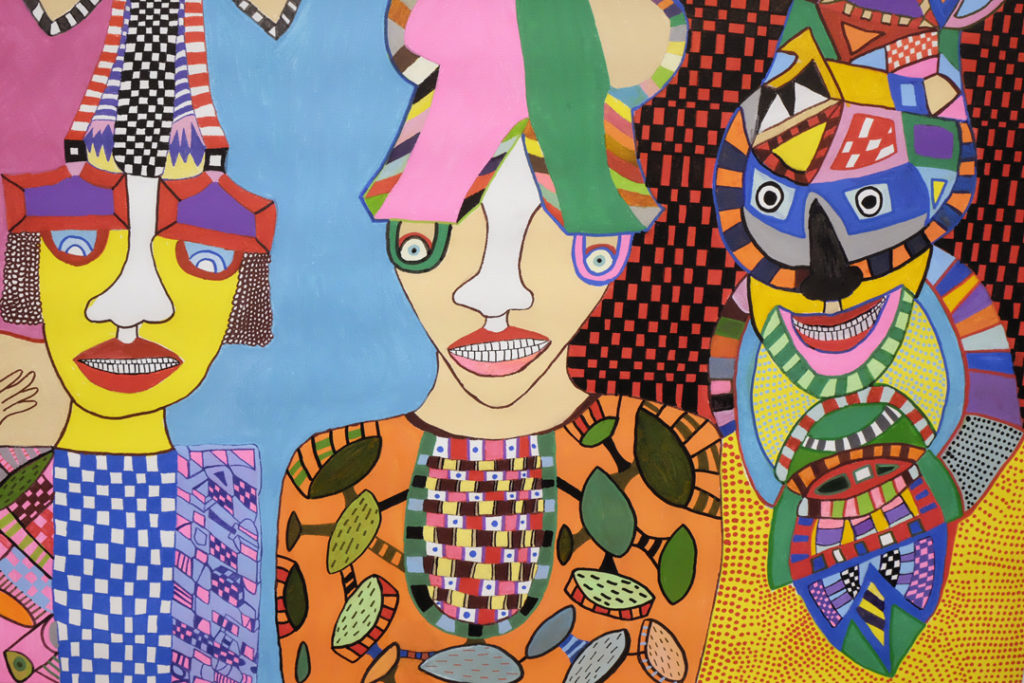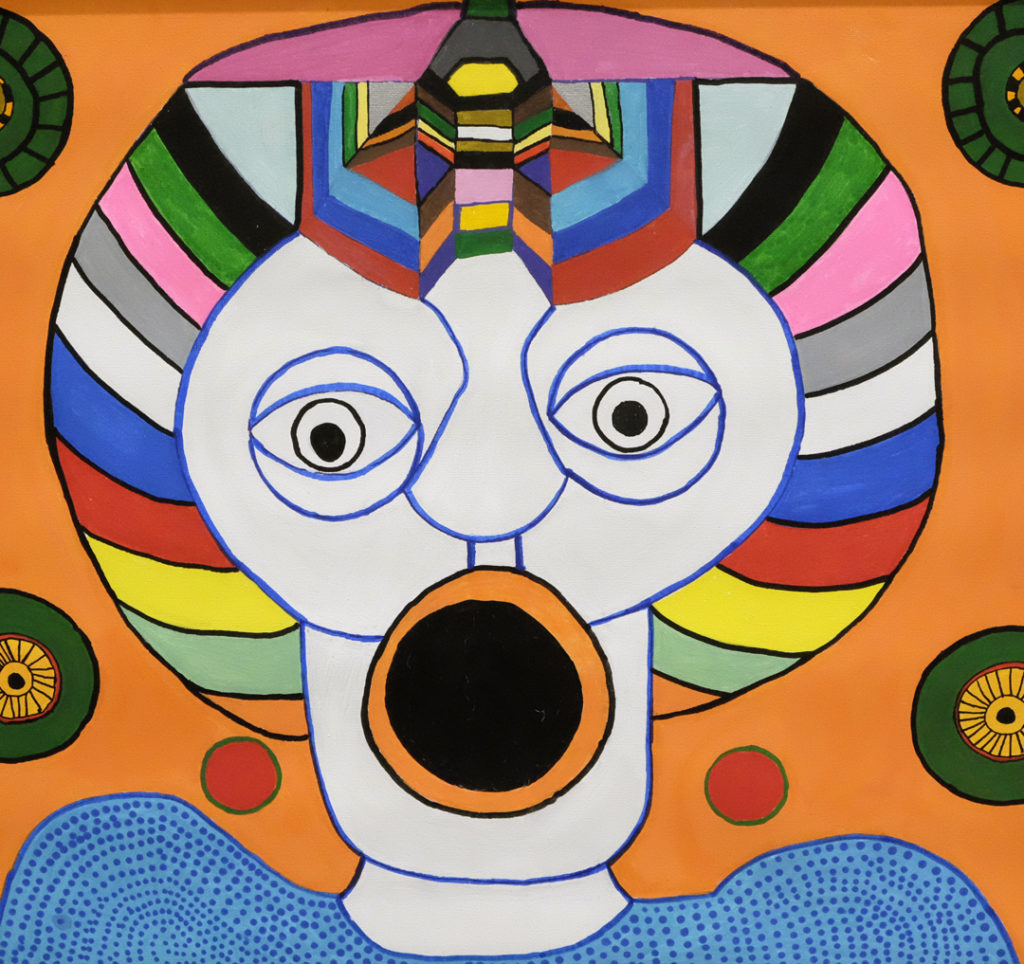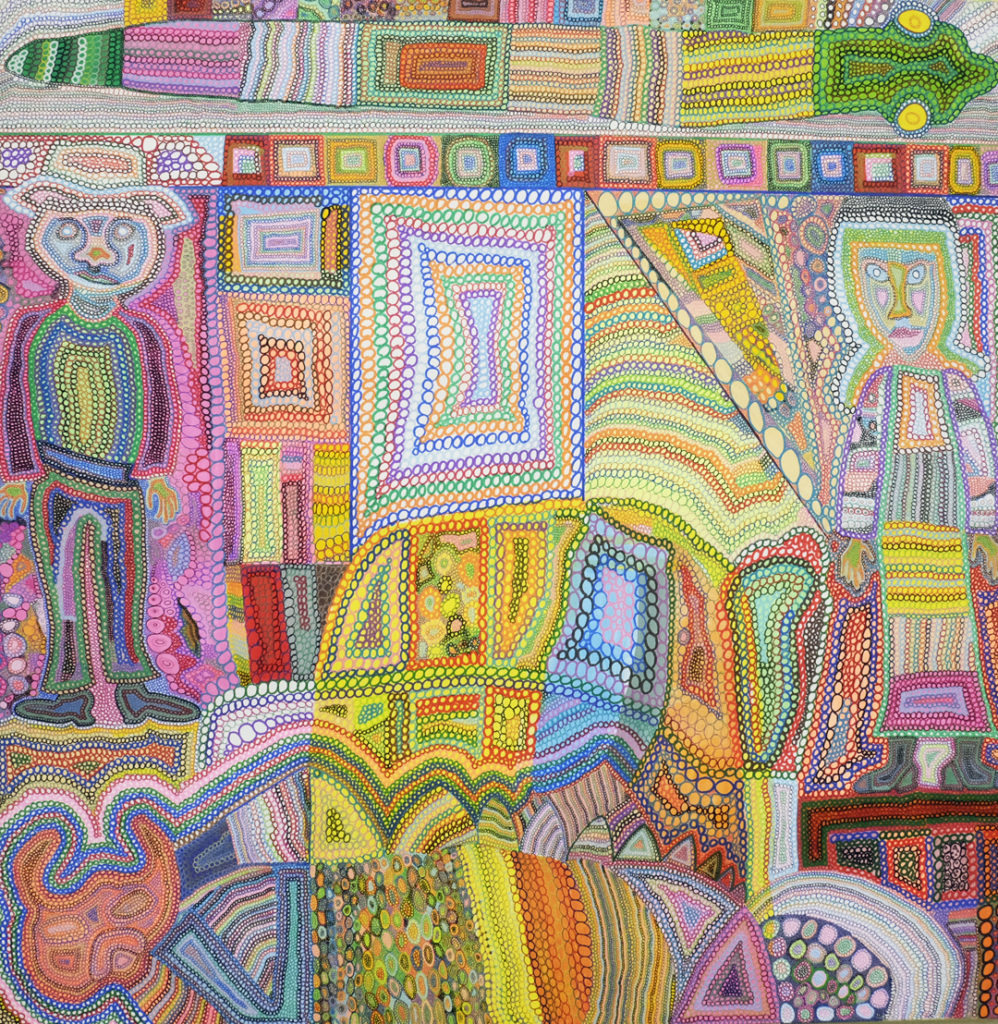 *"I believe that the super musician…this is what I would like to be, you know. The super musician, as close as I can figure it out, is someone that moves freely in music. But, of course, that's with a well established background behind you. The way I see it is everything is evolving. . . . So, the super musician has a big task in front of them because they have to know something about all the music that went down because we are approaching this age of spontaneous composition. And that's what it is. Really good improvisation is spontaneous composition. The thing that you have to do is get yourself to the level where you can do it spontaneously. If you are sitting at home composing, you've got time. You can say, 'Oh, maybe I'll try it this way, or maybe I'll try it that way.' But you want to get yourself to the point to where you can make these decisions spontaneously." — Roscoe Mitchell, "In Search of the Super Musician" by Jack Gold-Molina, January 8, 2004, AllAboutJazz.com.