Saddened that bassist Charnett Moffett has died of a heart attack at age 54, I post this appreciation — also serving as a profile —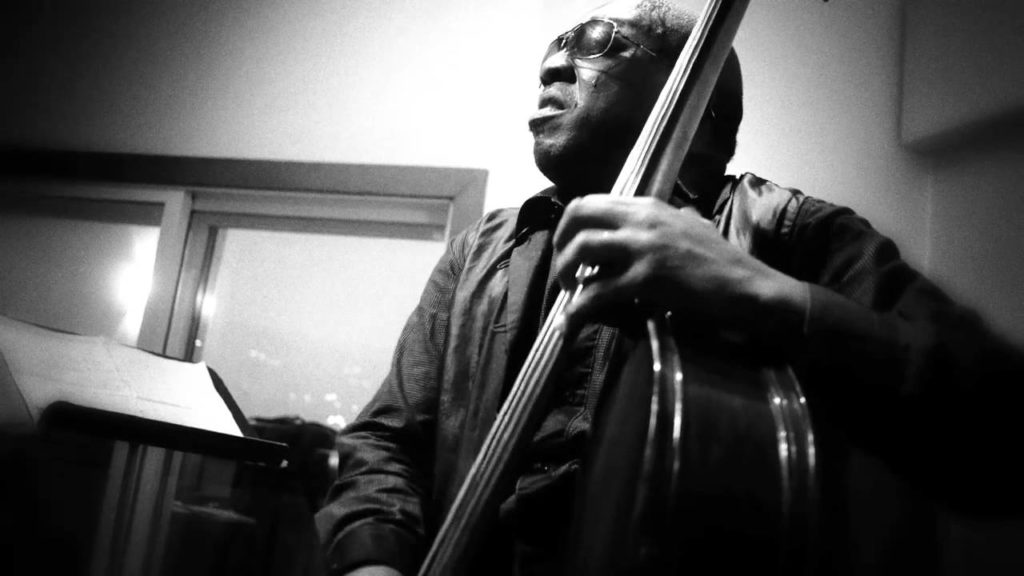 written in 2013 to annotate his solo bass (!) album The Bridge, which he described as "my most personal and challenging release so far."
Solo bass records are rare, and might seem to appeal mostly to bassists and bass aficionados. But on The Bridge Charnett Moffett, the charismatic bass virtuoso with an impressive past and equally brilliant future, has proven here — without benefit of a band — that his music can touch anyone who loves music, regardless of instrumentation or genre.
Alone with his upright bass, Moffett has created an engaging hour of organic, richly detailed and fundamentally physical sounds. He lays down 20 concise and immediately enjoyable performances, exploring motifs that have had true resonance for him throughout his formidable career. He establishes his links to the lineage of iconic jazz bassists, and demonstrates his personal, advanced techniques for this heaviest of stringed instruments, the tether that, since its invention, has bound melody, harmony and rhythm together. He gives himself unstintingly to this project and, so doing, renews himself.
In fact, this is Charnett's process: He has never stopped growing throughout the three decades he has been at the heart of bravenew music. Receiving his first bass (a half-sized one) at age seven, recording that year– and then touring Japan with the Moffett Family Band–Charnett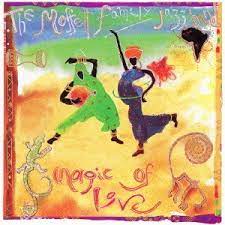 has been at the 'bottom' of things (pun intended) from the beginning of his musical life. His father Charles was a drummer with Ornette Coleman, and so as a youngster Charnett was always around jazz royalty. He auditioned for Charles Mingus when he was nine.
He attended The High School of Music and Art (the "Fame" high school), Mannes College of Music and Juilliard, which he left at age 16 to hit the road in the band of Wynton Marsalis. In his 20's he worked steadily with guitarist Stanley Jordan, the all-star Manhattan Jazz Quintet and legendary drummer Tony Williams in addition to recording under his own name for Blue Note. He's been a collaborative sideman in quartet with Ornette and Denardo Coleman and Geri Allen, with Art Blakey, Harry Connick Jr., McCoy Tyner (for five years), Bette Midler, David Sanborn, Branford Marsalis and, most recently, Melody Gardot. Even when he's been in a supportive role, Charnett's focused and energetic solos have frequently inspired audience ovations.
The Bridge casts him as the beneficiary of musical wisdom passed along by such eminences as Ray Brown, Charles Mingus, Paul Chambers, Scott Lafaro, Stanley Clarke, Ron Carter, Bobby McFerrin and Sting, and he does this lineage proud.
Moffett launches his CD program with "Caravan", the Juan Tizol song that Duke Ellington made famous (with bassist Jimmy Blanton, among others). This was his feature with the Manhattan Jazz Quintet, a group that he joined when he was 17 and remained a key member of for 25 years. He follows it with the Beatles' "Eleanor Rigby," repertoire from the opposite pole of the pop music continuum, famously covered by his former musical comrade Stanley Jordan. Here Charnett offers a singular interpretation that evokes the original's poignancy and includes a counterline Paul McCartney, the tune's main composer, might envy.
"Black Codes from the Underground" is a composition from Wynton Marsalis's now-classic album of the same name, which first positioned Charnett among his 'Young Lions' peers, including not only the Marsalis brothers but also pianist Kenny Kirkland and drummer Jeff "Tain" Watts. The piece holds special memories for Charnett: he played it live at the Grammys in 1986, which was, of course, an enormous thrill for a teenager at an early point in his career. One of the glories of this track is Charnett's embrace of the entirety of his instrument: the slap of wood as well as the throb of fiber and ringing tone. Then there is his fierce attack, and that indestructible repeating riff, reprised from the original rendition, which has earned jazz-hit status.
Charnett became a fan of Sting when Branford Marsalis and Kenny Kirkland joined his band, and cites the lyrical "Fragile" as a Sting composition that reflects how he himself feels about some of the difficult passages of life. Next is "Haitian Fight Song" by Charles Mingus, which Charnett took as a chance, as he says, "to utilize my own style, rather than to emulate his, and to pay my respects."
Moffet's "Kalengo" spotlights the age-old Western European classical technique of bow-tapping in alternation with conventionally bowed and plucked passages. "The song is inspired by Chick Corea, but has an open harmonic structure and concept about modulation during improvisation that I learned from Ornette," explains Charnett. "Bow Song" is another conjunction of influences: "It's classical in orientation", he acknowledges, "but it was really inspired by Paul Chambers' version of 'Yesterdays' from his album Bass On Top, one of my favorites."
The idea of pairing the early 19th century Negro spiritual "Joshua Fought the Battle of Jericho" with 21st century Adele's "Rolling in the Deep"– "the oldest song on the record with the newest," as Charnett mentions – came from Mary Ann Topper, the co-producer of The Bridge, who was also a key figure in Charnett's '80s career breakout. "Skip Hop," says the bassist, "is about having some fun. I remember a gig I did with Ornette in Belfast, where the musicians were playing bagpipes, and it was really swinging. It was an Irish jig … and I just slowed down the tempo for 'Skip Hop.' By the way," he adds, "Moffett is actually an Irish name!"
It was also Ms. Topper who urged Charnett to record Thelonious Monk's "Round Midnight," "Well You Needn't" and "Rhythm-A-Ning" as a medley. "That was challenging, but it came out nicely," the bassist comments. "The Slump" which seems positively buoyant, was composed by Tony Williams, with whom Charnett toured and recorded in the late '80s; "The Slump" was his feature with Williams' band. "Oversun" is Charnett's easy-does-it evocation of the self-contained call and response vocal gambit of one of his favorite musicians, Bobby McFerrin. "Swinging Etude" is another nod to Ornette Coleman: "Like McCoy Tyner, Ornette has been one of my most significant teachers," Charnett asserts, and indeed, Tyner's tour-de-force "Walk Spirit, Talk Spirit" comes next. It was Charnett's feature while playing with the iconic pianist.
"Truth" first appeared on Nettwork, Moffet's 1991 Blue Note/Manhattan Records production. It demonstrates his remarkable ability to depict harmony, melody and rhythm as one entity, rather than as separate though intertwined strands. On this album's title track, "The Bridge (Solo Bass Works)," Charnett takes his instrumental mastery and unique concept even further, having been inspired to imagine what Rimsky-Korsakov's "Flight of The Bumblebee" might sound like on the bass. See our man working up this track in the studio by putting this CD into your computer and viewing the video included as "enhanced CD" content [click link on photo above].
By this point in the program we've heard the threads that run through every Moffett musical interpretation: muscle leavened by tenderness, vitality tempered by humility, daring matched by accomplishment. These qualities are again present in his rendition of Nat "King" Cole's "Nature Boy"as well as in the snappy "Things Ain't What They Used To Be," a tribute to the late, great Ray Brown, who borrowed the Ellington song to use as his own theme. They are likewise found in the one over-dubbed track on The Bridge, "All Blues," which makes reference to Paul Chambers, Miles Davis and Ron Carter, and in Charnett's concluding original, "Free Your Mind," which offers a taste of his unique deployment of electronics with the upright bass, a powerful effect in his live performances.
"'Free Your Mind' also previews Moffett's Spirit of Sound album, recorded prior to The Bridge and scheduled for subsequent release. "Spirit of Sound, features my family band with a number of guests from the Motéma family," says Charnett. "It represents the newest expression of my ensemble vision to date, whereas this solo project is my most personal and challenging release so far."
Charnett's 20 performances on The Bridge revel in the breadth of his creativity and musical identity, as indelible as the thrum of his thumb. "I wanted to do something that would express who I am, carry on the tradition of the greats who preceded me, and also contribute to the art form by challenging myself to construct my own standard of solo-bass excellence," he states. "I think it's imperative that an artist work in such ways."
And so, thanks to this gifted bassist, we have it all: The connection between joy and effort, ambition and fulfillment, the past and the present. Complete even when totally alone, Charnett Moffett isThe Bridge.
Charnett Moffett's most recently released album New Love (2021) features Jana Herzen, his wife, guitarist, singer-songwriter and founder of Motéma Music. Condolences to her and all Charnett's family, friends and admirers.