Herb Deutsch, the trumpeter-pianist-Theremin player-composer-Moog synthesizer co-creator and jazz inspired improviser turns 90 today, February 9, 2022,
and a hearty Happy Birthday to him! In celebration, Moog Music has produced a video interview with this emeritus professor of Hofstra University, where he taught composition and electronic music, as the first of a series titled Giants.
He's been less often mentioned in the story of the revolution in musical possibilities wrought by physical architecture for generating and processing electronic sound waves than his friend the synth inventor Dr. Robert Moog, or West Coast designer Don Buchla, or their predecessor Leon Theremin. During the mid '60s burst of electronic music by such visionaries as Pauline Oliveros, Terry Riley and Morton Subotnick, Sun Ra, Herbie Hancock and Jimi Hendrix, Deutsch was there, leading an improvising electro-acoustic ensemble at Manhattan's Town Hall and the Museum of Modern Art sculpture garden.
Immediately as this text was posted came news of the death of composer, educator and Synclavier developer Jon Appelton at age 83; his electro-acoustic works include Human Music from 1970, a series of interactions with trumpeter Don Cherry. All due respects.
Hear Deutsch at 14:18 tell of developing the modular synth for such basics of sound-shaping as control over its attack and decay. He conceived the keyboard interface for triggering sonic events, and personally enfolded evocative social-political content into multi-dimensional narratives of sound organized in time.
That Deutsch was (and remains?) a jazz enthusiast dedicated to real-time improvisation puts the cherry on the top, as far as I'm concerned, of his reputation as a key figure in 20th century musical innovation and re-conception. His recordings collected on From Moog to Mac sort of a best-of, with "Jazz Images, a Worksong and Blues," (1965 — credited as the first composition for a Moog) featuring bluesy piano and (overdubbed?) horn intersected interwoven with thick and thin electronic lines, unnaturally long fades, whirling sirens, white noise, delays and maybe backward tape. A Christmas Carol (1963) his prescient mix of found sounds, spoken word and haunting ambiance, was a contemporaneous response to the Alabama church bombing that killed four young girls and also drew profound comment from James Baldwin, John Coltrane and Dr. Martin Luther King. Deutsch's composition still has power, and reminds me of Ilhan MimaroÄŸlu's devastating Sing Me The Song of Songmy (1971), electronics, readings and trumpeter Freddie Hubbard's band with Junior Cook and Kenny Barron.
"From the very beginnings of Moog music," says Deutsch, "Bob and I understood one thing very clearly: The designer of the instrument must understand the needs of the artist, must understand the minds and the creativity and the thoughts of the artist. And the artist should then recognize the designer's ability to produce what that artist needs. . . .This instrument has changed the way people think about what music should be."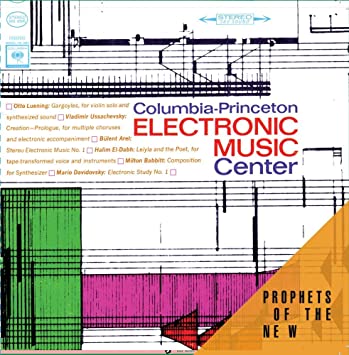 POSTSCRIPT Beyond jazz — I was curious as an early teenabout weird electronic music in continuum with other unconventional, experimental and hyper-expressive arts. I found the Columbia-Princeton Electronic Music Center album, started listening and didn't stop. I was delighted when attending Syracuse University to be able to play (study? learn?) at its Moog studio, which took up a loft in Crouse Hall. I don't know if it's still there. Here's my bit on that experience, soundtrack from '71.
If I've put this up before, forgive me. Is it over-wrought? I'm currently going nuts with a Korg Minilogue and Monotribe and Arturia Microfreak.