Despite my avowed abhorrence of Christmas music, I enjoyed maestro Kurt Elling leading his hometown quintet in a holiday-themed performance at Chicago's City Winery last Sunday.
My entire evening — accompanied by best friends, and including the surprise discovery after the Winery show of a heartening young trumpeter at the Hungry Brain — was a reminder that hearing music in person with others is a key experience, even if the potential for spreading disease makes us stay home.
[What I've been listening to at home: Favorites of '21]
A seasoned and complete performer at age 54, Elling is a canny and original vocalist with a unique approach and seemingly genuine persona. Singer-songwriter-bandleader-storyteller-character actor– well-tailored, a good mover, a model of sophisticated masculinity — he ought to be in movies! I felt lucky to hear Kurt charm a full house (150-200 attendees for an 8 pm second show, maybe 95% masked, seated at socially distanced four-tops), stirring his vocal resources and fellow music-makers' skills into a flowing entertainment of thoughtful depth and inclusive warmth. True jazz.
Elling has carved a place for himself between bel canto balladeer and husky-throated songster. He's able to sustain ringing high tones dramatically and also growl or cast an aside as if under his breath yet still remain audible and understandable). Most often he starts casually then ramps up to a swinging stance, like a smart pal with something valuable to say. Consider him in the lineage of regular (but talented!) guys like Fred Astaire, Frank Sinatra, Tony Bennett, Gene Kelly, Chicago's own Mel Tormé, Joe Williams, Oscar Brown Jr. and Nate "King" Cole. Guitarist-singer John Pizzarelli is another currently working in this vein (and I won't rule out Patricia Barber, haven't listened enough to say), but unlike any of them other than Cole during his piano combo days and maybe Barber — almost like Betty Carter, come to think of it — Kurt directs the energy of his group from within it. He sets up and, after making a
definitive statement, passes his musical ball to lyrical pianist Stu Minderman or unusually telegraphic guitarist John McLean as if by impulse rather than pre-arrangement, with bassist Clark Sommers solid, alert, flexible and pairing well with drummer Dana Hall's assertive push. They cohere as an ensemble, so the music flows. This band was ending a two-week tour, yet everyone appeared to be fully engaged, refreshed by being onstage.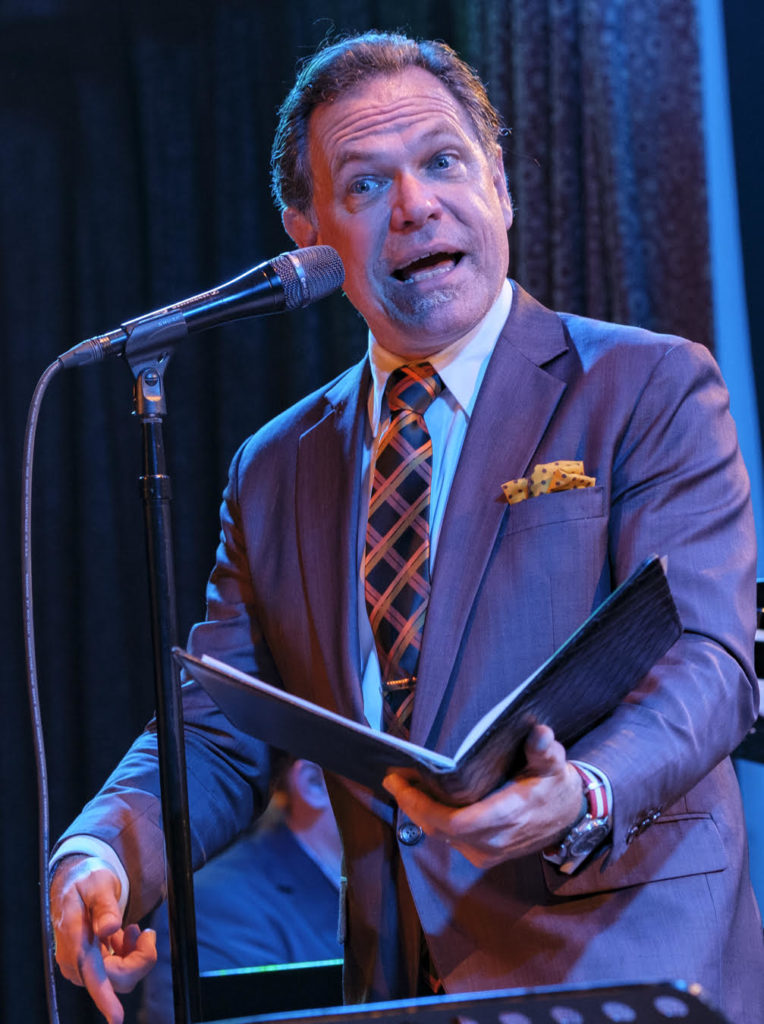 Their onstage teamwork, clear to see as well as hear, drew me into the holiday vibe. Never mind being a committed secularist, cynical about virgin births, uneasy about imposition of any public religious celebration on the entire body politic, believers or not — I realize this is America! As long as I've been alive Christmas has been an uncontrolled cultural behemoth, a day draped in a ancient, holy story actually advancing consumer capitalism. As a Jewish kid, I reasoned why fight it? Well, that manger stuff. And, uh, Hanukah. But ok, then, also Yule, Saturnalia, Festivus, Kwanza, Diwali. I've come to accept if not embrace all humanity's collective reactions to the sun withdrawing, and hopes for its return.
Although Kurt Elling sang "We Three Kings" and with Hall worked the miracle of turning the odious "Little Drummer Boy" into a driving scat-drums duet, the focus of his message was not Jesus's arrival but the world's annual experience of rebirth, with a particular appeal to the clear-eyed spirit of children which, he assured us, we all still contain. No "Silent Night," though he did enact a "T'was the night before Christmas" parody, and for an encore — yes, "The Christmas Song" (aka, "Chestnuts roasting on an open fire. . . " words by Tormé, music by Robert Wells, née Levinson — and yes, Kurt mentioned that in his research for popular Christmas songshe'd been struck by how many were written by Jews, Communists and Jewish Communists. As his father was Kapellmeister at a Lutheran church, that seems like a nice ecumenical acknowledgement).
The other dependable confluence of so-called "holiday music" with music that has actually brings a smile to my wintry mind is saxophonist Mars Williams' inspired Ayler Christmas program, the Chicago manifestation, held again
at the Hungry Brain. Five recorded volumes of this project exist, so we can anytime we care to hear the ingenious inspiriting of carols and hoary Xmas staples with ecstatically freed improvisations by all-stars Williams has enlisted on his road trips with it — such as electronica cellist Helen Gillette in NOLA, bassist Luke Stewart in DC, trumpeter Jaimie Branch and trombonist Steve Swell in NYC. Here Mars featured his bandmates in Extraordinary Popular Delusions keyboardist Jim Baker, multi-instrumentalist Brian Sandstrom and drummer Steve Hunt as well as cornetist Josh Berman, guitarist-violinist Peter Maunu and others. I missed it.
BUT — after Elling my little party went to the Brain (like a dive bar, run by Berman and drummer Mike Reed, who were hanging out) where drummer Matt Wilson, known to be an acute talent scout,
was backing up New Orleans-born trumpeter Jamie Breiwick, who we'd never heard of before. And was he fine! With the kind of melody-spinning ability I admire in Don Cherry, offering Sun Ra's "Love in Outer Space" as a natural standard, in league with a complementary alto saxophonist and stalwart bassist, whose names I regret not taking. The music was so sweet, I had trouble leaving. I wouldn't have known about him if I hadn't been there. Might have checked out a recording, but. . .
Over the past 18 months I've gone out infrequently, only for what I've most wanted to attend. Herbie Hancock's return to performance at Symphony Center; singer Josie Falbo, whose liner notes I wrote, at the Jazz Showcase; Joanie Pallatto's cabaret act at the Mercury Theater; trumpeter Orbert Davis's Chicago Jazz Philharmonic; bassist Tatsu Aoki with AACM collaborators at the Museum of Contemporary Art, and the Hyde Park Jazz Festival (both the latter outdoors). Seeing the musicians interact and audiences respond adds so much more value to the music, obviously, than observing from a remote location or listening to even the utmost audio equipment that music lovers usually don't think it's worth mentioning. But over this period of going without, after more than 50 years of taking in music where and when it happens as a habit, I appreciate the immediacy, context and company of live, in-person music now more than ever. Best for the new year, so partaking of live performance becomes commonplace again.