If all "jazz" shares a single trait, it's that nothing will stifle it. Adjusting to covid-19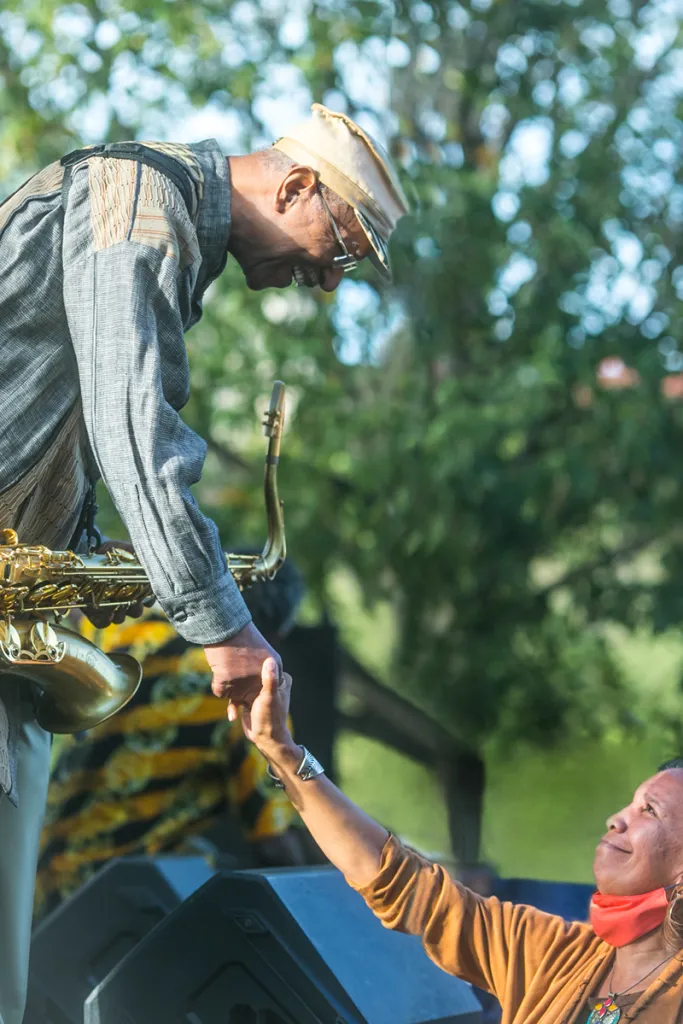 strictures, Chicago (just for instance) in the past two months has been site of:
A stellar Hyde Park Jazz Festival;
Herbie Hancock's homecoming concert at Symphony Center;
audiences happily (for the most part – no reported incidents otherwise) observing appropriate covid restrictions in intimate venues where I've been — including Constellation, the Jazz Showcase, Hungry Brain and Fitzgerald's;
a heartening multi-kulti success — Japanese taiko drums and shamisen hooking up with Brazilian percussion trio and guitarist, Ukrainian bandura improviser, string quartet, jazz rhythm team all led by brassman Orbert Davis in the Chicago Jazz Philharmonic's return to in-person (as well as streamed, and free of charge) performance;
the fourth annual Afro-Futurism weekend at Elastic Arts;
An AACM 55th Anniversary concert by the Great Black Music Ensemble at the Logan Center;
the Jazz Institute of Chicago staging a "projection promenade" featuring performers in front of large-scale digital photo exhibits, in three lots along south side Cottage Grove Avenue.
Most of those events were free of charge to attendees (not the jazz clubs of course, but prices haven't risen and are low by, say, New York City standards), simply required advance registration, and have benefitted from generous arts support from the City of Chicago, which has truly stepped up to bat in terms of channeling funds to small and dispersed organizations as well as major central ones. As I understand it, commercial enterprises as well as not-for-profits have received financial support.
Kudos to Mark Kelly, who has just retired as director of the City's Department of Cultural Affairs and Special Events (DCASE) for energetic, creative responses to the challenges of his tenure — pandemic included. But it should be made clear that the efforts mentioned above resulted from efforts of many actors across a broad and deep, if under-heralded, local artistic ecosystem. And I barely scratched what's happening here, just glossing over music highlights, not addressing the Film Fest, Humanities Fest, Lyric Opera's MacBeth, re-opening of Steppenwolf and other theaters, the Art Institute's Kertész exhibit, and so on.
Guess I'm sounding boosterish. Be that as it may, financial insecurities are ever-present for arts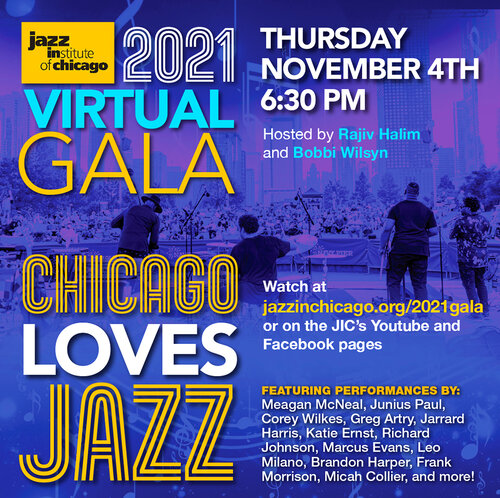 presenters, non-profit or commercial, and so fundraising events continue, sometimes in unusual formats. Another for instance: The Jazz Institute, of which I'm secretary of the board, holds its annual fundraiser November 4 — and all the world is invited to attend free of charge.
It's wholly virtual, offering insiders' perspectives and on-site videos hosted by reedsman Rajiv Halim and vocalist-educator Bobbi Wilsyn, singer Meagan McNeal, trumpeter Corey Wilkes and more. Of course donations are strongly encouraged; it takes ever more cash to produce music free of charge in Chicago Park district facilities city-wide, to run Artists-in-Residence programs in local schools, a high school big band competition, and after-school programs (which have graduated successive waves of exciting new musicians). But the JIC will be happy if you simply tune in to watch fresh videos of the student jam sessions held at the Jazz Showcase; Awards being presented to Chris Anderson of the Fulton Street Collective loft venue and Joan Colasso, director of the Timeless Gifts Youth Program; a tour of local jazz shrines with voice-over by Maggie Brown (daughter of Oscar Brown, Jr.). Check it out. Get acquainted.
Will it raise a sou? We shall see. The distinctly different Chicago Jazz Philharmonic, co-led until just recently by trumpeter Davis and his business partner Mark Ingram, held its all-online, not-cheaply-ticketed virtual gala back in June with Kurt Elling as a collaborative guest (Rhapsody Snyder was introduced as new Executive Director on the webcast), and announced income from it of $85,000, $10k over its goal. So yes, these can be important sources of unrestricted funds.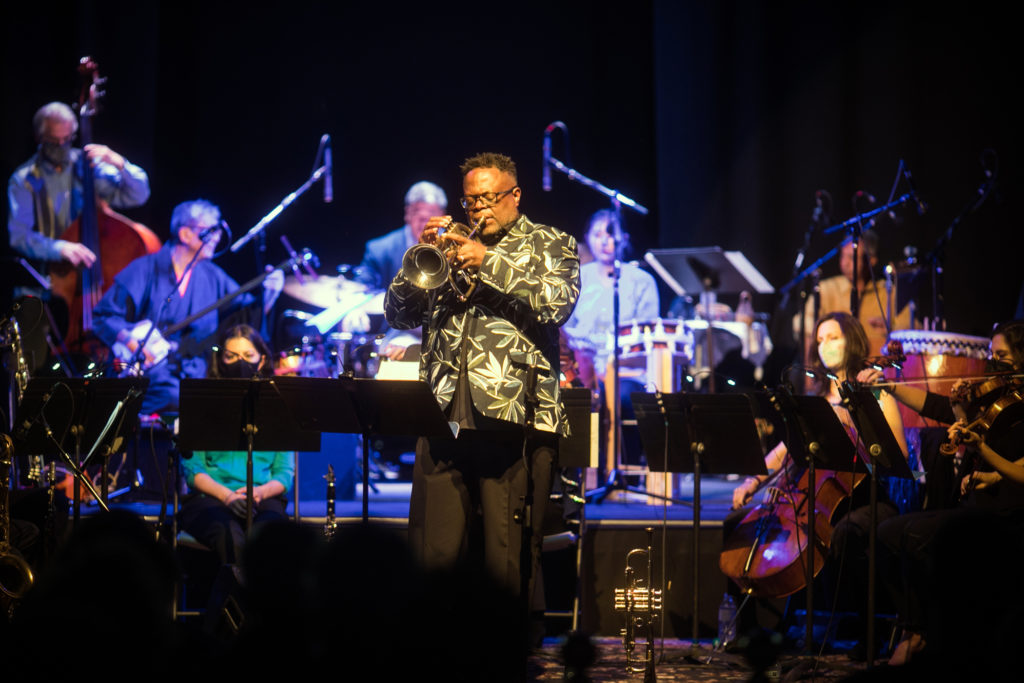 Speaking of which — >>DIGRESSION WARNING<< — congratulations to all 52 jazz and improvised music practitioners receiving support of between $25,000 to $40,000 for creative residencies from Jazz Road, a South Arts initiative funded by the Doris Duke Charitable Foundation and The Andrew W. Mellon Foundation. This round reaching many artists I've long admired, including Chico Freeman, Ernest Dawkins, Mars Williams, Josh Abrams, Adegoke Steve Colson, Craig Harris, Elio Villafranca, Nasheet Waits, Kip Hanrahan, Michele Rosewoman, Meg Okura, Jamaaladeen Tacuma, Melvin Gibbs and Jason Moran. Congrats also to pianist Kris Davis, eminent composer, saxophonist and band-leader Wayne Shorter, and pianist Danilo Perez (a principal in Shorter's long-running, now suspended quartet), named Doris Duke Performing Artists ($275,000 comes with this honor).
Not to overlook rare recognition (not from the Jazz Journalists Association) for music journalists. The 52nd annual ASCAP Foundation Deems Taylor/Virgil Thomson Awards for outstanding print, broadcast, liner notes and new media coverage of music honored (among others) Daphne A. Brooks for "100 Years Ago, 'Crazy Blues' Sparked a Revolution for Black Women Fans," published in The New York Times; Fat Possum Records and No Sudden Movements for their release of the documentary Memphis '69, with performances by Sleepy John Estes, Bukka White and Fred McDowell; Ted Gioia for his appreciation of jazz critic Whitney Balliett, "The Music Critic Who Tried to Disappear," published by City Journal; Frank J. Oteri of New Music USA's New Music Box for the podcast, "Valerie Coleman: Writing Music for People" and John Kruth for his article, "Ceremonies Against the Virus: Bachir Attar of the Master Musicians of Jajouka," published by the online journal, Please Kill Me. Monetary awards of $250 to $500 accompany this recognition. As a two-time Deems Taylor Award-winner, I can attest to its value as an uplift.