Lollapalooza 2021 had some 385,000 attendees (without significant Covid-19 outbreak, fortunately) but featured little of host Chicago's indigenous talent or styles. And that's just wrong, declared Department of Cultural Affairs and Special Events commissioner Mark Kelly, launching the month-long Chicago in Tune
"festival" at a reception August 19. Here's the still-evolving event calendar of hundreds of local music performances — of every conceivable genre, free and ticketed, outside or in, most requiring vax proof and/or masks — running on through Sept 19, in every city neighborhood.
Chicago, Kelly asserted, has never officially or adequately embraced and supported (he didn't say it — but allow me: or exploited for publicity's sake) its homegrown music communities comprising artists and audiences of boogie, blues, jazz, gospel, r&b, house, hip-hop, rap, folk, rock, Mexican mariachi, Polish polka band, Latin jam sessions, singer-songwriter performance, contemporary composers, virtuosic instrumentalists and improvisational ensembles.
At his direction DCASE had planned 2020 as "The Year of Chicago Music" and responded to Covid-19 shutdowns by extending that initiative into '21. Yet the shutdowns continued, and the matter of sustaining or improving the lot of Chicago music writ large was for Kelly, a one-time jazz drummer retiring from his position in October, becoming more urgent.
So in an unusual effort to broadly stimulate the existing musical ecosystem (not incidentally, a potential tourist draw) and project our brand in the class of New York, New Orleans, Nashville, Austin, Detroit while also productively de-centralizing it — his department in the administration of Mayor Lori Lightfoot has coordinated partial-to-full underwriting and promotion of grants to artists and shows in dozens of venues and public spaces across this third-biggest (by area as well as population) U.S. metropolis.
Included are the ARC Music Festival in Union Park (September 4 & 5), Pitchfork Music Festival Chicago in Union Park (September 10–12), the punk Riot Fest in Douglass Park (September 17–19) — and "Music Lives Here," a public art initiative installing graphic markers at 50 musically noteworthy sites. The City's own production centerpiece: over Labor Day weekend an evening each, free of charge in Millennium Park, for jazz, blues, house and gospel, a necessary adaptation of Chicago's former multi-days fests.
As a native and as a music journalist, I subscribe to the notion that Chicago has a unique and highly significant place in the past and ongoing development of American if not indeed world-wide music. The case for this is well known, so I won't detail it here.*
However, for all the glories of sounds come from Oz-on-the-Lake in just the last 100 years, say, including its eminence in commercial endeavors like music publishing, jingle production and harp manufacture and establishment of prestigious institutions including the Chicago Symphony Orchestra and Lyric Opera, in the aftermath of the late 1960s consolidation and relocation of major record labels to Los Angeles and New York City few sizable business structures have emerged (pace JAM Productions) to loudly, systematically advance the cause of local music either throughout or beyond the city's limits.
There are feisty independent labels such as Aerophonic, Alligator, BluJazz, Delmark, International Anthem, Southport, and The Sirens (of course with dislocations across the music industry, they, too have struggled). We have worthy non-profits — the Jazz Institute of Chicago, Chicago Jazz Philharmonic, South Side Jazz Coalition, AACM, Hyde Park Jazz Society, Hyde Park Jazz Festival (2021 program live/in-person Sept 25-26), Elastic Arts, Experimental Sound Studio and Hot House among them — and dedicated performance locales including the Jazz Showcase, the Green Mill, Fulton Street Collective, Constellation and the Hungry Brain, Rosa's Lounge, Kingston Mines, Buddy Guy's Legends, Andy's, Winter's, Promontory, Space, Fitzgerald's, Epiphany, City Winery, concert halls such as Symphony Center and the Harris Theater, special series programmed at the Museum of Contemporary Art, Du Sable Museum, Navy Pier and the Shedd Aquarium. For decades we've had immersive multi-stage, week or weekend-long free of charge festivals celebrating Chicago jazz, blues, house and gospel in downtown's Grant and Millennium parks, continuing if pared down next weekend on the Frank Gehry-designed stage of Pritzker Pavillion.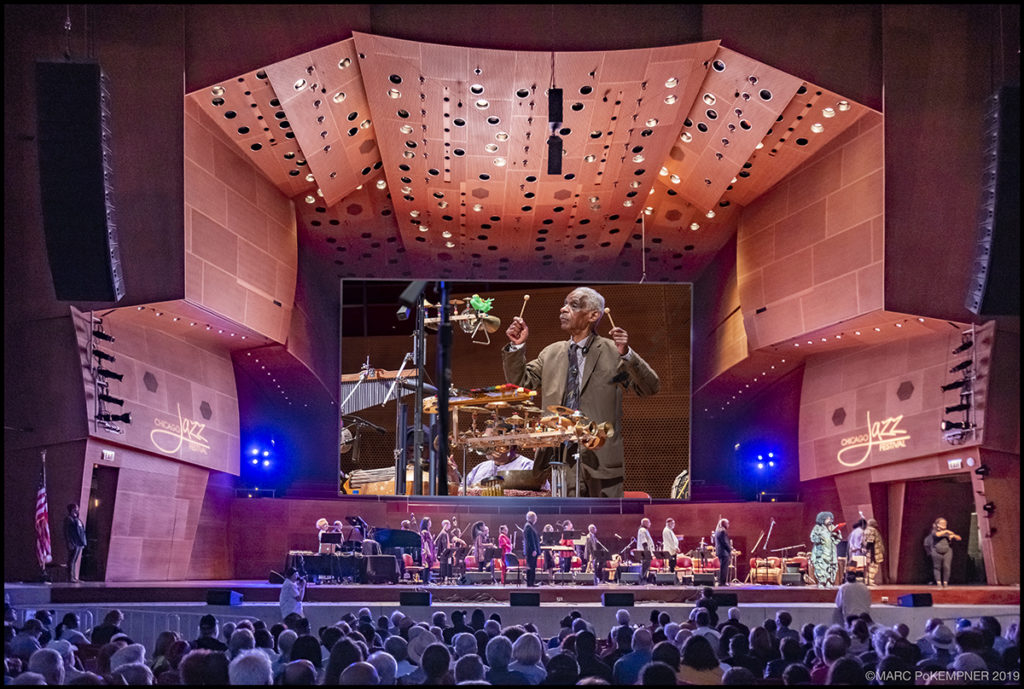 This year's reduced iterations of those fests amount to three hoursfor each genre on one of four days Sept 3 to 6. Jazz night Sept. 4 (programmed with the Jazz Institute, the board of which I sit on) features our righteous elder statesman saxophonist Ari Brown, trumpeter Marquis Hill and vocalist Lizz Wright with their bands. Among ancillary events catching my eye, produced independently of the City but underwritten in some measure with tax dollars, is the Rockwell Blues and Jazz Street Stroll, scheduled for mid-day Sept 4, organized by Delmark Records to showcase several of its artists.
Municipal endorsement and underwriting for both profit- and not-for profit spaces nurturing creativity seems to me a very good thing at this moment. Infusing Chicago with music, hearing for ourselves what we have, enjoying it as much together as is safe and wise, letting each other and the world at large know what this place, in all its variety, sounds like at this time — I find those worthy goals. We're facing a Covid-19 surge with indoor masked mandates imposed again (including for kids about to re-enter the schools) and continued gun violence, among other ills. Music won't fix those problems, but may help us live with them.
Photo-journalist Marc PoKempner attended one Chicago In Tune show last Friday: Saxophonist Ernest Dawkins leading the Live the Spirit Residency Tentet in "Redefining Frederick Douglass," at Douglass (Frederick and Anna) Park. He reported the crowd was small but ardent, the music intense and Khari B's readings of Douglass's oratory powerful.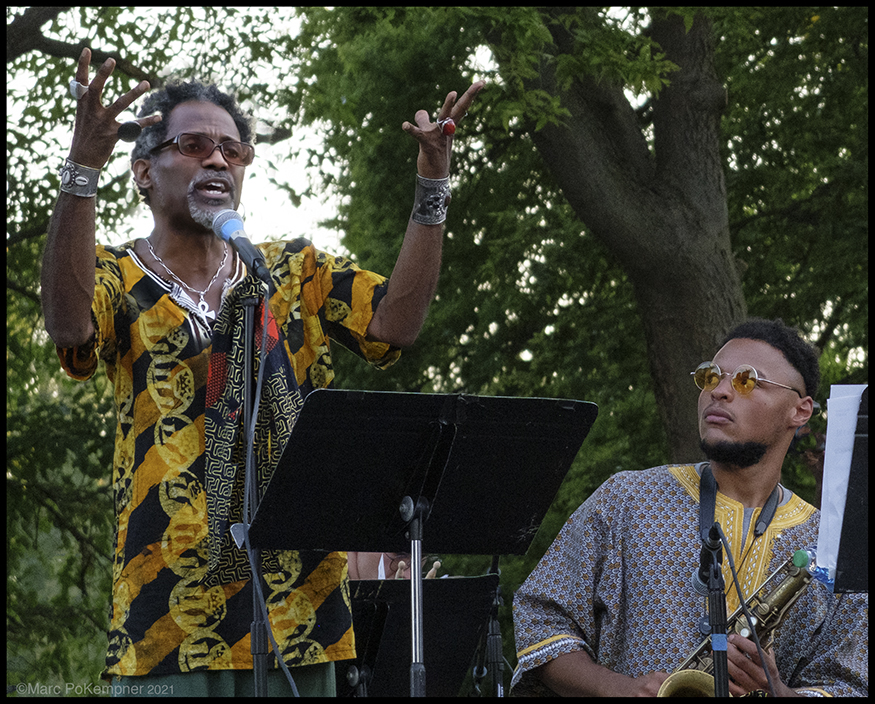 So much more is yet to come, including a homecoming concert on Sept. 2 at Symphony Center by the great Herbie Hancock, age 80, pianist/composer/Grammy winner, "creative chair" for jazz of the Los Angeles Philharmonic, namesake of the formerly-known-as-Thelonious Monk Institute of Jazz, UNESCO Goodwill Ambassador and face of International Jazz Day. I've adored his music since the mid '60s– from his Maiden Voyage through the '60s with Miles et al to his experimental, exploratory Mwandishi albums like Sextant,
hip-scratch-funk-nuts "Rockit," tributes Gershwin's World and River: The Joni Letters. I won't miss it.
But best about this all is that Mark Kelly said Chicago In Tune would not be a one-off, but only the beginning of the City's turn to identifying music as key to our culture for our own benefit. Considering the Chicago-steeped legacies of an enormous and highly diversified creative contingent (my can't-help-it-must-cite list is below, merely a scratch at what's happening or happening here), it's high time.
*Quick list, off the top of my head, roughly chronological, by no means comprehensive, focused on the deceased and hugely influential Chicago-born or associated music makers: Jelly Roll Morton, Johnny and Baby Dodds, Louis Armstrong, Lil Hardin, Earl Hines, Bix Beiderbecke, Eddie Condon, Alberta Hunter, Benny Goodman, Gene Krupa, Thomas A. (aka "Georgia Tom," when he developed proto-rock "hokum" with Tampa Red) Dorsey, Lionel Hampton, Mezz Mezzrow, Jimmy McPartland, Bud Freeman, Jimmy and Mama Estelle Yancy, Big Bill Broonzy, Sonny Boy John Lee Williamson, Mahalia Jackson, Milt Hinton, Art Hodes, Dinah Washington, Nat "King" Cole, Eddie South, Steve Allen, Mel Torme, Capt. Walter Dyett, Johnny Griffin, Sam Cooke, Muddy Waters, Howlin' Wolf, Little Walter, Otis Spann, Willie Dixon, Junior Wells, Otis Rush, Magic Sam, Paul Butterfield, Mike Bloomfield, Hound Dog Taylor, Magic Sam, Koko Taylor, Big Walter Horton, Cary Bell, Carmen McRae, Wilbur Ware, Richard Davis, Ralph Shapey, Shulamit Ran, the Staples Singers, Ahmad Jamal, Eddie Harris, Malachi Favors, Andrew Hill, Wilbur Campbell, Barrett Deems, William Russo, Sir Georg Solti, Sun Ra, Marshall Allen, John Gilmore, Phil Cohran, Muhal Richard Abrams, Fred Anderson, Jodie Christian, Lester Bowie, Joseph Jarman, Leroy Jenkins, Ann Ward and other distinguished members of the AACM, Ira Sullivan, Nicky Hill, Oscar Brown Jr., Lee Konitz, Hal Russell, Willie Pickens, Geraldine de Haas, the Chi-Lites, Jerry Butler, Curtis Mayfield, Earth Wind & Fire, the Freemans (Von, George, Bruzz, and living Chico), John Prine, Steve Goodman — sorry, going on and on but as a native son, I can't help it — Gene Chandler, the Shadows of Knight, the Buckinghams, the Flock, Minnie Ripperton, and among the living: Mavis Staples, Jeff Tweedy, Wilco, Tortoise, Kanye West, Liz Phair, Common, Chance the Rapper, Jennifer Hudson, Orbert Davis, Julian Priester, Rufus Reid, Amina Claudine Myers, Roscoe Mitchell, Henry Threadgill, Anthony Braxton, Thurman Barker, Wadada Leo Smith, Douglas Ewart, Mwata Bowden, Ari Brown, Steve Coleman, Foday Musa Suso, Adam Rudolph, Hamid Drake, Robert Irving III, Thaddeus Tukes, Joel Ross, Ben LaMar Gay, Makaya McCraven, Isaiah Collier, Michael Zerang, Billy Branch, Lurrie Bell, Jimmy Johnson, Dee Alexander, Kurt Elling, Miguel de la Cerna, Ernie Adams, Dana Hall, Avreeayl Ra, Bobby Broom, Nicole Mitchell, Erwin Helfer, Myra Melford, Jim Baker, Edward Wilkerson Jr., Mars Williams, Brian Sandstrom, Steve Hunt, Ken Vandermark, Dave Rempis, Fred Lonberg-Holm, Savoir Faire, Pat Mallinger, Cameron Pfiffner, Paul Wertico, Tomeka Reid, Mike Reed, Margaret Murphy Webb, Rudresh Mahanthappa, Amir ElSaffar, Brad Goode, Mike Allemana, Nick Mazzarella, Maggie Brown, Fareed Haque, Howard Levy, K-Rad, Greg Ward, Joanie Pallatto and Sparrow, George Fludis, Erin McDougald, Josie Falbo, Zvonimir Tot, Tatsu Aoki, Chris Foreman, Geoff Bradfield, Matt Ullery, Josh Abrams, Josh Berman, Augusta Reed Thomas, Rachel Barton Pine, Victor Garcia, Katie Ernst, Kahil El Zabar, Ernest Dawkins, Rajiv Halim and a zillion others.