Erwin Helfer, the 84-year-young Chicago pianist of heartfelt blues, boogie, rootsy American swing and utterly personal compositions, has told his tale of covid-19-related profound depression, hospitalization, treatment and recovery to the Chicago Sun Times.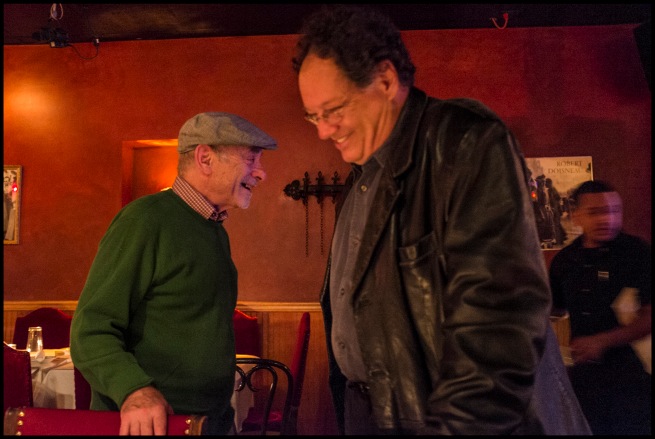 I'm a longtime friend, ardent fan and two-time record producer of Erwin's, and had lunch with him soon after the article ran. He was in fine fettle — a great relief to me and the rest of the large, devoted community that's been deeply concerned about his health since April, when his troubles became evident. Shockingly (no pun intended) it took electroconvulsive therapy to get Erwin Helfer back on track.
Caroline Hurley's reporting is appreciated. Two minor corrections: Erwin was raised on Chicago's South Side in the late '30s and 1940s, moving with his family to a north suburb when he was in 7th grade (circa 1948), and he never met boogie-woogie's founding father Jimmy Yancey (who died in 1951), though he did eventually accompany and record with Mama Stella Yancey, Jimmy's widow.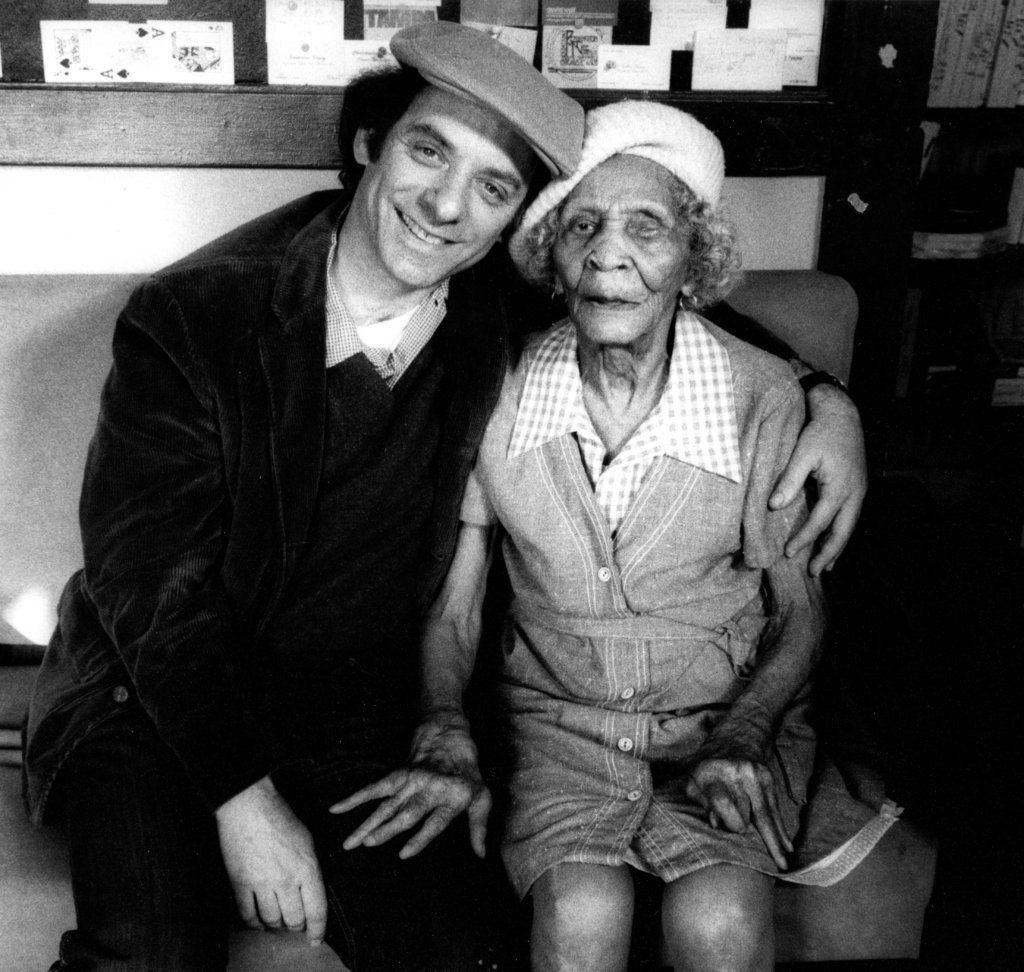 But Hurley's main focus is spot on: The coronavirus can have a devastating affect even on those not infected. It can change how we think, and not for the better.
Helfer was beset, I learned back in April talking to him on the phone, with the darkest of demons. He'd never previously struggled with mental health issues, he generally takes care of himself, but he'd come to feel he was doomed — ill, although tests showed otherwise; ruined financially, though there was no reason to think so, and of toxic danger to his friends, a highly diverse coterie, including some of whom live nearby, all of whom were eager to express their love by supportively checking in, doing errands, bringing food, offering transportation and eventually urging him to seek medical help, which at first he resisted.
But it was obvious to associates such as Ivan Handler (mentioned in the Sun-Times) from his weekly meditation group and Erwin's loyal producer Steven Dolins of The Sirens Records that he'd let his place and himself go. No one seemed able to cut through his insistence that he was dying and would be better off that way. He had lost — well, let's say "misplaced" — his typically light touch and good-humored centeredness, attributes many people have relied on to enhance our own spirits and peace of mind.
A source of musical fun, originality and continuity, Erwin has for the more than 40 years I've known him (and well before) been a warm, modest, generous, open-minded yet tradition-revering entertainer, collaborator, creator and teacher. He's a mensch, without arrogance or pretensions. Throughout his career he's encouraged, championed, recorded and recorded with several somewhat obscure but eminently worthy pianists including Billie Pierce of New Orleans, Speckled Red of St. Louis, and most recently Chicago's Barrelhouse Chuck Goering, who died in 2016.
Erwin has often played benefits for social causes, house parties and the like; most recently he'd brought joy and comfort weekly to audiences at the Hungry Brain, with an 8 pm set requiring no admission fee. His sets feature a mix of tunes he learned firsthand from past-masters such as Cripple Clarence Lofton and Little Brother Montgomery, familiar themes by Duke Ellington and Hoagy Carmichael, eight-to-the-bar renditions of "Swanee River" and "Jambalaya," and his own melodies, interspersed with reminisces and corny, often ribald jokes. He prefers to play solo, but happily makes music with people he likes and trusts.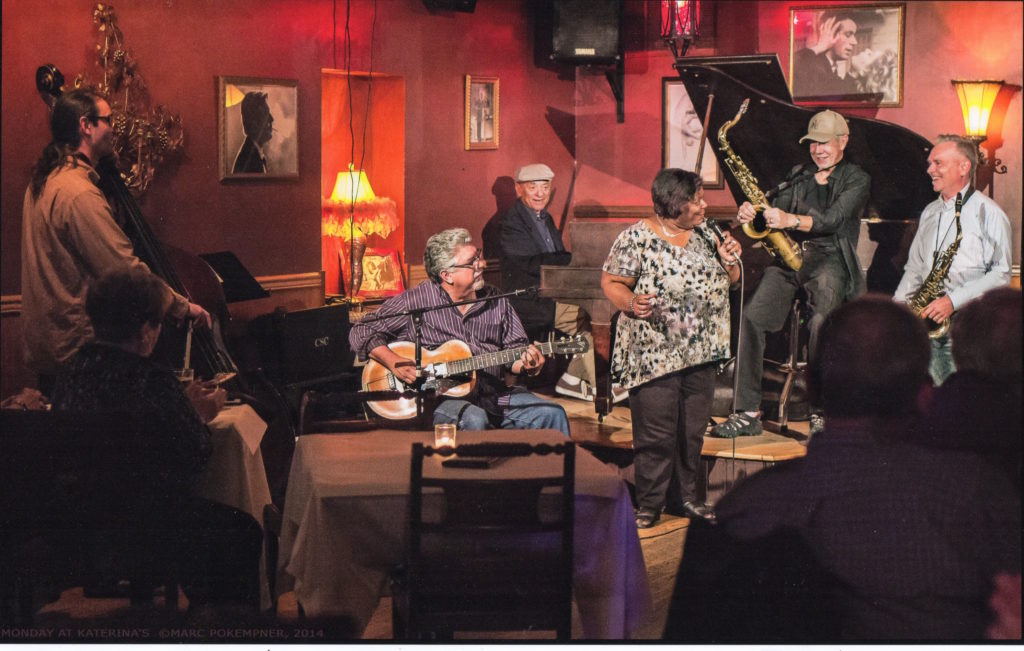 In March he'd completed recording sessions for what will be his eighth album from The Sirens, and was looking forward to new project in which his original compositions, which imbue blues structures with impressionistic nuances, would be interpreted by some of his admirers among Chicago's younger, nominally avant-garde musicians.
However, when the weekly gig Erwin often rode his bike to was suspended due to the coronavirus closings, and students could no longer come to his home (on a street the city marks as "Erwin Helfer Way") for their lessons, Erwin's isolation got to him.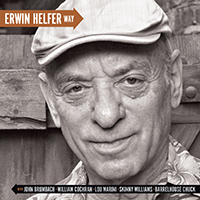 As a performer usually in intimate venues (he has also concertized at the Old Town School of Folk Music, in Millennium Park for the Chicago Blues Festival, on regular tours in Germany and during annual visits to the Augusta Heritage Center's Blues Week in Elkins, West Virginia) he's ultra-adept at reading and absorbing an audience's vibe, working in the moment with the people around him to maximize pleasure. That kind of interaction, a true give-and-take, is essential to performing musicians.
Don't discount the "take" part. Performers need audiences. Most of them can (must) learn to shrug off an unreachable crowd or uninspired night, but if no engagement with other people is possible at all it's like water withheld from someone parched. The thirst just gets worse, and there's no substitute. Playing for and by oneself may seem solipsistic, pointless, futile.
A lot of nudging from his closest friends led Erwin to be admitted to Rush University Medical Center's inpatient psychiatry program. After an initial regimen of drugs, he responded well to electroconvulsive therapy, aka "shock treatment."
"They wanted to give me 12 sessions," Helfer told me, "but I only had 11. I was okay after eight. They put me out for them — you don't feel it. I don't need to go back, like for a booster, but I'm taking medication, and I have a once-a-month phone appointment with a shrink. I feel great — I feel like I've been reborn."
The day I visited, there was a lot of renewal going on in Helfer's house. He was having his roof re-done. Katherine Davis, a blues singer Erwin's worked with for years, was puttering around — she's taken up residence in his finished attic. Katherine has helped Erwin — an animal lover who titled one of his piano tunes "Pooch Piddle" — acquire a dog and a cat. As we ate sub sandwiches he talked about a how-to-play-blues-piano book he intends to publish, and the modernist instrumentalists he wants to let loose on his songs such as "Day Dreaming," "Within" and "Stella."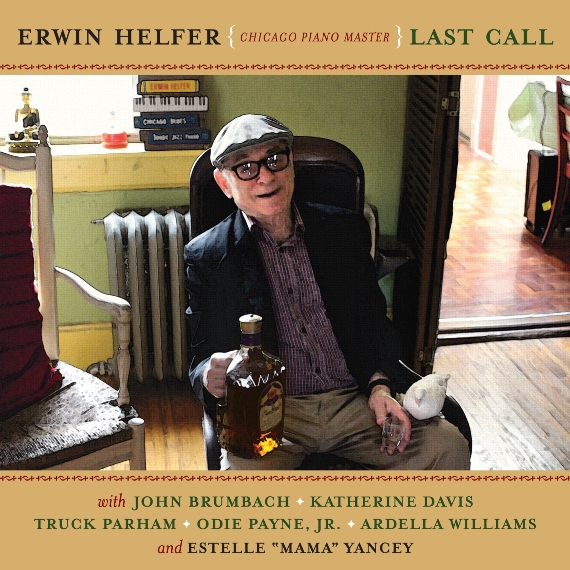 "I think I'm a better composer than pianist," he said. "That's one thing — since my depression I haven't been playing. And I may not play again. I haven't been feeling like playing, and I don't feel it in my fingers. The doctors said my playing might or might not come back. If it doesn't, I'm okay with that. I think I've made my statement."
"You might have more statements to make," I suggested.
"What about?" He seemed genuinely curious.
"Maybe you've got something to say about what happened to you."
"That's a point," Erwin considered agreeably. "People have been saying to me, 'Oh, I'm so sorry you had to go through that!' Well I'm not sorry — I think it's the best thing that could have happened to me, considering where I am now. Everything seems fresh to me. But how are things with you?"
Since I've been trying to learn "Day Dreaming," I asked Erwin a technical question about the composition. He tried to talk me through the chord pattern, but I told him he was going too fast and I couldn't match the melody to what he was saying.
"I'll show you," he said, and went to the electric keyboard he's taken to jobs when there's no acoustic instrument onsite. "Hmmm, it's not plugged in. Okay, I'll show you on the piano."
I cleared a couple boxes off the piano bench, and opened the fallboard so he could get at the keys. He showed me the opening of "Day Dreaming," an unusual phrase coming up from the bass clef, the execution of which requires both hands.
Then I asked him about "After Hours," a classic he often mentions from the stage was once called the Negro National Anthem. He demonstrated his approach to it, too.
Erwin's fingers are not especially long, and his reach isn't particularly broad, but his hands went directly to notes he's pressed and gestures he's practiced for eons, moving naturally if not quite precisely to summon the songs. I watched from over his shoulder. He looked up at me. "You think I can get my chops back?"
"Hell yes," I said. "You haven't played in four months! Your fingers know where to go, you're just rusty. Play some, and you'll be back."

"Maybe," he said. "I had that thought, too. I asked the bass player and drummer I was working with to come over. So we'll see . . . ."