Movies, jazz and reading remain my favorite solitary diversions, and Fresh Air critic Kevin Whitehead enables immersion in all three with Play The Way You Feel: The Essential Guide to Jazz Stories on Film,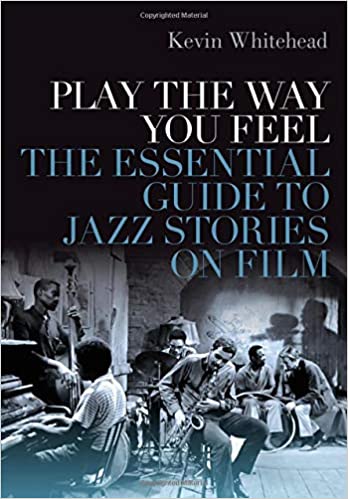 his entertaining, provocative, deeply informed look at some 120 flicks and a handful of tv shows relating tales that mirror or inform American culture.
From The Jazz Singer (1928), long cited as the first motion picture with sound (it wasn't exactly, but launched the form) to Bolden, a too-little distributed imagining of the first jazz star, whose music is "ghosted" by Wynton Marsalis, Play The Way You Feel digs into the narrative fictions about jazz's origins (New Orleans, Birth of the Blues, Kansas City), Swing Era, early and modern jazz stars (the Hollywood bios of, besides Buddy Bolden, W. C. Handy, Irving Berlin, Red Nichols, George Gershwin, Benny Goodman, Gene Krupa, the Dorsey Brothers, Glenn Miller, Charlie Parker, Billie Holiday, sort-of Dexter Gordon), artists' conflictual strivings (Young Man with the Horn, A Man Called Adam, The Gig, Mo Better Blues, Sweet and Lowdown, Whiplash, LaLa Land), and jazz as an all-encompassing milieu (Stormy Weather, Some Like It Hot, High Society, The Connection, New York, New York, The Cotton Club, Treme).
"Jazz and the movies are natural allies," Whitehead asserts, and "Jazz musicians would seem perfect movie heroes.' Yet "in general, these films get little respect. . ." and "[o]n the jazz side, their reputation is even worse." In a curated overview (supported by a 129-item YouTube playlist), he re-discovers and saves some (Broken Strings, for instance, an all-black-cast independent production of 1940, and Second Chorus, also from '40, starring Artie Shaw with Fred Astaire and Burgess Meredith vying for Paulette Goddard), and eviscerates others (he's none too fond of Robert Altman's Kansas City and bypasses Altman's Short Cuts, in which singer Annie Ross is significant).
He mentions but doesn't dig into jazz documentaries, and excludes (perhaps regretfully, but the book could only be so long) works in which the jazz soundtrack, however crucial, is non-diegetic — not heard by the characters, as with Stan Getz's score to Micky One, and Miles Davis' for Elevator to the Gallows). The only obviously jazz-centric films he's overlooked are Dingo, with Miles Davis, and Cabin in the Sky (Ethel Waters, Lena Horn, Ellington, Armstrong). Except for Three Little Bops (1957) he ignores classic jazz animation (Mickey Mouse's debut in Steamboat Willie, the Fleischer studio's Betty Boop cartoons) and jazz abstractions (Jammin' the Blues), to focus on films more obviously and intentionally "about" jazz, and dwells most of all on character and plot development in which general perceptions of our indigenous musical art/entertainment are revealed.
For instance, women are most often subsidiary to the male protagonists of jazz films, whether temporary distractions (Paris Blues), naive or catty (Orchestra Wives), slinky sirens (Lauren Bacall, Lena Horne), or homey-types (June Allyson, as Glenn Miller's wife). Considering the all-but- forgotten, decades-ranging Syncopation (1942), Whitehead notes the climactic moment when the long-marginalized heroine, an amateur musician and fan, gets to play with famed singer Connee Boswell, who is sitting at the bar.
"Kit digs Boswell's vocal so much she nudges the band's pianist off the bench to grab a solo in her usual bluesy style, lightly modernized, winning a blink of approval from Connee," Whitehead writes. "This is one of the rare moments in jazz films where women make music together. . .One hopes the band has noticed Kit sounds better than the regular pianist." (Incidentally and ironically, audio for this encounter is gone from the film as posted on YouTube, due to ongoing legal complications re the Boswell Sisters' estate).
He contextualizes, too, the quality of Sweet Sue and her Society Syncopators (with Marilyn "Sugar Kane" Monroe") in Billy Wilder's cross-dressing farce:
"They're remarkably good for 1929. Rehearsing 'Running Wild' while crowded together in a moving train carriage, they play hot riffs with spark and varied dynamics. On stage, Sugar is a fine sultry singer; behind her Kewpie doll vocal on 'I want to be Loved by You' the Syncopators show they can play sweet as well as hot. The arranging is good, the violins are in tune, the brass blend smoothly, and the rhythm section has a light touch. [But they] lack memorable soloists. That new tenor saxophonist with the low Eve Arden voice plays in a somewhat corny sub-Bud Freeman style, and that new bassist with the throaty laugh seems eternally distracted, fingers barely moving on the fingerboard."
Whitehead notes stereotypes and recurrent themes, acknowledged and unacknowledged alike, zeroing in on the conflicts over tradition and generational change, authenticity (the black elder conferring credibility on a young white protagonist is a common thread), appropriation, race, class, gender expectations and societal taboo-breaking that have fed motion pictures and jazz-as-it-happens, developing in parallel, for over a century. He's particularly good, and always clearly descriptive, describing the music and analyzing the appearances of genuine jazz figures (Louis Armstrong, Duke Ellington, Bessie Smith, Holiday, Rex Stewart and Hoagy Carmichael among them) in pivotal if typically secondary roles.
Whitehead, who is — full disclosure — a respected colleague and good friend, has previously written Why Jazz?, the best introductory handbook, and New Dutch Swing, a close study of the advanced improvisation scene in the Netherlands in the 1990s. As with his album reviews on Fresh Air, he is always thoroughly knowledgable about his topics, with incisive perspective delivered kindly but not soppily — he can cut with the snarkiest of puppies.
I'm taken with his digging up little known features — All Night Long, a jazz version of Othello, for instance, and John Cassavetes' detective-jazz pianist television series Staccato, among other finds. I'm disappointed he neglects the great Lindy Hop dance scene and Marx Brothers' positive embrace of blackface (I can make the case for it) in A Day At the Races, and the jazz wending through Francis Ford
Coppola's The Conversation, which I think of as big points in jazz narrative, but that's his call and our mild argument. The author's scholarship seems strong (he's formerly taught at University of Kansas), but this book is for a general audience. The dictum that furnishes his title — "Play the way you feel" — is truly core to the jazz ethos, and throughout this book, though one could argue with specifics, there's no doubt Kevin Whitehead as a critic watches, listens, thinks and writes holding fast to that same imperative.