Here's writing I worked hard on last year, published in slightly different form as a "Global Ear" column in The Wire (UK) December 2019. Rafael Arriaga's photos (unless credited otherwise) are a fit complement, as is Jazzamoart's painting, "El Bop de los Alebrijes."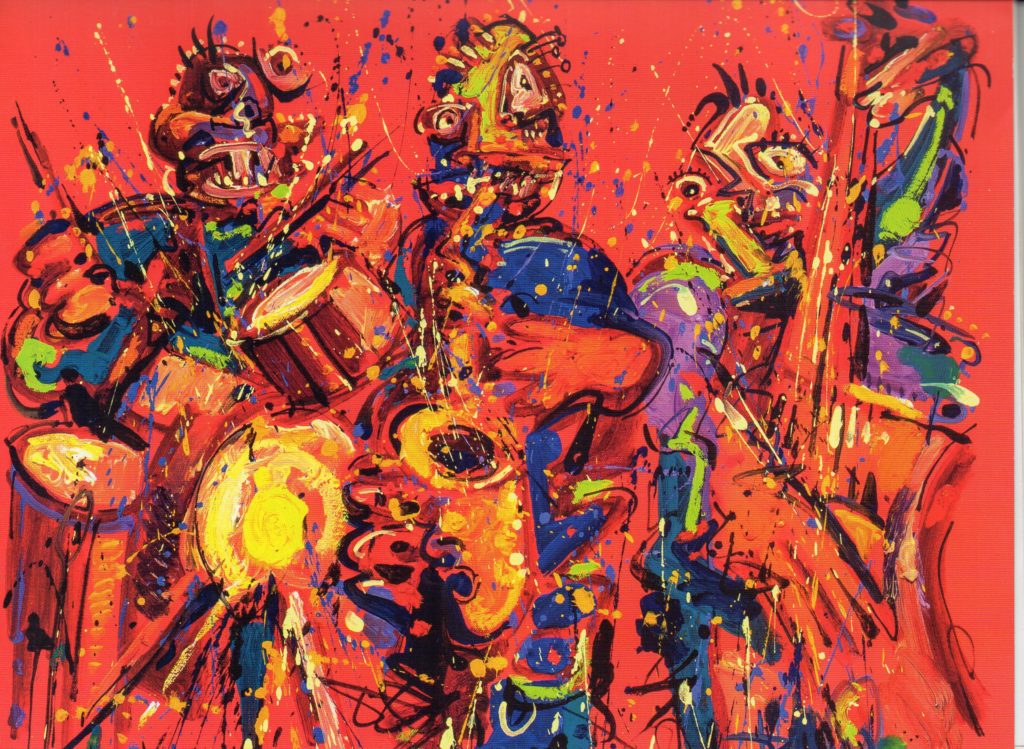 The Harmonipan players, khaki-uniformed men and women grinding away for spare change on out-of-tune, ill-repaired 100-year-old portable German organs in the midst of Mexico City's car-jammed boulevards, were the most surprising element of the soundscape on my recent quick trip to an under-recognized center of musical dynamism. These itinerant musicians offer, usually with a smile, distorted, note-gapped calliope airs as a momentary diversion from the zillion competing details of life in North America's second most populace urban area (behind New York City), continuously inhabited since the eighth century and currently totaling more than 21 million.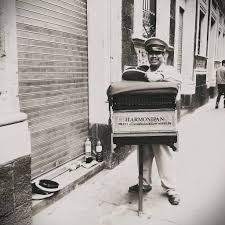 As most of those 21 million seemed to be simultaneously on the roads, edging relentlessly in every direction for brief advantage, the organists' random fragments of dusty melodies, incongruous as soundtracks in a Luis Bunuel film, served as a reminder to lighten up. Alain Derbez, the writer, musician, broadcaster and arts instigator I was visiting always rolled down his window to give the organ grinders a few coins.
I had met Derbez at the first Varadero Jazz Festival in Cuba in 1981, bonding as fellow journalists away from home do, and staying in loose touch. Over the decades we saw each other once at the Guelph Jazz Festival and Colloquium, and during trips to New York City he's stayed in my apartments. He has always urged me to come to Mexico.
When he emailed to say that over a few days in late September French bassist Joelle Leandre was leading an improvisation workshop with young players, pianist Myra Melford and clarinetist Ben Goldberg were to perform on their own and with local musicians, that he himself was to gig with a free improv quartet at a jazz-dedicated club, and that he and his wife would put me up, the time seemed right.
I'd only been to Mexico twice before, with my parents as a pre-teen and for a couple days in the '80s to hang out in a little town on the east coast of the Gulf of California, just over border from Arizona. The country does not have a high profile in generally accepted narrative of jazz and other progressive music, although it should Mexico City has a thriving community of skilled, sophisticated and risk-taking musicians, having produced and attracted modernists and innovators in all the arts since at least the 1920s emergence of Rivera, Kahlo, Orozco, Siquieros, including in the '30s Carlos Chavez and visiting Aaron Copland, in '40s and '50s direct Bunuel and piano-roll composer Conlon Nancarrow – both of whom became naturalized citizens.
Jazz fans may think of Mexico as where Charles Mingus and Gil Evans went to die, but cultural exchange over the vast territory has always been rich and multi-directional — since well before Western Swing's Bob Wills popularized "Mexicali Rose" and "Spanish Two-Step" in the 1930s. As detailed in El Jazz en Mexico, Derbez's history, the Mexican Eighth Cavalry Regiment band of nearly 100 musicians wowed New Orleans in 1884 and '85, when they appeared at the World Industrial and Cotton Exhibition, and some Regiment players stayed north, at least for a while.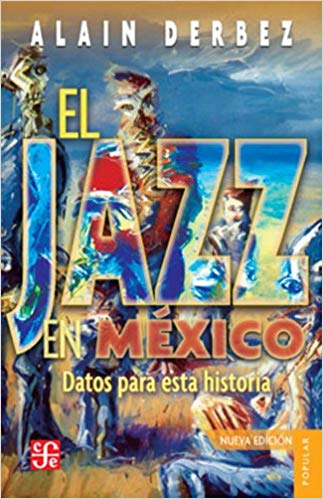 Recent research has revealed that some early New Orleans jazz instrumentalists regarded as Cuban actually were Mexican.; Derbez cites New Orleans' resident native Mexicans Lorenzo Tio Sr., Louis "Papa" Tio, and Lorenzo Tio Jr. as having taught clarinet to Sidney Bechet, Barney Bigard and Jelly Roll Morton, among others. That the Mexico/U.S. borderlands are so obviously porous is not universally admired; it's the reality that has fueled extreme anti-immigration rhetoric and efforts by President Donald Trump.
But if anyone should concerned about cultural infestation it should be the Mexicans, considering the U.S.'s outsized influence in all things south of the border. Just consider the omnipresent folk music: forms favored by the southern U.S.'s European immigrant settlers – elements of polkas, jigs, waltzes and boleros of German and Polish, Irish, Austrian and Hispanic extraction remain prominent in the rancheras, nortenos and danzons requested of musicians working in Mexico City's lively cantinas.
These are old school taverns, which serve tapas or "small plates" (I sampled ossa busco, chicarronne — fried pig skins — with salsa, a bean salad, shrimp in broth, tripe) to encourage and buffer alcohol consumption, range in size and elegance ("You go to a restaurant to eat and drink," Derbez explained. "You go to a cantina to drink and eat"). Most have an acoustic combo – typically a guitarist or two, perhaps a fiddler or a percussionist with a hi-hat and timbales or a button accordionist, all capable of singing. This troupe walks from table to table, amid dice and domino players, loners nursing drinks and noisy family parties, soliciting requests.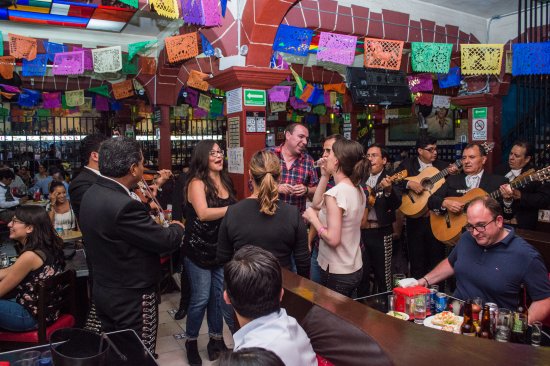 Their per-song charges vary, maybe averaging maybe 50 or 60 pesos, about $3 or £2.5. At the Golden Lion Cantina, a table full of male office workers raised their voices in ebullient chorus, asking for one familiar theme after another. "They're going to owe a fortune," Derbez observed. He sometimes gigs in cantinas, playing accordion or soprano sax.
Generous and warm hosts, Alain and Marcela Derbez enabled my quick early October visit to be a deep dive into their artistic circle. Beyond his history El Jazz en Mexico, Alain has published essays (Plume en mano, Entre blues y jazz), poetry and novels. He lectures and presents his books widely, has a radio program, and plays professionally a couple times a month, employing a harmonium and blues harmonica, as well as soprano sax saxophone and squeezebox. Marcela is a a clinical psychologist and poet; their daughter is a feminist art critic and talented, entrepreneurial illustrator, their son a nascent rock star, in one Youtube sample ("Diles que no me maten – Cayó de su Gloria el Diablo") declaiming a la Jim Morrison over psychedelic atmospherics. Busy as he is, he makes time to make things like three days of performances for friends just passing through possible.
"It was not a festival, I just had the contacts, and it was a good coincidence that Joelle was here giving this improvisation workshop," Alain insisted of the three concerts he'd organized at Casa del Lago, an avant-garde cultural center of the National Autonomous University of Mexico, situated in the middle of Mexico City's Bosque (forest) de Chapultepec. While I was there the Casa celebrated the 50th anniversary of its founding with a happening in which enlisted artists — Alain of course participated — read a summary of one year of its activities from a piece of paper, then did something "musical" with the page, crumpling it noisily, buzzing it like tissue over a comb, singing while flapping the paper as loudly as possible.
The Casa's director José Wolffer, possessing a broad perspective on new arts endeavors, curated that event, which had a Fluxus air. On our second meeting he presented me with a copy of México Electroacústico 1960-20070, a three-cd set he'd instigated that's comparable to Columbia-Princeton Electronic Music Center or Ohm: The Early Gurus of Electronic Music 1948-1980. All the tracks explore the sonic breadth available from electo-acoustic ensembles and/or compositions, most of them pursuing evocative, organic developments through flowing narratives. I'm especially taken with the dramatic tape piece "Juegos Sensoriales" (1987) by Francisco Nuñez.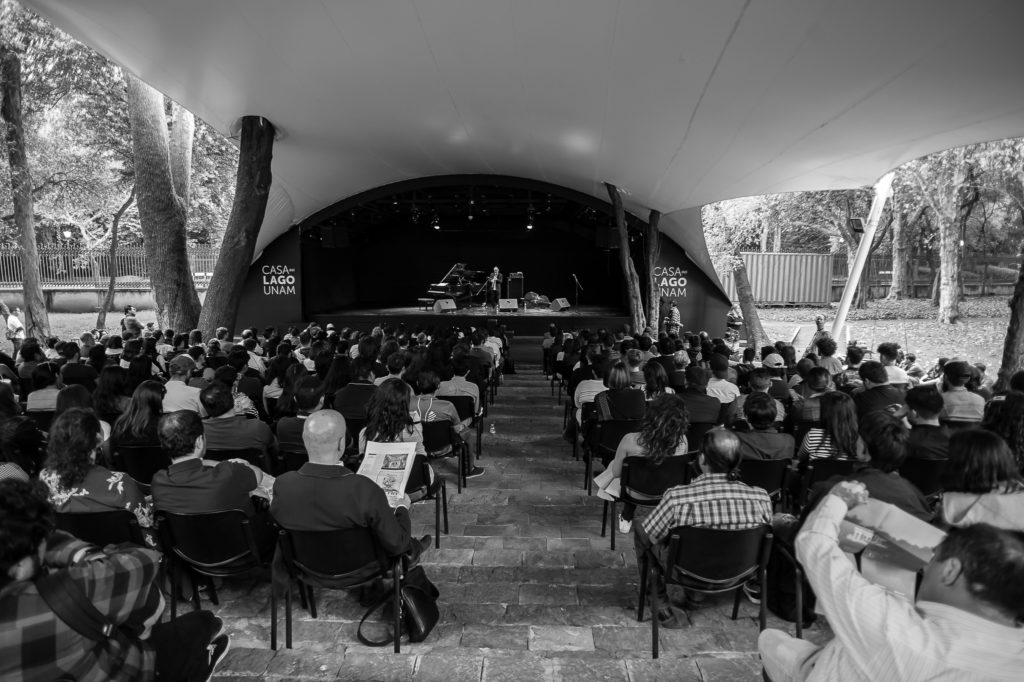 The Casa itself, a Beaux Arts building opened in 1909 to house the Automobile Club of Mexico, sits on the lip of a man-made pond in the midst of the vast park that contains a castle, a zoo, the National Auditorium, sculptures and historical monuments, gardens, and most significantly the the world-renown Museo Nacional de Antropología, which profoundly establishes that civilizations flourished for centuries south of the Rio Grande, regardless of the U.S.'s ignorance and dismissal of that history. There are also eight other museums, rows of stalls with vendors hawking cheap souvenirs, and buskers such as a youth who played Bach on amplified cello. It was all new to me but of course Mexicans roam the grounds as familiarly as if in their back yards.
Some drifted over to the Casa's free, mid-afternoon performances on an outdoor stage with covered seating for some 250 people. Listeners with no experience or expectations as well as musical devotees sat through these shows.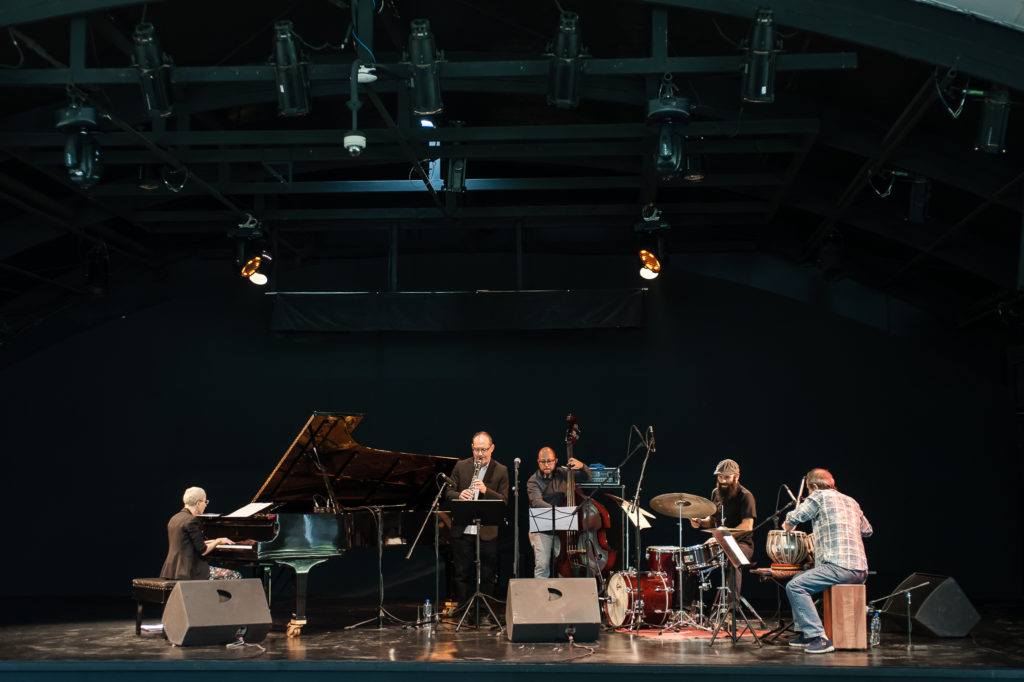 Leandre did not perform with her dozen pupils, youngsters relative to Derbez, who is in his early '60s. She had tutored them on free improv strategies, emphasizing boldness, commitment to their instruments, and the importance of listening to each other. The basic advice was evidently taken to heart by the two guitarists, two players of synth and electronics, several percussionists, a pianist, bassist, woman with a sitar and man blowing high-pitched bamboo Japanese flutes. Their combinations were not all inspired, but there were no disasters and some bright moments.
On the following afternoon, Melford and Goldberg delved into their intricate, often reflective compositions that open wide for improvisation. Myra, although physically small, can dominate a grand piano, exploding from precise figurations into massive clusters, keyboard-length sweeps and propulsive rhythmic episodes without ever losing her place. Ben blows the quirkiest of melodies with composure, his tone even across the clarinet's wide range. He employed circular breathing softly in passages akin to long, bluesy sighs.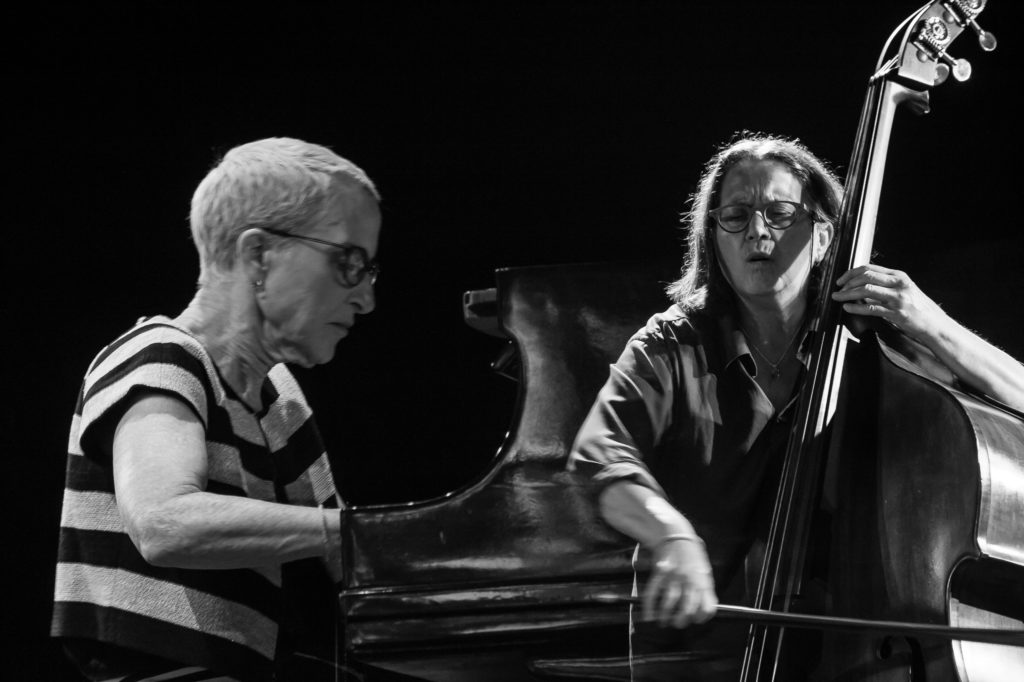 Joining them, Leandre used her bass as a physical extension with which to roughhouse. This set and the next day's, in which Melford and Goldberg collaborated after just one rehearsal of their distinctive repertoire with Gabriel Puentes on drums, Luis Miguel Costero, percussion, and Israel Cupich on double-bass, won them all new fans.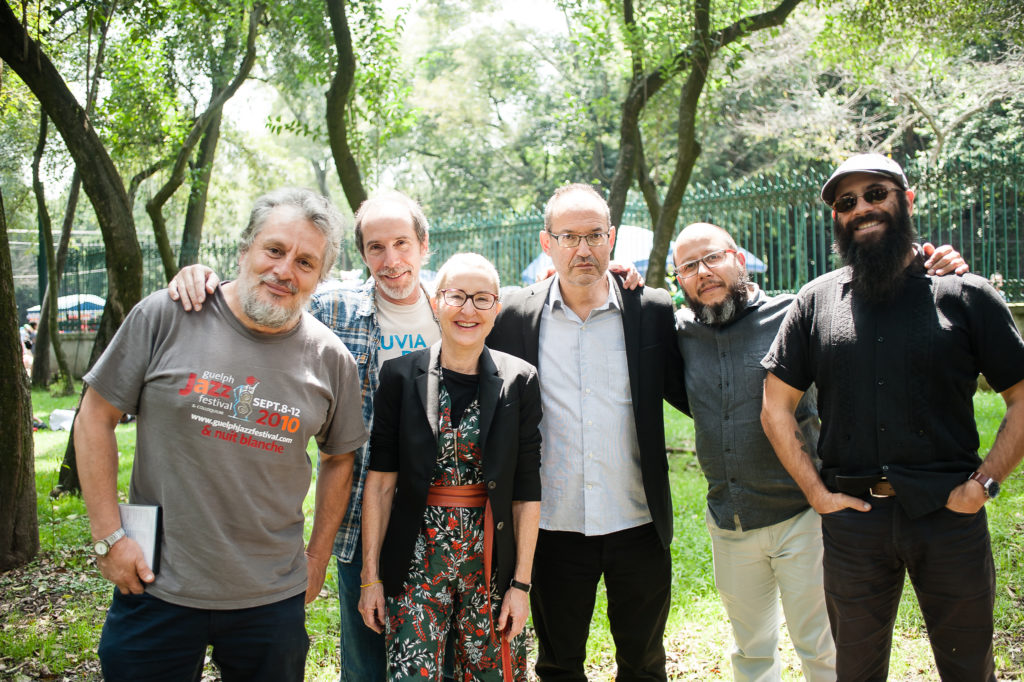 However, I already knew of Melford, Goldberg and Leandre's prowess. It was the joyful and multiform aspects of two sets I witnessed at the club Jazzatlán that convinced me unconventional musical performance is alive and well in Mexico City.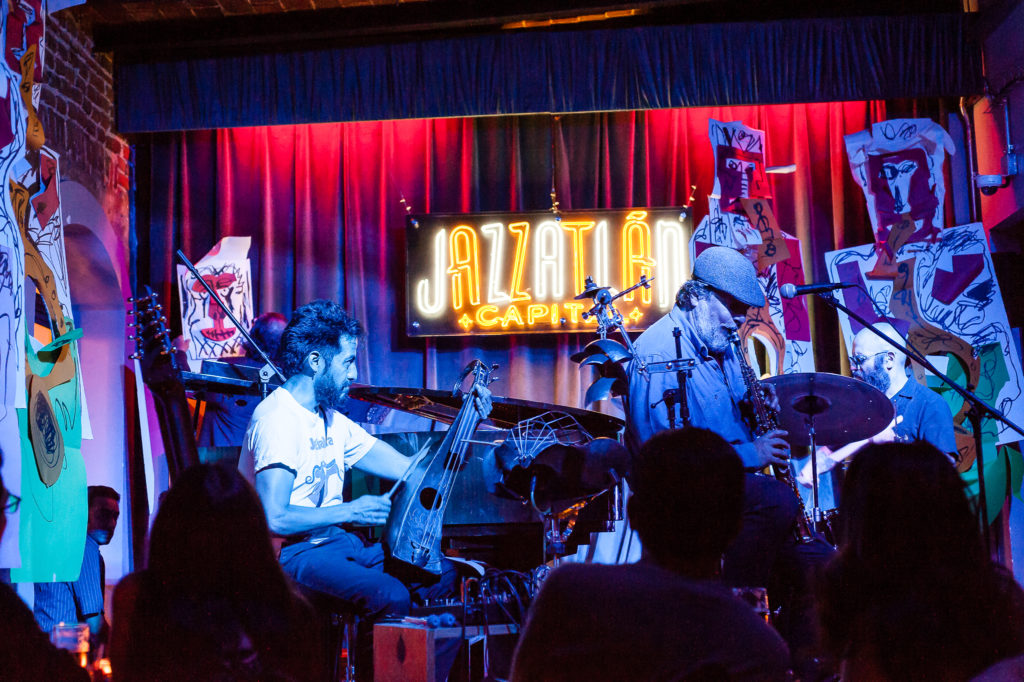 Derbez played soprano sax and blues harp; Puentes, who came to Mexico City from his native Chile in 2000 to record the soundtrack for the crime film Amores perros and never left, sat at the traps. Mauricio Sotelo wore a Chapman Stick and had within reach unique invented instruments, metal sculptures to pluck, strike or bow, hand-forged by his brother Francisco, with whom he co-leads the heavy metal/prog-rock band Cabezas de Cera (Wax Heads). Pianist Ana Ruiz, who has proudly played free since 1972, influenced by Cecil Taylor, among others, was at the back of the stage.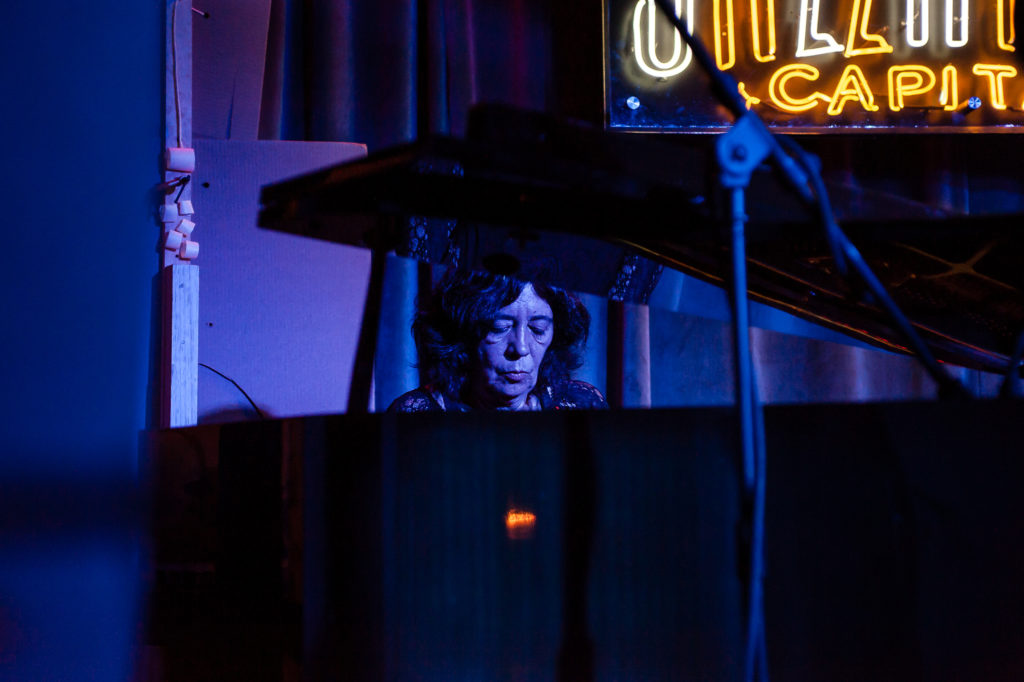 Behind her two tall cardboard figures, resembling the towering Toltec statues I'd seen in the Museum of Anthropology, were propped against the wall. As the band began and its music quickly developed from tentative licks into a full rush of voluminous sound, visual artist Javier Vazquez Estupinan, better known as Jazzamoart, sliced at the cardboards with a box cutter and daubed them with paint.
I've seen visual artists work in the moment with improvised music in Chicago and in New York, typically from a point in the audience.. At Jazzatlán, Jazzamoart was onstage, action-painting as a member of the band.
He was absent, however, when the second set began. Sotelo put down a throbbing bass line, Puentes used brushes for a nervous tattoo, Ruiz pressed dark chords, and Derbez blew the mournful theme of Ornette Coleman's "Lonely Woman." True to Coleman's harmolodic ways, they let their impulses shape a group exploration evoking distress unto anguish and empathetic concern, unbound while sustaining to the song's essence.
As the players reached a climax, bolts of brightly colored paper suddenly erupted from behind them. Giving new meaning to the phrase "sheets of sound," the sheaves, shot forth in a seemingly endless stream by Jazzamoart, kept coming, flooding the stage.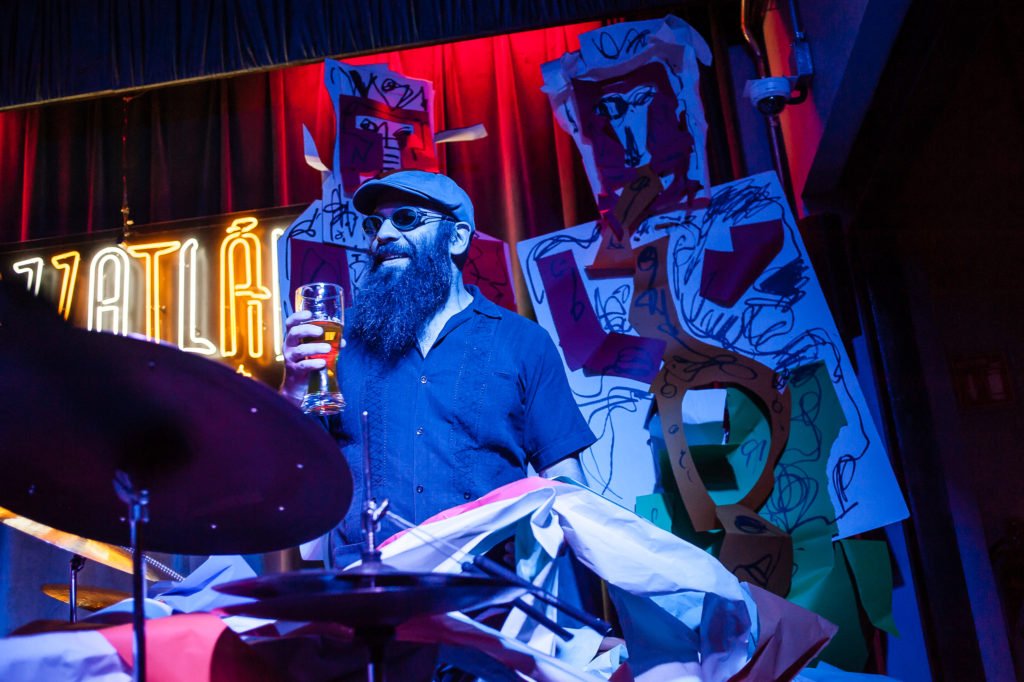 Ruiz, standing at her keyboard, laughed wildly, Puentes cut through the curling lengths with his sticks, Sotelo shifted to uplift, and Derbez, blowing with his eyes closed, unaware, increased his intensity. Their passion became merrily mad. The crowd, consisting mostly of couples in their 30s and 40s, watched with wonder, amusement and finally enthusiastic applause. At conclusion, everyone was smiling broadly — which is unusual in my experience of free improv events.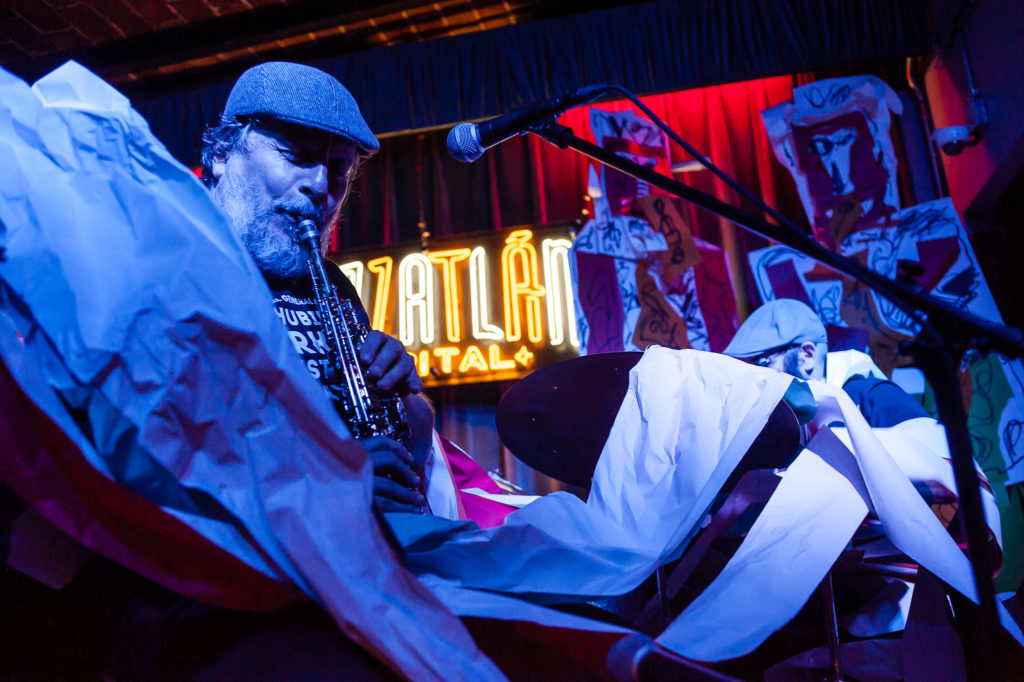 The next night, Jazzamoart hosted a sumptuous wine-and-cheese party at his atelier. His paintings, dense with impasto renderings of musicians, Don Quixote, soccer players and figures such as Rembrandt with a saxophone, were hung or stacked everywhere. An amateur drummer, he had instruments for jamming in our gathering space. Melford and Goldberg were there, as were Derbez and his wife, photographer Rafael Arriaga, Puentes, Sotello, several companions and friends. They spoke of the weekend's music, of their pasts — Puentes had abandoned an advanced degree in modern English literature to concentrate on music — and the present.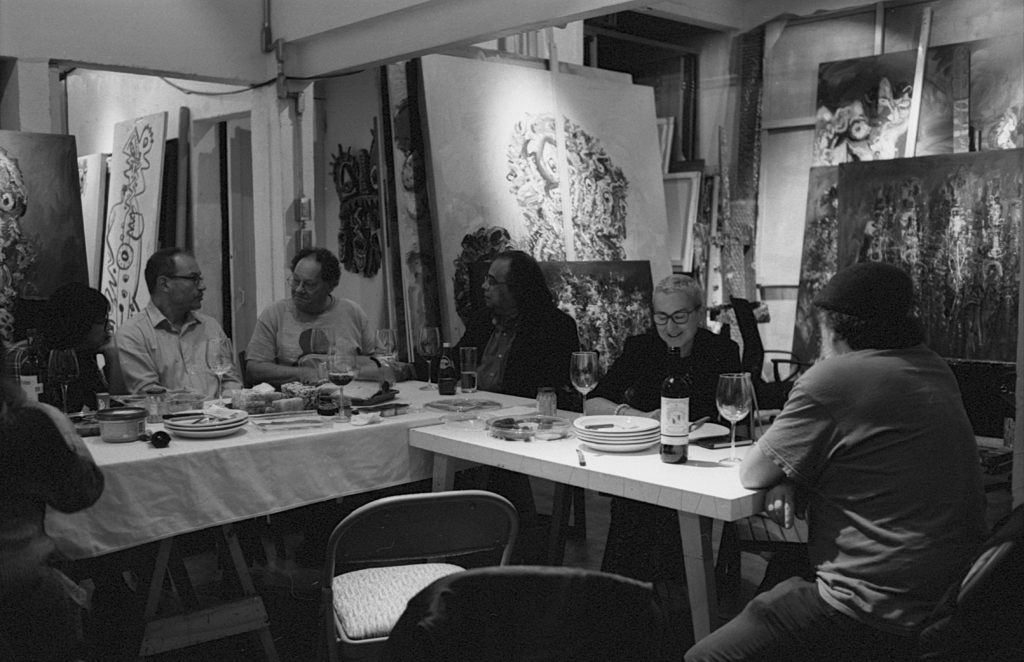 All were positive about their careers to date, Sotello especially. He talked about how free improvisation was liberating, after years he'd spent in hard rock and heavy metal contexts. He mentioned musicians who had left for the U.S., Canada and Europe in pursuit of their careers, saying most had returned.
"It is expensive to live in the States," he said, "and we are paid just as much here. There are plenty of opportunities to play in Mexico City, good venues, and talented people are coming from all over the world because they sense there is something happening here. Why not? We have a great future."