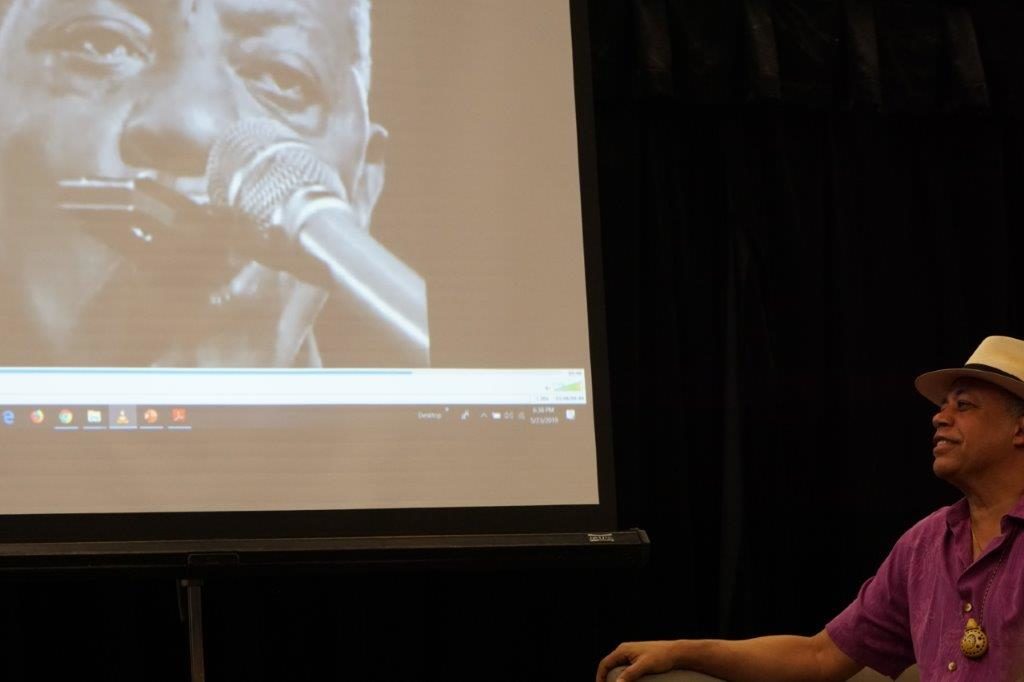 Nearly 100 Chicagoans (maybe some visitors?) watched Muddy Waters, Howlin' Wolf, Junior Wells, Buddy Guy and other heroes of the blues on videos at the Cultural Center Thursday night (5/23/19), with harmonica star Billy Branch and WDCB program host Leslie Keros telling stories and participated in lively interplay with knowing attendees. It was the fifth Digging Our Roots: Chicago's Greatest Hits "listening session" this spring, co-presented by the Jazz Institute of Chicago and Jazz Journalists Association.
Full disclosure: I sit on the JIC board, am president of the JJA, curated and moderated this series. Let that not invalidate this report! Because since cold last January, our once-a-month, free, public music show-and-tells have drawn a steadily growing, diverse and highly engaged audience to both revisit and discover anew jazz/blues favorites of the distant and recent past, pointing to culture of this city now.
I don't say that to brag, just to confirm that small budget, low cost, all-ages-and-sophistication-level presentations can raise the profile of local musicians and journalists working together, expose successful (entertaining!) if perhaps forgotten artists to awe and encourage younger music lovers, and generate fine content for posting, such as Mashaun Hardy does for the Jazz Institute's social media streams by video streaming portions of the proceedings, live — like below:
The economical nature of the production is thanks to the Cultural Center (overseen by the Mayor's Department of Cultural Affairs and Special Events) providing space and staff, as well as the amazing banquet of video performances online (we watched clips selected by the panelists, including this dynamite performance by Billy Branch and Lurrie Bell with an early version of their band Sons of the Blues).
The Jazz Institute provides promotion online and a staffer or two who help with production, harvest attendee's email address and sign up new members. I contribute my efforts on behalf of the JJA, and have enlisted members as speakers.
For instance, in April photographer/writer/visual artist and saxophonist Michael Jackson joined tenor saxist Juli Wood to celebrate the Chicago Tenor Tradition represented by Gene Ammons, Johnny Griffin and Von Freeman (pianist Michael Weiss, at the Jazz Showcase that week with saxist Eric Alexander to celebrate Grif's birthday, sat in). John McDonough, a longtime writer for DownBeat and the Wall Street Journal, created a medley of historic versions of "King Porter Stomp" for a presentation of Jelly Roll Morton's classics in February with roots Americana pianist Erwin Helfer performing two of Jelly's tunes.
Veteran broadcaster Richard Steele, just hours back from a tour of Cuba in company of trumpeter Orbert Davis, talked with saxophonist Eric Schneider about the collaborations and careers of Earl "Fatha" Hines (with whom he'd toured) and Louis Armstrong. Ayana Contreras, producer for WBEZ and Vocalo Radio, provided in-depth commentary about the jazz influences and nuances of Curtis Mayfield, Minnie Riperton and Earth Wind and Fire in the March Digging Our Roots, which climaxed gloriously: as keyboardist Robert "Baabe" Irving III played EWF vamps on the Cultural Center's piano, audience members started singing along, Maggie Brown (Oscar Brown Jr.'s daughter) rushed to the stage, grabbed a mic and started wailing — dancing erupted! It was grand.
At the May session, Branch spoke admiringly of the musicianship of his elders he had known, especially including Sonny Boy Williamson II, as slyly understated harmonica man Rice Miller called himself while touring from the Mississippi delta to the capitols of Europe, having appropriated repertoire and reputation of John Lee "Sonny Boy" Williamson, who had hit records but was murdered in 1948. Keros introduced an excerpt of a film of Maxwell Street, Chicago's fondly remembered outdoor market at which Blind Arvella Grey, guitarist Robert Nighthawk, Big John Wrencher (don't the names summon their images?) held forth.
One fan corrected my impression that Bill Broonzy was playing from his own doorstep — actually the clip was from a film shot by Pete Seeger. Another suggested that the way to return blues to popular music today is have a deejay/producer grab it for presentation to the EDM audience. Apparently that gent was unaware of previous attempts to turn that trick, such as the Elektric Mud Cats — Chuck D and Common with guitarist Pete Cosey — doing a number on Muddy Water's "Mannish Boy."
The next Digging Our Roots session, at 6 pm on Saturday June 29, highlights Chicago's singers, starting with Dinah Washington, Oscar Brown Jr and Johnny Hartman. The panelists are Aaron Cohen — former DownBeat editor and author of the forthcoming Move On Up: Chicago Soul Music and Black Cultural Power — and singer Bobbi Wilsyn. The venue changes to the Logan Center, in Hyde Park on the edge of University of Chicago campus, which is hosting two free days of Jazz Institute programming, noon to 10 pm, as a 50th anniversary Birthday Bash reveling in the breadth of JIC and our local scene's concerns and activities.
As part of the JIC's year long 50th engagement and fundraising campaigns, a series of jazz movies programmed by the Chicago Film Society kicks off Monday, May 27 with Mickey One (starring Warren Beatty, directed by Arthur Penn, with music by Stan Getz, shot in Chicago) at the Music Box. Further flicks include Ornette: Made in America, Spike Lee's Mo' Better Blues and Les Blank's Always for Pleasure.
The drift is: Mutually beneficial partnerships for free or modest-fee events featuring local celebs at readily accessible venues can advance the mission of medium to small not-for-profit arts groups (like the Jazz Institute and the Jazz Journalists Association). Knowledgable people who have insights into pre-recorded media can offer curious listeners and viewers an interactive experience (all Digging Our Roots sessions included q&a time) that bonds most everybody present, like any successful performance. I'm thrilled to present music I love to anyone who's got the time and inclination to enjoy it and hope to continue this series in autumn in Chicago.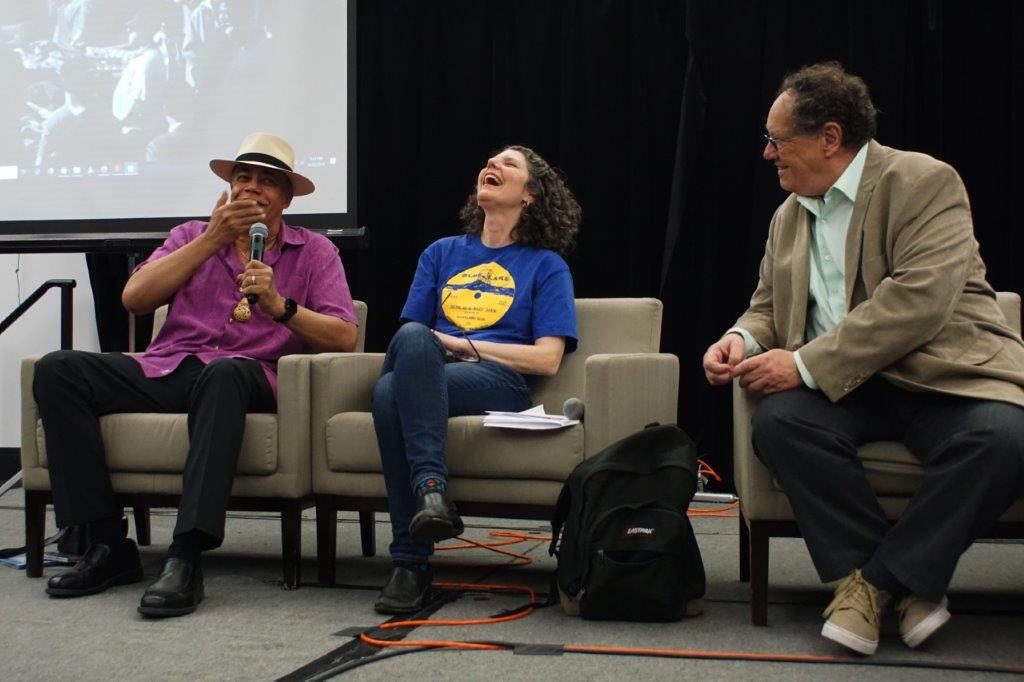 Might I suggest Digging Our Roots-like programs as a model for arts journalists and arts organizations spotlighting arts-near-us, contemporary or historic? All you need is a public space, time, date, and speakers able to be enlightening about great content. That last is the main thing. We're lucky here to have such enduring jazz and blues.