Marshall Allen, ageless 94, leads the Sun Ra Arkestra
If you liked Black Panther, listen to the music that introduced and embodies Afro-Futurism. Photojournalist Marc PoKempner captured a bit of the celestial magic of the Sun Ra Arkestra (est. circa 1954) during its November touchdown in New Orleans's Music Box Village. This picturesque venue is an assembly of little houses which MPoK says "each has some sound producing capability – bells, chimes, horns, drums." (Above: Marshall Allen, Arkestra leader since 1995. All photos here Marc PoKempner copyright 2018).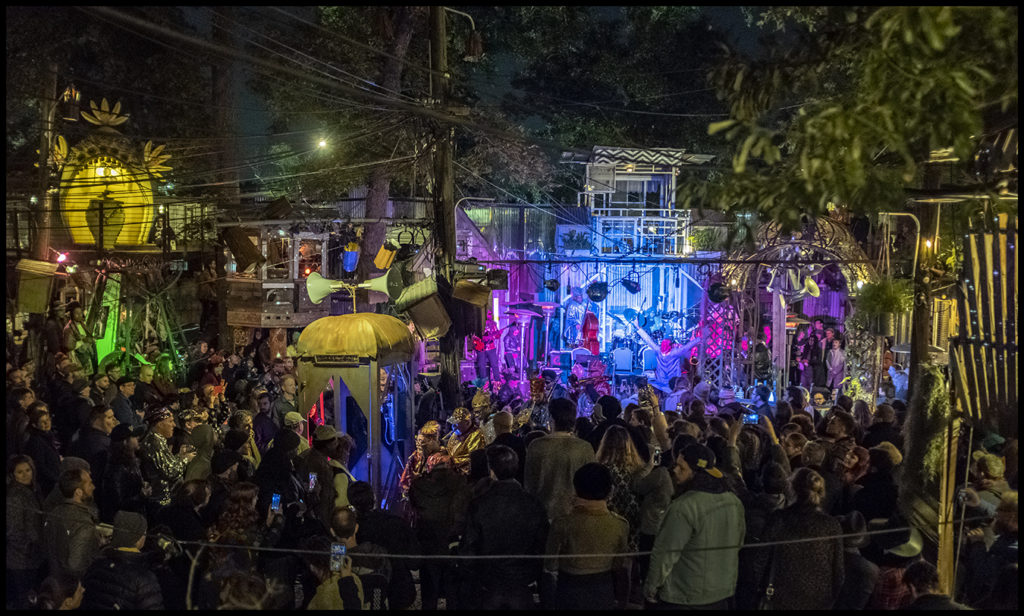 Marc continues, "It's next to the bridge on the upper side of the Industrial Canal, surrounded by a fence made of recycled corrugated metal. Since last time I was there, they've added loads of interesting lighting, and smoke generators that add to the magical atmosphere – perfect for the Arkestra."
Vincent Chance, who plays French horn in the Arkestra (and elsewhere), commented, "The concerts there were pretty amazing. The audience was knocked out by both shows, we played two days there and had two days before to familiarize ourselves with the instruments from their installations." Preparation is good for liftoff!
Sun Ra was a visionary who gifted the Earth with his sensibility, forevermore. During winter holidays and times of social crisis — or really, whenever — traveling the spaceways with his sounds and messages in mind is recommended as an enhancement, inspiration, provocation and/or escape.
John Szwed's biography Space Is The Place: The Life and Times of Sun Ra is recommended for further reading about the singular bandleader/composer/arranger/poet/entrepreneur/satirist/philosopher, named by his Earthling parents at birth Herman Poole Blount. I've written about him, including liner notes for the Complete Performance resulting from his meeting with John Cage, and a 1991 concert at Inter-Media-Arts. Still, my favorite of Sun Ra's many albums is Secrets of the Sun. The Omniverse being one, start anywhere.