The first Jazz Congress co-hosted by Jazz at Lincoln Center and JazzTimes magazine Jan 11 and 12, 2018 and the 14th annual 
Winter JazzFest Marathon produced in downtown Manhattan Jan 12 and 13, offered contrasts and prompted crosstalk. It wasn't like these were conventions of different parties, but different narratives were going down.
The Congress's sessions included JALC managing and artistic director Wynton Marsalis speaking on race and jazz, women in jazz announcing "yes, we're here," and Kareem Abdul-Jabbar keynoting about his love of the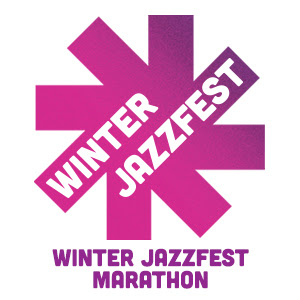 music. It was a schmooze fest for managers, publicists, presenters, musicians, writers, photographers, recording company execs and die-hard fans, who enjoyed themselves in JALC's comfortable and scenic spaces.
The WJF produced by Bryce Rosenbloom's Boom Collective presented some 100 concerts in 11 venues, showing rather than telling who's doing what in the marketplace of rhythmic-driven vernacular songs and improvisation. It was flush with fervor, attended by folks with obviously wide-open ears.
Here's Marsalis despairing that black people don't support jazz, that the young are ashamed of the swing beat, that black music is willfully ignored by music  conservatories, that white people can't dance. Pianist/writer Ethan Iverson mostly nods in agreement, announcing that jazz is black music but we're all Omni-Americans (the late Albert Murray's admirable assertion).
Jazz And Race: A Conversation – Jazz Congress 2018 from Wynton Marsalis on Vimeo.
No single clip can encompass the creative/political/sonic thrust of 2018 WJF — which after Marathon weekend continued another five days, with star-heavy tributes to Alice Coltrane and Geri Allen, for instance — but here's a taste from the WJF appearance of singer Jose James at le Poisson Rouge, revisiting Bill Wither's 1972 folk-rock-r&B hit "Use Me" (which Esther Phillips covered that same year,
and the Portuguese-Australian-Netherlandquintet Mn'Jam Experiment has more recently, with improvised video). A purist might disavow any of these three versions as jazz. Whatever. I like it.
The best WJF sets I heard were —
an artfully conceived and unusually well-realized melding of spoken word with unconventional music in "Art and Anthem: For Gwendolyn Brooks," by WJF artist-in-residence flutist Nicole Mitchell, with pianist Jason Moran, poet Erica Hunt, singer Shana Tucker, bassist Brad Jones and drummer Shirazette Tinnen in brilliant ensemble (Rashida Brumbray also did some emphatic dancing);
hot new vocalist Jazzmeia Horn, advancing the approach of Betty Carter, at the commanding center of her tough, blowing band (and with two Grammy nominations for her debut album A Social Call;
scabrously sarcastic and nobly tender songs of resistance by Marc Ribot, playing a beat-up old acoustic guitar and ukelele, with loose accompaniment from powerful tenor saxophonist James Brandon Lewis, acidic altoist Briggan Krauss, supporting singer and flutist Domenica Fossati;
a 1:30 am – 2:30 am hit by ultra-charged electric bassist Jamaaladeen Tacuma's Brotherzone with electric guitarist Ronnie Drayton and drummer Darryl Burgee, members of the original '70s Last Poets and their protégé, poet Wadud Ahmad.
Pace Wynton Marsalis, who truly does travel the spaceways trying to stir up mainstream audiences for "jazz" and has been singing his downbeat tune for a while, here was considerable evidence "jazz" is healthy, provided we allow "jazz" to be defined by people interested in (as well as artists exploring) what its variable parameters suggest it might be. "Jazz," our most immediately engaged of art forms is, from my experience at WJF, my usual perspective in Chicago and global correspondence, responding with openness, daring, unbowed energy and spirit to  social, economic and technological developments in real time, virtually everywhere.
The acts I cite above and others at the Marathon — flutist Jamie Baum's Septet introducing new material; the Sun Ra Arkestra interacting with its 40-Â 
year-old soundtrack on the Ra-on-film spectacle Space Is The Place; a clangorous attempt by out-jazz/black rock trio Harriet Tubman plus ringers to update Ornette Coleman's iconic suite Free Jazz — as a matter of course featured multi-racial/religious/ethnic/gendered personnel. Exception proving the rule: saxophone terror James Carter's Electrik Outlet, four guys who didn't get the memo re: backing off on sexual innuendo.
 I walked the Marathon route from the New School's Tishman Auditorium to Subculture on Bleeker and Lafayette, in New York University territory, and everywhere were audiences of wide age span and diverse ancestry. Perhaps not as many, not as young or diverse, not as easily drawn in as we of the hardcore would like, but it's not a scene in downturn, either — except maybe financially. Which is, of course, a catastrophe, since even jazz musicians (and jazz journalists) have to eat.
Of course, this was Manhattan during a special week in musical presentation, facing an international audience. The convention of the Association of Performing Arts Presenters — those who book artists for your elite venues — was going on, and globalFEST, and other showcases like the club Birdland's multi-night stand of Vijay Iyer's sextet of heavies from his critically hailed ECM album Far From Over were scheduled with this in mind. True, ching-ching-a-ling swing as established in the 1930s was not the predominant WJF beat. But I did hear drumming — by Tyshawn Sorey, Matt Wilson, J.T. Lewis and Ms. Tinnin, check 'em out — that swung hard, informed by Art Blakey, Max Roach, Dannie Richmond, Tony Williams, and others of the tradition.
I prefer music that takes its momentum from the bottom up, rather than float moodily and ethereally, so that's what I pursued. There were probably WJF sets that didn't grip or groove, but everyone I heard was thinking about form and substance, and hoped to engage listeners rather than assume their attentions.
There was music at the Jazz Congress. The JALC's rotunda stage, with floor-to-ceiling windows viewing Columbus Circle and Central Park, had student groups mostly serving as backdrops. But then the Congress was meant to be a venue for bringing up if not working out issues affecting the music's current ecosystem. The emphasis was on hot topics and casual bump-intos.
So I heard NPR and DownBeat contributor Michelle Mercer moderate a panel on "Women in Jazz" (as distinct from the one she moderated for the JJA's Jan. 13 Jazz Media Summit on women in jazz journalism). On it, trumpeter/teacher/activist Ellen Seeling explained what it's taken to get Marsalis's Jazz at Lincoln Center Orchestra to institute blind auditions and published notification for jobs. Trumpeter Ingrid Jensen and writer John Murph commented on their work lives, being mostly positive but reporting fulltime awareness that biases about gender, race, sexual orientation, class, etc. might affect professional relationships. Drummer Terri Lyne Carrington, honored by the Congress with its Bruce Lundvall Visionary Award, spoke of mentoring middle school girls learning to play jazz as well as later — and perhaps even earlier — students.
Abdul-Jabbar, beloved for his basketball prowess and unforced charm, in his keynote address (starting in this video at 42 minutes in), told of loving the music. Nothing new there, but he got a standing ovation. There were also presentations by producers of the NPR/WBGO/Jazz at Lincoln Center radio-and- video show Jazz Night in America and independent programmers forums organized by JazzWeek. It's good to see people from all across the US — Randall Kline of SFJazz, John Gilbreath of Earshot Jazz in Seattle, Tom Guralnick out of Albuquerque, Terri Pontremoli from Cleveland's Tri-C Jazz Festival, Mark Christman of Ars Nova Workshop, Philadelphia as well as colleagues from France (journalist/broadcaster Alex Duthil), Zurich (Intakt Records producer Patrick Landolt), Toronto (Jane Bunnett and Larry Cramer), London (John Cummings), Bremen (Peter Schulze of JazzAhead!), and lots of East Coast-based associates.
The Jazz Congress replaced the Jazz Connect conference formerly run by JazzTimes and the Jazz Forward Coalition. Coalition principals such as Don Lucoff (DLMedia, PDX Jazz/Portland OR) and Peter Gordon (Thirsty Ear Records) addressed the Congress, too. A good time was had. And then to hear music in New York City! With jazz of the WJF calibre available to record and tour, listenership could grow, if the sector figured out a business model. For all the talk at the Congress, little of it focused on tapping new income streams. At the JazzFest, the plan was, "We'll play, you'll come." Yeah, if folks find out about it, and the show's not too far from home.