The 18th annual free Englewood Jazz Festival in south side Hamilton Park last Saturday (9/16) affirmed the best of Chicago's grassroots culture,
promoting an opposite image of this challenged neighborhood as a dangerous place — unless one fears powerful, creative music that speaks as directly as dance rhythms to its family of listeners.
Produced on behalf of the Live the Spirit Residency by saxophonist Ernest Dawkins — current AACM Chicago chairperson, Park District music teacher and every-Sunday star at Norman's Bistro, who led a terrific little big band (12 pieces, not 18) and jam
session with singer Carolyn Fitzhugh — the fest also starred Chicago's down-to-earth diva Dee Alexander with her ace group (pianist Miguel de la Cerna, bassist Junius Paul, drummer Ernie Adams) and East Coast-based trumpeter Wallace Roney, whose three very young sidemen (his 13 year old nephew Kojo on drums; tenor saxophonist Emilio Modeste) proved up to his music's hard, fast demands.
The afternoon-long program was emceed by WDCB's music director/morning show host Paul Abella and station manager Dan Bindert (Dee Alexander has a show now on 'DCB, too). It drew some 1500 folks skewing late middle-aged, who sat on lawn chairs and blankets and a few rows of low bleachers. We drank bottled water and herb tea, bought barbeque, considered shea butter, t-shirts, costume
jewelry and baked goods from local vendors. About half a dozen uniformed police officers hung around, available and amiable, untroubled and untroubling. Dawkins gave them a shout out from the stage. The biggest problem was the vegan food never arrived. The Englewood Jazz Festival was a lark in the park.
Yet the Live the Spirit Residency Big Band's soloists took it seriously, their music consistently tight and urgent. Trumpeter Pharez Whitted isn't to be messed with — he was also playing that night as he had the night before at the Green Mill in pianist Willie Pickens' quintet, masterful on ditties like "Salt Peanuts" and "Giant Steps". Here he was paired with trumpeter John Moore, whose open attack and muted sound, too,
reminded me of late, little-heralded Billy Brimfield, trumpet partner of late, deservedly-heralded saxophonist Fred Anderson. Decades ago, performing at a coffee house in Evanston, they introduced me into jazz's serious nature.
Pianist Alexis Lombre thickened and detailed the ensemble's blend (she's going to appear solo and with her trio at the Jazz Institute of Chicago's upcoming Gala — she's emerged from the JIC's Links program). Baritone saxophonist Dudley Owens called up phrases from the deep, his bandmates answering with contrapuntal riffs which Dawkins brought to focused climaxes. Tenor saxophonist Kenneth Lethridge burst out from the ensemble irrepressibly on a hot, bold arrangement of the evergreen "Summertime."
A story teller called Shake-A-Leg spoke then, chillingly, of the first atom bomb's charge — and the players went down front to propound on congas and barrel drums.
They knew and summoned ancient, timeless rhythms. We could have been in New Orleans, Havana or Lagos — as everywhere, these beats stirred anyone alive to move. (My photojournalist pal Marc PoKempner adds he was quite disturbed that his so-called colleagues mobbed the troupe for shots, oblivious to blocking the audience's views.)
Next, Maestro Dawkins presented Sirius/XM jazz director and producer Mark Ruffin and me with engraved plaques, hailing our "inspiration and many contributions to jazz in all its forms." (trumpeter Orbert Davis, on the road, was also so honored). I've received Awards before and have helped present many, but was unusually touched.
Mark and I are nearly Englewood home-boys. His parents ran a record store, where he worked as a kid, in an adjacent neighborhood. I grew up about 3 miles due east, absorbing the spirit of our city and nation's music from the radio, tv, my parents' records, my friends and sounds of the streets. Ruffin and I have known each other for decades — he credits me with giving him his first paying job in radio, producing a half-hour interview with needle drop of pianist Judy Roberts for Jazz Chicago, a series I co-produced with JoAnn Kawell circa 1979 under Jazz Institute auspices, aired on WBEZ.
He has since then racked up extensive experience in jazz radio, print journalism and presentation — he was an emcee of the Chicago Jazz Festival this year, and he's produced Grammy-nominated albums. Orbert Davis, you should know, is the co-founder and director of the Chicago Jazz Philharmonic, with extensive educational and performance activities including collaborations with musicians in Cuba. I'm doing what I do — writing this blog, liner notes, articles, working on books, stoking the Jazz Journalists Association, hearing music, reading about it, fiddling with it, serving as a board member of the Jazz Institute of Chicago.
As Ernest Dawkins and the rest of the musicians know, and so do such as PoKempner,  Ms. Kawell, Hot House curator Marguerite Horberg,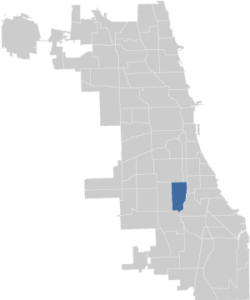 information technologies innovator Ivan Handler, photogs Dennis McDonough and Kent Richmond, writer Davis Whiteis, among my friends who were attendance, and also the JIC board members there, some of them involved with the Hyde Park Jazz Society and the Hyde Park Jazz Festival Sept 23 & 24, as well as all the other good folk who turned out at Hamilton Park, the spirit of jazz is infectious, demanding and self-renewing. You catch it and it catches you; it carries you along, we're happily swept away, and here we are: Englewood.
howardmandel.com
Subscribe by Email |
Subscribe by RSS |
Follow on Twitter
All JBJ posts