Charlie Haden, who died July 11 at age 76, was the man who anchored the free flights of many musicians to the foundations of music: rhythm and harmony. This photo by Enid Farber shows how I felt about being around him, Dewey Redman and Edward Blackwell (not pictured; the saxophonist is Branford Marsalis, but the occasion was a Blackwell tribute concert).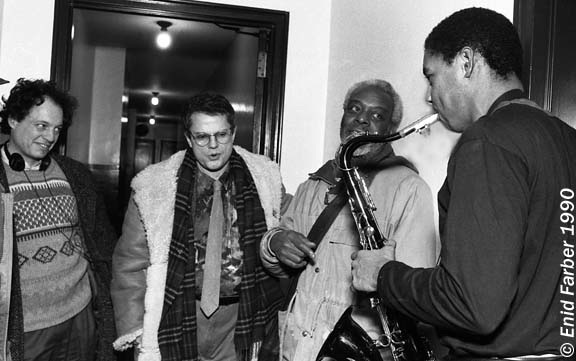 Haden was a man who made connections. Ornette Coleman, who Charlie called his guru, was able to extend blues and jazz beyond limits of convention to flights of melodic imagination with Haden solidly holding the bottom line (best in duo, or with Don Cherry adding to the tunefulness, or Blackwell or Billy Higgins drumming, though Haden did important work introducing Ornette's son Denardo Coleman, too). Pianist Keith Jarrett was able to rhapsodize generously and gorgeously with Haden at his side. Guitarist Pat Metheny, like Haden from Missouri, found a deep Americana groove in the bassist's company, as did pianist Hank Jones, recording spirituals and gospel hymns with Haden.
With Carla Bley writing arrangements for the Liberation Music Orchestra, Haden became the overtly political conscience of the avant garde, tying a critique of America to a love of our country and insistence it can do better from the first LMO album (1969) to the last of its four (in 2005). While on tour with Ornette in the early '70s, he was arrested in Portugal for dedicating a performance of "Song for Che" to the freedom fighters in Angola, Mozambique and Guinnea-Bisseau — released, he was questioned by the FBI. He told me he wasn't flustered — he'd been through much more excoriating interrogations from his peers, while rehabilitating from narcotics addiction at Synanon House in 1960.
Charlie was drawn to the dark music of Central and South America, working beautifully with pianist Gonzalo Rubalcaba (plus drummer Jack DeJohnette on The Blessing; plus saxist Joe Lovano, violinist Federico Britos Ruiz, Metheny et al on Nocturne) and multi-instrumentalist Egberto Gismonti with brooding Norwegian saxophonist Jan Gabarek, among many others. His Quartet West re-invigorated the reputations of saxophonist Ernie Watts, pianist Alan Broadbent and drummer Larance Marable. In league with bassist Paul Motian, Charlie inspired Geri Allen. There's no counting how many people he gave a lift to (Archie Shepp, Alice Coltrane, Paul Bley, Lee Konitz . . . ) either as "Cowboy Charlie," the childhood singer on his parent's old-time radio show, or as an insistent, earnest and sometimes, yes, corny major player, onstage or off.
[contextly_auto_sidebar id="vqwlMICaHDrgxIJSf7q2r8m6Leld4ccL"]
Comic actor Jack Black, master satirist of mania, married one of inherently and unselfsconsiously intense Charlie's triplet daughters, and though it's none of my business I always chuckle to think of those two at family gatherings. But Charlie was above all serious about what he did, the people he hung out with, the music he performed. Meeting people of such talent and dedication makes up for all the bs that goes into trying to make a living as an arts journalist. I got off a few good comments about Charlie in "Rambling Boy," a very fine biographical film by Reto Caduff, and Charlie called me to thank then congratulate me. He hadn't needed to do that; I had just told the truth. Charlie Haden played the bass, holding everyone together from the bottom up, faithfully, with feeling and meaning.