Some places news still travels slowly: Photographer Sánta István Csaba, based in Budapest, just learned of the untimely death on May 29 of  pianist and educator Mulgrew Miller, and sent three portraits of the highly regarded, largely beloved man that Mulgrew's people will want to see: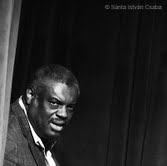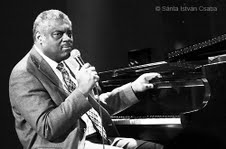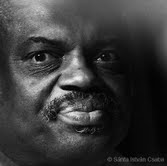 Santá explains:
Just came back from Transylvania and usually I'm isolated from all the news when I'm there.

In January I met Mulgrew two times, once in the Dizzy's Club and once in the William Patterson School in New Jersey where he was the director, I even get lost in the school and asked him to show me the way out.
Mulgrew knew both the ins and the outs of jazz — the last time I myself heard him was in November, in Germany, where he was in the triumphant quintet headed by reedsmen Yusef Lateef and Archie Shepp, with bassist Reggie Workman and drummer Hamid Drake. Mulgrew was the imperturbable, interactive man who connected that multi-faceted rhythm section to the venturesome front line. He was always good at that — with Betty Carter, Art Blakey, Woody Shaw and Tony Williams. All gone now. But like Carter and Blakey especially, Mulgrew invested in the future as Director of Jazz Studies at William Paterson University and the Artist in Residence at Lafayette College for 2008-2009, teaching and mentoring in the classroom as he did on the job. Mulgrew Miller is already much missed. Luckily, his music remains and his image as captured by Santá says a lot about him, too.