My new City Arts column is reviews of newly released recordings by Henry Cole and the Afro-Beat Collective, Steve Lehman Trio, Less Magnetic, Esperanza Spalding, Michael Bates and Wayne Escoffrey. You may have to pick up a hard-copy of the paper for that. But the issue also features my interview with Limor Tomer, the Metropolitan Museum's recently appointed Curator of Performance.
Like the interviews published in the New York Times magazine, the City Arts Interview is severely edited for space considerations: It's a compression. Below is the full version of an afternoon discussion I had with Limor, the week the official announcement of the Met's 2012-2013 schedule of performances — with her programming, exciting in scope and imagination.
Tell me about your new job.
LT: It's amazing. Awesome. It really is. What can I say? When I was offered the job I was very conflicted. I was at the Whitney. So I took a piece a paper and did a list of pros and cons, like you do. And there was only one item on each side: It's the Met, and It's the Met. That is the whole story.
I think that my being there now and what the possibilities are available now are all about Tom Campbell, the new director. He's been there I think he's in his third year. Very short in Met terms. And he's turning this tanker around.
Performance has always been a part of what happens at the Metropolitan Museum. Is it now as a bigger part, more central?
LT: It's going to a much more integrated part. What Tom wanted to do, if he was going to make a commitment to performance, he wanted it to be part of the museum. It doesn't make sense otherwise, for the Met to be a concert hall in New York City. The challenge and the opportunity is how do you advance and present performance work – whatever that means, from performantive to moving bodies to sound to stray concerts – in a museum context. How, and where, and why. And what.
How did you approach all of that?
LT: So I'm sitting there, it's the summer, the current season is done, the brochures are out, and everyone is asking me, "What are you going to do?" I decided to not even think about which artists, which ensembles, I decided not to start from there. I decided to live with it a little while and to develop some organizing principles. And I came up with four, over my process. It was six months, maybe, of living in the museum, observing, meeting the curators. I came up with four principles which I think will not only inform the current 12-13 season, but will really take me through. So the four organizing principles:
The the first one is about the Met itself. What I call Only at the Met. What can we do that's unique to the Met, that can only happen there that can't happen anywhere else, or that can't happen in a certain way. That includes a lot of things. So you'll see a lot of performances in galleries, or performances that resonate with exhibitions, or performances that initiate exhibitions. Or iconic moments in the history of the City. It sounds a little nebulous, but things that are really important, that the Met can do in certain way.
For instance, in this year, big Phillip Glass anniversary year, orchestras and concerts at Carnegie and this and that – but we get to present Philip himself, playing with violinist Tim Fain, in the Temple of Dendur.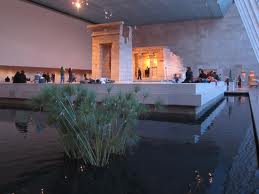 That can't happen anywhere else. Not only did he chose to do the only performance he's doing for the met, he could have done it anywhere else, but also we're presenting in that extraordinary space. Those kinds of moments. That's "Only at the Met."
The second thing is "The Artists' Voice." I was very interested to see what would happen if we introduced living artists into the mix. What they would bring, and how we would do that. I've developed several different ways, ranging from inviting performance-oriented artists, like choreographers, to lead gallery tours, which is unbelievable! It felt like a good idea when I thought of it, but then when we actually do it!
We had Mark Morris gave a gallery tour of the New American Wing painting galleries, just last Monday. And it was unbelievable. What he chose to talk about, and what he choose not to talk about. We went into the gallery with Madame X, and he's not even looking at Madame X. He's looking at some small bronze object, that is of interest to him because of the gesture. He commented on the floor – the floor in the galleries is soft. I've walked through the galleries 80,000 times, did I notice?
So next year, there will be more, which we already confirmed. We invited two choreographers to lead gallery tours: Bill T. Jones will lead the gallery tour of the same, the American Paintings Gallery, because they're new, they just opened, there's a lot of energy. He specifically is interested in looking at the history of that collection, the American paintings, and the role it played in the founding of the museum, the met, as a response or counter to the Civil War. Which I knew nothing about. I'm learning.
Is that a reason the Met started?
LT: It's at least a theory. I don't want to talk much about that, because I don't know anything about it, but he does. And the curator does. And they will co-lead a tour. And it's going to be an amazing thing. And also a young choregrapher, whose name is Miguel Guitarrez, is going to co-lead a tour of a big Warhol sow, called "50 Artists, 50 Years," Warhol's impact on 50 years of artists. That's one way.
I mean, it's astounding. As part of my idea of introducting the artists voice I spent the entire summer last summer inviting all my friends, the artists, to come and walk with me through the museum on Mondays, when it's closed, and see what sparks. I was walking through with John Zorn, and it turns out he comes to the Museum once a week, every week. We were walking through with Zorn and he said — this was three days after the Renaissance portrait show opened — he said, "Have you seen it? It's amazing!" He knew every room in that museum. He was taking me through the period rooms in the American wing, you can't even find it, and he knows every object.. . .
Another way was I was walking through the museum with DJ Spooky, the Oceanic Gallery, and he was talking about his experience in Vanuatu, and his work with Oceanic instruments. Then we go to the Asian gallery, and he talks about what he's done with Asian film. It's endless. Out of that walk through and further conversations, we realized we actually could create an artists residency. So we launched the first-ever artist's residency in the history of the Met. DJ Spooky will basically be there – not physically, he doesn't have a physical space, but he'll have an ID, and a connection.
He'll do five different performances that all connect with either galleries or collections or particular objects. He'll do at least four panel discussions that connect with the contemporary residences of whatever the work it, Korea, or Oceanic or there's this big Civil War photography show that he will use the images from to create a new piece. And then he will also be working with different constituencies that the museum works with, like the NYC public school teachers. He'll do workshops with public school teachers, he'll create audio guides, he'll infiltrate a lot of different areas that the museum is working in.
That's a big way to introduce an artist's voice. A lot of time what gets called a "residency" in New York City is some guaranteed gigs in New York City. And that's great, it's not bad, but it's not what you really should call a residency – it's not cohesive, not integrated . . .
Have you worked with Spooky before?
LT: Yes, many times. It certainly adds to my level of comfort, knowing him, knowing how to work with him, what he can bring. I was at Lincoln Center when he did "The Rebirth of a Nation." I invited him to remix Varese with the Whitney. I don't remember why we were doing Varese at the Whitney, but there was some connection.
That's two.
LT: My third one principle is more linear, straightforward – how do we work with what's going on in the museum? Again I turned to the curators. And the curators who have shows coming up. Together we designed brainstormed or came up with these suites of programming, both performative and straight lecture, panels, conversations, film screenings, that deal directly with the shows they have coming up. That is the heart and soul of this job: Working with the curators.
How many curators are there at the museum?
LT: 200.
200! Have you met them all?
LT: Oh no-no-no-no. Not even close. But I am working closely with Maxwell Hearn, who is Chairman of the Asian Art Department, for instance. His specialty is China but he heads the entire Asian art department and he and I put together a performance of "The Peony Pavilion," the famous Chinese opera, which will be staged in the Astor Court, the Chinese scholar garden at the Met. It's Tan Dun's version. He created his version from an excerpt of the entire opera. And then out of that work Mike is going to create a contextual show about Chinese gardens in China. So in this case, performance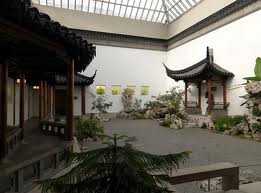 drives what's in the galleries. It goes both ways. That's amazing.
You've been at the Museum just a year, right?
LT: I got there last July. Less than a year. There's a lot of new energy. Maxwell Hearn had been in the museum many years, but he was appointed head of the department by Tom. There have been a lot of of big, big changes.
My fourth principle is about how we deal with classics. The idea of a classic piece, or a masterpiece.
I was thinking, "How does the Met deal with the classics? How do they deal with Rembrandt?" Well, they'll do a Rembrandt show, and they'll do Rembrandt show after Rembrandt show, and every one of them will move the scholarship forward, because they'll do it from this angle, or from that angle. They're going to do Bernini, I'm sure they've done many Bernini shows, but this one is about his process of working with models, so they'll be showing both his sketches and clay models. Right now they have Degas and Rembrandt side by side, portraits. Showing how influenced Degas was by Rembrandt. So those shows happen, but every time they happen they happen in a way that moves the scholarship forward.
I thought "Ok, what's a great body of work that commands that kind of constant revisiting?" I said, "Ok, we've just had a Beethoven Quartet cycle — we're going to have another one! And now we're going to look at it from a different perspective, we're going to do it differently." Instead of having six concerts over the course of a season, we're doing it as a two-weekend marathon. Total immersion. So the format is different. We've invited one of the most renown British quartets, very famous in Europe but unknown in this country, so we're adding that element to it. It's not a quartet you can hear regularly at Lincoln Center or Carnegie. And then on top of that, I'm working with the curators of European paintings to create a context of lectures that deal with Beethoven at the nexus of the death of neo-classicism, and the launch of the genius myth and Romanticism. So you could go to that lecture if you want to, or the panel, you can go to the concert, and you can go look at the Davids.
And we're going to build it out that way. The next step would be, I'm working with colleagues in the education department to create some sort of a mechanism, something we email or you can download from the museum website before the concert that gives you six objects to look at that relates somehow to the concert you're going to hear.
You have all the interactive media going on, too. Do you have a staff for all this?
LT: I do. And the staff is great. It's undergone a lot of change.
Did you not have staff at the Whitney?
LT: At the Whitney my staff was tiny. First of all, at the Breuer building there isn't really a proper venue, At the Met there's a 700-seat auditorium plus a lot of galleries that can hold performances. But at the Whitney is was me, part-time and I had an incredible producer, part-time. That was all that was needed.
The Met is a much bigger operation. This is a $3 million-dollar-a-year, free-standing concert series with 60 to 70 lectures a year, and something like 50 concerts a year. Now this concert series, when I was a student I used to go all the time. It was definitely one of the most important classical chamber music series in the city. It just wasn't integrated into the Met or any way connected to the Met. So for me it isn't about whether we're going to do this genre or that genre, it's all driven by what is unique to the Met. What can I come up with that makes sense in the context of this place?
What is the lead-time for your programming?
LT: I just finished the 2012-2013 season, and I'm beginning to work on the 2013-2014 season. I'm on the exhibition timeline.
It sounds like a dream job.
LT: I have to tell you one more thing about the classics, which will be especially interesting to you. One of the things the Met does it focuses on iconic people, performers or creators. So in the 2012 – '13 season we're going to have Charles Lloyd, having his only concert in NY of the season, it will be with his current trio with Jason Moran and Eric Harland, and also this incredible Greek singer whose name is Maria Farnatu. She actually brings a lot of Byzantine chants into the mix, and it connects, though it's marginal, but it does connect with the big Byzantium show we're going to have. And we're not doing it because we want to have more jazz. We're presenting Charles Lloyd because he's an extraordinary American artist who warrants this kind of consideration.
Tell me more about how this connects with what you've been doing, your own training.
LT: I have a black belt in classical piano.
What was your repertoire?
LT: Oh, Bach, Beethoven, Chopin, Brahms, Shumann, and Henry Cowell – wooowooowooowoo! Luckily I had one teacher at Juilliard who was the modern music specialist and taught me about John Cage and Henry Cowell, Charles Ives, Lou Harrison, all that. So I am conservatory- trained, and played classical piano for 10 years. Then in 1984 I went to see "Einstein on the Beach" and I left the theater after four hours, and I couldn't remember why I was practicing Chopin études anymore. It was a complete crisis of confidence. But it came at the right age. Within a few years I'd turned my life around, I quit playing piano, I went to work with Harvey Lichtenstein at BAM, I just put myself in a very different trajectory that had to do with living artists and very contemporary work.
May I ask how old you are?
LT: 49.
Did you have a background, your family being artistically inclined?
LT: No. A lot of academics and scientists.
What were you like growing up in Israel?
LT: I was the girl who played piano. I lived in a little suburb just outside of Tel Aviv. And yeah, came to New York at 13, went to Juilliard pre-college, college. It's funny, because it was really my experiences going to BAM that . . . Because we were pretty bourgie, and I was playing piano, so my mother thought we should have a subscription to the Philharmonic. And we did have one for one year, but we really couldn't afford it. So she noticed there was something called the Brooklyn Philharmonic, which was a quarter of the price. So she bought me the subscription and I would get on the 2 and 3 trains and trundle down there, during high school. And she didn't know this but it was the heyday of Lukas Foss. And I was hearing Penderecki, and just completely insane music. . .and that started to open me up, in a way that really set the stage for my curiosity.
You did post-grad work in esthetics?
LT: At NYU. That was more out of fear than anything. Fear of life. Fear of having to be out of school. For someone who's been at school all their life, it's suddenly – Okay! And also, when I was at Juilliard, it was a very different time than it is now. I felt that I needed to get educated. I really did. I didn't sign up for esthetics for any particular reason. It was the program that made the most sense that was music-based but academic. I didn't want another music conservatory thing. I needed to read books, to find out who Heidegger is, to understand literary theory and other things that people need to be in the world.
Do you think it informed you?
LT: Oh my God yes, absolutely! It was critical. I did all the course work, I got pretty far and I wrote a proposal for a dissertation, and I realized at that point I wasn't going to spend seven years writing a dissertation to become an academic. It just wasn't what I wanted to do. But the education I got there was critical. At that time in the late '80s you didn't come out of Juilliard with a good education. Now you do. I see the kids now and they know a lot of stuff.
What else has changed in NYC since the late '80s?
LT: I think Harvey's Lichtenstein's legacy has taken hold. You have new music, contemporary music, living composers everywhere. Carnegie, Lincoln Center – Lincoln Center festival is a direct result and outgrown of it. All that stuff used to only happen at BAM. The other thing that I feel is there's no longer such a thing as uptown and downtown. It's just gone. It's everywhere. And another thing, because of the tough economic situation, it's really the larger institutions that can afford to take risks. The smaller institutions that can't take rists will continue to present Lou Reed and Laurie Anderson. But the Met Opera can be the one that's doing new opera, and the NY Phil can start a new music series, and Lincoln Center can start the White Light festival – they can afford it. It's really exciting!
I'm interested in what's happening at smaller institutions, such as Roulette.
LT: I love Roulette. It's places like Roulette that led the contemporary revolution, they have to look at what's now. Who are the people who they were championing in Tribeca, and champion them now, but of course at that time the overhead was a lot lower.
It's a challenge, I'm sure — but not one you have to deal with right now. You sort of winced when I asked about a staff. Is it hard for you to be a manager?
LT: Not really. It's new. But I'm collaborative in a really deep way. And I'm not hierarchical. I like to work with very special people. And I had that at the Whitney, and at my radio job. It's us sitting in a room, asking what would be incredible new and fun and challenging, and who is the best person to do it.
You're looking for creative people and input, you don't feel you have to be dictating everything, you're looking for ideas. Is that the way Harvey worked too?
LT: Yes and no. In the realm of ideas, yes, and when there were big decisions about the trajectory, he would hash it out with his senior staff. The other thing I learned from Harvey was to listen, listen. Have your door open and talk to artists all day long. Don't be afraid of it.
Is that how you keep up?
LT: Yeah. That and going out a lot.
Are you out every night?
LT: In the fall I was out every night, then I put a moratorium on it, and I was out the nights a week, either because they were my own shows or things I absolutely had to go to. But it's tough, it's really tough.
Where do you like to go?
LT: The only place it's hard for me to get to is Williamsburg, because of the trains. But other than that, I go wherever the thing is. Zankel, Roulette, wherever.
I love the Studio Museum. They just came over and we had a great conversation about the things we could do together I'm not as connected to what's going on in Harlem right now as I was. I was a freelancer for a lot of years, and at that time I worked for a lot of different places. One of those places was Symphony Space. When I worked at Symphony Space I was really plugged in because it was really about the uptown neighborhood. But now I'm not as connected to it.
And you listen broadly, too?
LT: Right now I have a really good opportunity to revisit the classical repertoire, because my daughter is nine. We put on the Beethoven violin concerto and her mind is blown.
Does she play?
LT: She does, she plays violin and started to play French horn. And this is completely off topic, but – you know, the Met was struggling with what to do about children's programming, and I thought about it for months. And I decided what I really want to do is focus on the older childhood ages, six to 13 and partner with parents. At that age the kids are old enough to sit, and they're not old enough to not go with you. And that's what I know how to do, I think.
So we're gearing a lot of our hard-core classical concerts and our other concerts – a lot of our concerts are ready for that age. They start at 7 pm, they're on Fridays and Saturdays, We instituted a new price for kids that age, starting at seven and up: $1 – zero risk. We're doing away with intermissions whenever possible. Straight through, 70 minutes, 90 minutes – if we need intermissions, we'll do them, but a lot of the concerts are just like that.
Parents need a couple of things. First of all, they have no idea where to take their kids. Parents don't know where to go, but the Met is a brand name. Another thing that I think people forget that keeps people from coming to concerts, if you work like a dog like everybody does in New York and you're out and work late, you don't want to get a baby sitter and not spend the night with your kid. You want to spend the night with your kid. So what if you come to the museum with your kid? You can have a snack, you can go to the concert, and if the kids get bored, you go to the Arms and Armor court, it's right there. The museum is open 'til 9 on Fridays and Saturdays when we do our concerts. Our concerts start at 7. It's a whole package.
Is the audience at the Met reflective of all the constituencies in town?
LT: I want to answer that a little differently, then you can ask it another way if you want. I want to talk about the difference between the music audience and the visual art audience, which I found out working at both the Whitney and now the Met. Visual art audiences are much more curious and very open to looking at contemporary work. They love their classics and their El Grecos but they'll also walk through the contemporary galleries, and it's not a big deal. If they hate the work, they'll say "I hated that work. I'm going next week to see another show."

Can you imagine that happening in a concert hall? If you go to a concert and somebody programs a Boulez piece, you'll say you'll never go to a concert again, and that's it. I don't know why that is. But I find the visual arts audience is much more tolerant about stuff that stinks, or that they don't like, that's not their thing – they'll come out and try again.
They want to go to the lectures, and learn more about it. They're curious. That was an amazing thing to me when I understood it. I don't know why people who are hardcore music lovers who go to the Chamber Music Socity of Lincoln Center, why they are so resistant to music they don't already know. That drives me mad.
Music does seem to impose more time demands than visual arts.
LT: Time-based arts. Yes, you can't leave in the middle.
And sometimes it seems classical listeners have a more rigid mindset. If you listen to classical music, that's it, that's what music is. Anything else – no. Visual arts are more plastic. . .
LT: There's much more flow.
Do you have plans to engender more curiosity among audiences?
LT: I'm all about curiosity. I don't know if I'll be successful in actually creating curiosity, but I'm hoping . . . At the the press conference I described the DJ Spooky residency, and someone said, "Oh, so you're interested in attracting a younger demographic?" I said I'm not interested in a younger demographic per se. I'm interested in a curious demographic. That's the heart of it.
I want to find ways to engage with that curious audience. Maybe it's a curious audience that goes to the 11 o'clock lecture, but doesn't think to go to the concert, and maybe we can make a connection to make them think about going to the concert. Or maybe it's the audience that comes to the Warhol or Bernini show, and we can kind of interest them in the performative thing, whether it's a concert or a dance piece or whatever. Something that's actually on a digital platform, where the venue is online. And create something like that. Really just expand people's knowledge and engage that curiosity. I don't know if it's possible to make someone who's not curious curious. But I hope we can.
Does the Met draw across the city's economic spectrum?
LT: I don't think I've been there long enough to answer that question. When I walk around the galleries it looks that way: Tourists, and young people and school groups, every demographic and ethnic group you can imagine. The concerts are fairly pricey, which one of the things I'm doing about that is – well, I've started with a tiny bit but intend to do a ton of stuff that's free with museum admission. That was the model at the Whitney, performance was just something that happened in the gallery, Everything was free with museum admission. Even most of the performances at the Biennial are like that. Some are ticketed — I think that has more to do with crowd control. So we've already done a couple of things that were free with museum admission.
The biggest was three weeks after I got to the Met – we did a big concert at the Temple of Dendur for the September 11 anniversary that was free with museum admission, and then for the opening of the American painting galleries we had a performance in the America scuplture court that was beyond free admission. It kind of just happened. It was the Asphalt Orchestra: Two members started playing out of the blue in the great hall, in the lobby. It was like, "What?"

The volunteers are starting to call security. They started playing and then they came together, and people were like following them, and they played, and then they started walking while playing, and led 200 people with them through the Egyptian halls through the Temple, back into the American wing, 200 people following them saying, "What is going on?" and when they got to the American wing the rest of the band was there pretending to be sitting in the café, and then they got up and the performance started. It was fantastic.
I can't pull that off without the curatorial group that controls the American wing. I don't have that kind of range. So I go to the curators and say, "Let's do this." And the curators in the American wing were all over it. They'd never heard of the Asphalt Orchestra, they'd never heard of any of this, but they got it, and they were delighted. As long as we do it carefully, with respect for all the objects, they're completely thrilled to collaborate.
Do you remember when you first visited the Met?
LT: My first trip to the Met in my life? Yes.
I walked through the park, I was 13, I had just gotten to New York that summer. I think I was with my uncle who was visiting from Israel. We went through the Egyptian wing, we went through the old Greek and Roman halls, I think the Temple of Dendur had just opened, it was pretty new. We didn't do the American wing, I don't know what shape the American wing was in – it has just now finished a 10-year renovation. Then we went upstairs and looked at the European paintings galleries. And I was exhausted, and then we walked home.
You can't do the Met in one day.
LT: Listen, I can't even go upstairs. I'll get lost. I confine myself to the ground floor.
What do you go to there for, yourself?
LT: There are two ways I must answer that: for myself and with my daughter. For myself, I go to the Asian wing. I have a lot to learn. I don't know enough or anything about that work. I'm starting, I'm trying to learn. Again one of the things that happened we walked through in the summer, I was walking through with Peter Sellars and it was really the objects in the Asian department that sparked him. He was just effervescent. Something about those galleries, I find myself there a lot.
They're very peaceful.
LT: Yes, there are fewer visitors there.
And with your daughter?
LT: I mostly take her to the European paintings. I want her to get that in the DNA. I had the opportunity to go through the Louvre and the British Museum and the Prado when I was young. It just lowers the threshold of entry for your whole life. Then you're not just intimidated. The museum belongs to you. And museum. You just go.
Is the trend now to bring people into the museum in through performance, and to use performance to air the art out?
LT: On the positive side, I think performance can and needs to be completely integrated into the museum context and can be done in a really authentic way. It needs to be done. Especially if you're dealing with contemporary work. The artists are going that way and have been for 30 years. It's not new. You have to allow for that. And there are museums that deal with performance curatorially, and it becomes part of the mix. Like the Met now, MOMA now, and the Whitney always, always, always. In the '60s and '70s before the letters B-A-M were ever put together, Laurie Anderson, Trisha Brown Steve Reich, Phil Glass, Meredith Monk, Bruce Neumann, all those guys were performing at the Whitney.
Then there's the fact that museums want to respond to the way people choose their leisure time, and why they go to museums, how to get them to go to museums. "Well, people like performance, and they like the experience of a social thing, so let's have a Friday night thing!" And those programs sometimes get run out of the visitors services area, or the outreach areas and its' not really thought of curatorially, and that is kind of less interesting to me. Also the museums that tend to do that, they don't have a lot of experience with performance, they don't understand the economics of it and how much money they're going to loose. They just see people – "Indie rock is really big, let's do an indie rock series!" But they don't realize how much something is going to cost them. And if they don't have an auditorium, it becomes a whole other thing.
Is performance always a money looser?
LT: Performance? Of course! Performance is not something you can acquire or gift or transact – you're selling experience. As you probably know, ticket prices account for a very small percentage of the overhead of a perforamnce. You have to make up the rest. One way or another.
Are you responsible for fundraising also?
LT: I am up to my eyeballs with my colleagues in development, yes. We are like this.
But you're not thinking about the next thing you're going to do.
LT: I am so into what I'm doing now. Also: the Met thinks in decades. You don't go to the Met for five or six years. I mean, you just don't know, I don't know, I may be gone in five or six years. But the intention is that this place moves deliberately, and over time. What I've found is it can turn on a dime when it wants to. I pulled off some crazee stuff in my first few months. The free-with-admission concert was very complicated – the September 11concert – with four pieces, all living composers, lots of electronics, very complicated. Then we began last summer with a tabla symphony, 22 tabla players and singers on the steps of the Met, outside. Unfortunately just when it was going to start it started to rain, and we had to reschedual it for Oct in the Great hHll. But the same thing with Asphalt Orchestra: Very complicated, very serious. Moving big tubas and wearable drum kits in the sculpture garden? Let's do it. Funding was found, rehearsal time was found, and it just rolled out. But in terms of impact and developing programs and building something – yes, I'm thinking long term, definitely.