Who should be the next NEA Jazz Masters? With last night's triumphant and deeply moving webcast of the NEA's 2012 Jazz Masters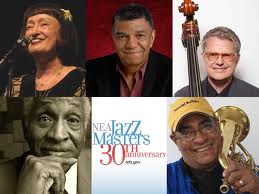 induction ceremonies came welcome news the annual fellowships for these major American artists will continue — at least the financial awards of $25,000 per Master. More significant to many jazzers than the $ is the official government validation of the lives and careers of men and women which typically require substantial sacrifice and determination to create lasting, enriching marks. So who should the next honorees be?
Here's the criteria for the Jazz Masters fellowships, and process of nomination, directly from the NEA's website:
The NEA Jazz Masters Fellowship is a lifetime achievement award. The criteria for the fellowships are musical excellence and significance of the nominees' contributions to the art of jazz. The Arts Endowment honors a wide range of styles while making the awards. There is also a special award given to a non-musician, the A.B. Spellman NEA Jazz Master Award for Jazz Advocacy, which is awarded to an individual who has made major contributions to the appreciation, knowledge, and advancement of jazz.

Fellowships are awarded to living artists on the basis of nominations from the general public and the jazz community. The recipients must be citizens or permanent residents of the United States. An individual may submit only one nomination each year, and nominations are made by submitting a one-page letter detailing the reasons that the nominated artist should receive an NEA Jazz Masters Fellowship. Nominations submitted to the Arts Endowment by the deadline are reviewed by an advisory panel of jazz experts and at least one knowledgeable layperson. Panel recommendations are forwarded to the National Council on the Arts, which then makes recommendations to the Chairman of the National Endowment for the Arts. Nominations remain active for five years, being reviewed annually during this period.
Lobbying may well help move the jazz experts' advisory committee — the Jazz Institute of Chicago spearheaded a 10-year effort to get Jazz Master status for tenor saxophonist Von Freeman, who seemed to be at a disadvantage for having performed all but exclusively for decades in Chicago (where he anchored a thriving South Side scene and style, generating dozens of proteges, Rudresh Mahanthappa and Steve Coleman among them). But note that an individual can only make one nomination per year.
Remembering that Sam Rivers is one instance of an artist who should have received the designation, I've got my own list of deserving nominees — it starts with Eddie Palmieri — and wonder who's on yours.
Let me know in the comments section, and let the NEA know by preparing a one-page letter explaining your nomination, in anticipation of a deadline for nominations being announced.