Gowanus, a Brooklyn neighborhood so unlovely it's been named an EPA superfund site,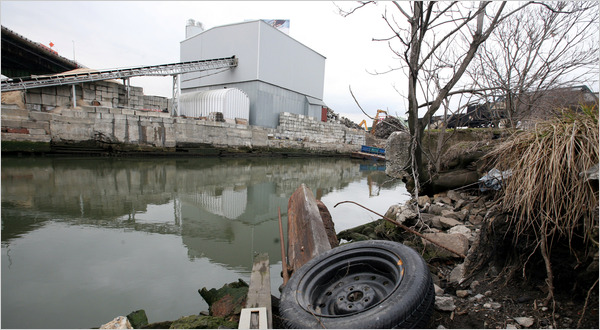 is Ground Zero now for music lofts, as reported in my new City Arts-New York column. In a half dozen or so artist-run spaces — including IBeam, Douglas Street Collective, Littlefield, the Brooklyn Lyceum and Issue Project Room — available for presentation and rehearsal of hard-core experimental sounds, dance, video and performance art, the programming is typically spiky, ambitious and unsentimental.

That description certainly fits the great and under-acknowledged guitarist-inventor-composer-bluesman Elliott Sharp, who celebrates his 60th birthday with a solo guitar performance, collaborations with actor Steve Buscemi and filmmaker Jo Andres, sci-fi author Jack Womack and poet Tracie Morris, and premieres of a string quartet and double string quartet on March 4 at Issue Project Room. The entire concert is
a benefit to help IPR leave Gowanus for not-far-away Downtown Brooklyn (which is little more scenic, but targeted as a culture hub by Brooklyn's borough president Marty Markowitz, who's directed funds into IPR's relocation and renovation).
What I don't get into in my article (due to old fashioned print publication space limitations) is
Share
, the weekly wide-open music-video jam session I attended at IPR on a Sunday night a couple weeks ago, which was more fun with electronics than I'd had in quite a while — so cool I plan to do it again. A dozen people fooling around unself-consciously, without plan or leadership, using contact mikes on garbage can lids, deconstructed and prepared electric guitars, laptop sound constructions, a
Korg Monotron,
conventional flute and musical cell phone apps, all pumped through fine, loud speakers, with simultaneous live video mixes . . . I twiddled knobs, drank a glass of wine and felt like I was in the midst of Morton Subotnicks'
Silver Apples of the Moon
. Big fun.
To think: Douglas Street, Littlefield, IBeam, the Lyceum and also Park Slope's jazz spots
Tea Lounge
,
Barbes
and
Puppets
are just a short walk away. All this activity almost makes Brooklyn seem and sound like the East Village used to. Which much mean there are a lot of restless, quirky, ambitious and underemployed artists around, looking for places they can get together to spread out, gather friends, stay up late, make a lot of noise. Warning: Damn little boutique shopping or fine dining nearby. Mostly warehouses abutting a stinking canal, the roaring Brooklyn-Queens Expressway and some of the grittiest truck routes from Flatbush to Red Hook.
howardmandel.com
Subscribe by Email |
Subscribe by RSS |
Follow on Twitter
All JBJ posts |