A quick glimpse of a jazz club, a chat with fans going into or leaving the show, a word with a musician coming offstage or maybe at practice — these bits of real life can be captured today in high quality video and audio equipment that's readily at hand — mobile phones and HD pocket camcorders will do. With its eyeJAZZ.tv initiative — funded by the MidAtlantic Arts Foundation's Jazz.NEXT project through generous support from the Doris Duke Charitable Foundation providing basic equipment and online training in shooting, editing, distributing and fundamentals of journalistic practices and standards to 30 successful applicants — the Jazz Journalists
Association (of which I'm pres) means to flood the web with such visions, or at least increase its population of quickly edited news clips that tell clear stories, showing great music live and well in real time, wider-spread than you might imagine, just waiting to be enjoyed.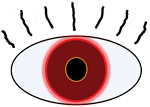 Apply to participate in the eyeJAZZ program now, filling out the application
here
. The JJA introduces eyeJAZZ formally at its "New Media for New Jazz" conference session Friday, Jan 7 at the New York Sheraton (NYC) 2:30 pm, Conference Room C — attend at no charge). Learn to get up close to musicians the better to get direct answers to questions you have about how they do it — as I asked flutist Nicole Mitchell, resulting in this clip —
It's easy! It's fun! The one above was shot on a Kodak Zx1 camera using an internal mike, no extra lighting, and edited in iMovie. Got a jazz vision? Make eyeJAZZ.tv of it. Watch the widget below . . .
howardmandel.com
Subscribe by Email |
Subscribe by RSS |
Follow on Twitter
All JBJ posts |