Shocking news from Chicago: Richard Daley won't be mayor for life. Yet he's the Windy City's most significant patron of culture, leaving a legacy that ought to — that is, should, and might — survive him. Which was unexpected when he succeeded Mayor Harold Washington in 1989, but clear from my visit to Labor Day weekend's 32nd annual Chicago Jazz Festival.
As a born and bred Chicagoan, though I've lived in NYC since 1982 I've watched the city's general and governmental approach to the arts for goin' on 50 years and can't help but be impressed by the plethora of free musical activities, explosion of creative theater, proliferation of public sculpture and surge of sky-shaking downtown architecture during Richard M. Daley's tenure. The relocation of major corporations to Chicago, and the expansion of O'Hare Airport are cited by
the business press
as Daley's greatest achievements. Not to slight positive economic developments from which Chicago's vigor and beautification may grow, let's focus for a moment on two decades of urban cultural change.
Under the 21-year-reign (1955-76) of the current Mayor Daley's father Richard J. Daley, music fests were banned in municipal parks (except for a well-established
Chicago Symphony summer series
) after Sly Stone's no-show at a concert sparked a
vicious riot
. This taboo was broken by Michael Bilandic, an otherwise undistinguished leader deposed by the colorful
Jane Byrne
in 1979. At that time, Bilandic's ChicagoFest (inspired by Milwaukee's Summerfest) and Byrne's appropriation of it seemed like bread and circuses for a disgruntled populace. This was ironic, given that from 1873 to 1935 Chicago was in the forefront of a social movement that used public parks music performances as a tool to unify its disparate immigrant, ethnic and class populations (see
Sounds of Reform
by Derek Vaillant). But ChicagoFest at Navy Pier was a giant step forward from the strictly family-oriented, dull though showy Venetian Night boat parade and fireworks organized by the original Mayor Daley's cultural commissioned, Col. Jack Riley. Venetian Night and the St. Patrick's Day parade were the height of civic arts under the old regime, pace the construction and dedication in 1967 of the whimsical Picasso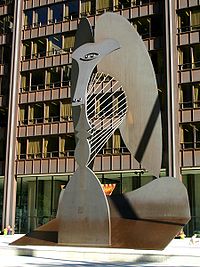 figure in Daley Plaza (fronting City Hall).
Even though eye-catching and tourist-attracting outdoor works by Chagall, Miro and Calder followed, Mayor Daley #1 just wasn't much for the arts. He may not have
actively discouraged filmmaking
in Chitown, but his attitude was reputedly "If it isn't 'Mary Poppins' the Mayor doesn't want it." This may have had something to do with
Medium Cool
, Haskell Wexler's fictional chronicle of the 1968 Chicago Democratic convention, yet it pertained until Brian DePalma's
The Fury
(released in 1978) and the Belushi-Aykroyd masterpiece
The Blues Brothers
(1980).
Fortunately the predictions were wrong. There was no lapse during Richie's regime in production of the Chicago Jazz Festival, which was first put on by the Jazz Institute of Chicago in 1978 — indeed, with greater participation by the Mayor's Office of Cultural Affairs, it blossomed. Restauranteurs proposed
Taste of Chicago
in 1980, promoting culinary accomplishments even beyond the heights of Pizzeria Uno's
deep dish pie
. The annual
Chicago Blues Festival
, initiated in 1983, took advantage of the indigenous, indelible post-WWII, Ur-rock verve of Muddy Waters, Howlin' Wolf, et al, thrived and alt-genre fests including
Pitchfork
and the
Umbrella Festival
were established. The Chicago Cultural Center puts on a fine
World Music festival
starting Sept. 21 — and oh yeah, another ambitious, acclaimed jazz festival has cropped up in the Chicago neighborhood where President Obama still has an apartment. The fourth annual
Hyde Park Jazz Festival
runs from 1 pm to 2 am, all free at multiple venues on September 25.
Richie the Son evidently approved the placement throughout town in 1999 of 320 "
Cows on Parade
," which rather enlivened the streets, and led to such triumphs as
Magdalena Abakanowi's Agora Sculpture,
the hilarious
Crown Fountain
and The Bean.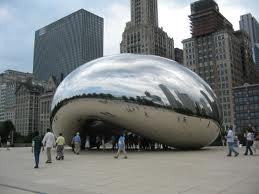 Renzo Piano's new wing of the Art Institute, Frank Gehry's Pritzker bandshell and indeed the entire Millennium Park installation have come to fruition during Richie Daley's six terms. He's presided during the recasting of the giant convention center McCormick Place, directed plantings in the city's boulevards, encouraged bike riding, thought green, promoted celebration of a largely gay neighborhood and let Oprah Winfrey close off Michigan Avenue at the head of the Magnificent Mile to televise her tv show's anniversary
with the amazing Black Eyed Peas mob dance.
The second Mayor Daley's administration has not been without flaws. The schools are still troubled, though he labored to
fix 'em up
. Public transportation —
the El
— is sorely in need of expansion. The lakefront looks splendid and a lot of the
real estate
along it has become highly valuable, but there's not much doubt white Chicago has prospered much more than black Chicago and the city remains racially segregated (though much friendlier across those lines than when I was growing up). I've read that corruption and patronage continue, the
police accused of torture
and
gang/gun violence
harkens back to the bootlegger's wars of
Roaring '20s
. The city suffers severe budgetary problems (as does the state of Illinois) and it's getting worse. Daley l
eased city parking meters
to a private concern for 75 years, seemly a bonehead play, and didn't persuade the
Olympic committee
that Chicago was right for 2016 — probably a
good
thing, though, since no new stadium(s) will stretch thin finances further.
This native son concludes, however, that Richard M. Daley has helped Chicago survive the Rust Belt deterioration that's struck most other midwest cities and in the process given a great boost to the arts — including jazz, blues, experimental and other non-commercial music. Chicago is often perceived as a fly-over zone, something of a joke, a parochial center rather than the world-class metropolis which I firmly believe it is, much more than in the '50s, '60s and '70s.
Perhaps the problems Chicago will face going forward are Daley's doing, or maybe they're the result of our national economic crisis or a mix of both. Cultural programs in Chicago have suffered reduced funding, and the City of Chicago's cultural offices are being merged, with effects that remain uncertain.
There's no clear political heir to Richard M. Daley, no Richard the 3rd in the wings. But I hope whoever claims the title Mayor in next February's elections realizes what culture treasures Richard the 2nd has willed him or her. Visitors from all over leave Chicago wowed. It's tough in winter and the Cubs can't win, but the sights and sounds, foods and feelings are great. I've just been there for a week, and I'm glad to get home to Brooklyn, NYC, but I'm also eager to go back. Thanks, Richie, for the arts part of what you've done.
howardmandel.com
Subscribe by Email or RSS
All JBJ posts