The Jazz Institute of Chicago's annual club tour is an urban presentation innovation and a treat, revealing an unheralded depth of local audiences, entrepreneurs and artists. On Wednesday night, Dudley Owens blew tenor sax with the largest sound I've heard maybe ever, in combo with an older pianist (sorry I didn't get his name) who played as no one ever told him he couldn't, turning the keyboard inside-out. They completely refreshed the Billie Holiday standard "All of Me" at a friendly, funky hangout called City Life Cocktail Lounge on East 83rd Street, while a shakedancer flirted outrageously with regulars at the horseshoe-shaped bar and jazz fest fans who'd paid a flat fee to be bused around to 13 venues, sampling the city's diversity. Chi-town's jazz scene may be short on fame and fortune but is rich with grit and gusto and a loyal, born 'n' bred following.

Owens, a stout, young African-American guy who I'd never even been told of before, wasn't the bandleader or a listed sideman — the main act at City Life was billed as June Yvonne and The Mixed Ingredients. There were several women singers and sitting-in instrumentalists offering the late '40s-late '50s Gene Ammons-Dinah Washington type of repertoire that has never grown stale around here. That was not the only jazz sub-genre represented at bars and restaurants that included Buddy Guy's Legends (blues guitarist Dave Spector), the Jazz Showcase (swing-to-bop alto saxist Eric Schneider and piano hero Willie Pickens), high-energy trumpeter Corey Wilkes moderning "Yesterdays" with an unfettered quintet at the Velvet Lounge, and go-for-it trumpeter Pharez Whitted +3 in the Arabian Nights fantasy lobby of the New Regal Theater, an old movie palace formerly called the Avalon where I spent
many weekends in my youth watching double features.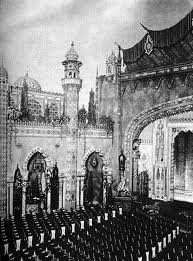 These venues (and reportedly Andy's, the Backroom, Close Up 2 Smooth Jazz, the Green Mill, M Lounge, Marmon Grand Ballroom, Red Peppers Masquerade Lounge and Reggie's Music Joint) were hopping, with crowds they can't depend on when it's not Jazz Fest week. But they have music going year in and out, accessible for the price of a cover charge usually $10 or less, and a drink or two.
During the club tour, listeners of all ages, genders and races mix quite comfortably, though white northsiders may not normally venture further south than Hyde Park (home of University of Chicago and President Barack Obama) or the White Sox Cellular Field. The tour — don't call it a pub crawl! — which precedes larger concerts with big-name headliners in the downtown stages of Grant Park and Millennium Park, is an event that could be staged only in those few metropolises where music is the heartbeat of entertainment. But for people in those lucky places, getting around to more than one venue to check out who's playing where (and who else is out, participating in the scene) is a salutary experience of truly popular, vernacular art bonding the greater community.
howardmandel.com
Subscribe by Email |
Subscribe by RSS |
Follow on Twitter
All JBJ posts |