Hail NPR.org for putting 14 Carefusion Newport Jazz Fest sets on the 'net, and Wynton Marsalis for live-streaming from France's Marciac Jazz Festival video of his Modern New Orleans concert. Back-to-the-future, as broadcasts allow music fans geographically anywhere (and now any time) to get in on the action.
Well before I came along, coast-to-coast radio broadcasts made Benny Goodman a star, and in the mid '40s Symphony Sid Torin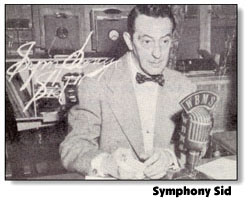 broadcast live from the Royal Roost and Birdland clubs on NYC's 52nd Street. Why did this practice end?
Ok, I'm not predicting that NPR's archiving of performances by J.D. Allen, Maria Schneider, Darcy James Argue, Matt Wilson, Amina Figuerova, etc. are going to revive jazz's Swing Era popularity, but this kind of profile for live music (remember #jazzlives on Twitter!) is an unqualified good thing. Thanks due to WBGO and WGBH, too. And the esthetic scope is well beyond swing, anyway. For example,
Ken Vandermark's Powerhouse Sound
. . .
howardmandel.com
Subscribe by Email |
Subscribe by RSS |
Follow on Twitter
All JBJ posts |