Trumpeter Herb Alpert's foundation kicks in $500,000 to sustain a failing Harlem arts school — more philanthropy from the Tijuana Brassman hailed by Jazz Journalists Association last year for his great good works. Why aren't there more like Herb?

Alpert, named in 2009 to the JJA's "A Team" of activists, advocates, altruists, aiders and abettors of jazz, created one of the most successful instrumental pop sounds in recording history in the early '60s with his mariachi-inspired and rhythmically driven versions of songs including "A Taste of Honey," "What Now My Love" and Nat Adderley's "Work Song." If the arrangements are, to jazz-sophisticates, corny and non-improvisational, they are undeniably catchy and earned a fortune which he applied to A&M Records (responsible for the very fine Horizons series, including albums by Don Cherry, Charlie Haden, Jim Hall, etc.) as well as the production of the plays Angels in America and Ma Rainey's Black Bottom.
Last year Alpert, age 75, released an album titled
Anything Goes
which features his wife singer Lani Hall and Monk's "Misterioso" cleverly undergirding the opening track (
"Fascinating Rhythm"
). That's jazz-beyond-jazz.
But as a straightahead
funder
of the arts, Alpert established the Dizzy Gillespie Chair in Music and Recording Studio at California Institute of the Arts, founded and endowed the Herb Alpert School of Music at UCLA, has provided financial assistance to public education from pre-K to 12th grade, now including the privately-run Harlem School of the Arts. According to
a report
in the New York Post, insurance magnate Hank Greenberg's Starr Foundation contributed $250,000 and hip-hopper Mary J. Blige is organizing a musical benefit. NYC Mayor Michael Bloomberg held a press conference to announce all this, (pictured), and said regarding the identity of two anonymous donors that they were "not me."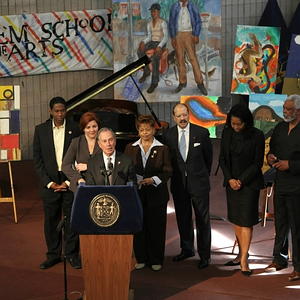 All's well that ends well? How 'bout we survey privately run art schools across the U.S. for under-served populations, and come up with a strategy for firming up their financial bases? Sounds like a job for the NEA, at least to start, or in part.
howardmandel.com
Subscribe by Email |
Subscribe by RSS |
Follow on Twitter
All JBJ posts |