Next week WKCR-FM 89.9 www.wkcr.org, promises all-day music of Ornette Coleman and Bix Beiderbecke, linking the "free jazz" iconoclast (turning 80 Mar 9) to the Roaring '20s jazz-mad kid cornetist/pianist (who would be 107 on March 10, if he hadn't drunk himself to death at age 28 in 1931). Mark your calendars now!

According to Anabel Anderson, WKCR's current co-director of jazz programming, the Ornette broadcast runs from 12 am Tuesday to 12 am Wednesday, the Bix from midnight Wednesday to 12 am Thursday. Maybe it's a wee obsessive to want to listen to either Ornette or Bix or 24 hours (news and id breaks included, no ads on non-commercial radio. As powerfully influenced if not out-right directed by Phil Schapp, an extraordinary broadcaster and jazz/recordings historian, the Columbia University student-run upper-west-side Manhattan-based station is no stranger to marathon programming — indeed, that's one of its hallmarks along with a jumble of authoritative and never-before-on-air djs, a vast range of unusual music, and a signal that's not available city wide, except via the web, of course.
Anyway, these day-long celebrations are usually chronological, meaning in Ornette's case probably his recordings at the 
Hillcrest Club
 in LA in 1958, in the quintet pianist Paul Bley built around him, with Don Cherry on trumpet/cornet, Charlie Haden on bass and Billie Higgins on drums (in '59 sans Bley — who'd already come east on his own — those four hit NYC and sparked an uprising against jazz's then-atrophying conventions).
Ornette Coleman, photo c Nick Kimmel
For 
Bix
, it's the Wolverines Orchestra's "
Fidgety Feet
" and "
Jazz Me Blues
," recorded Feb. 18, 1924, which demonstrated that jazz had penetrated the spirits of young men from Davenport, Iowa, and they'd learned to play it with élan.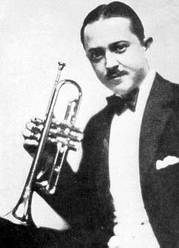 There's not a lot of commonality of sound between '24 and '58, except maybe for the exciting outpouring of energy, enthusiasm, idealism, individuality and interaction amongst the musicians, that makes it all seem so American.
I salute 'KCR (as I often have in the past, though not publically) for bridging 80 years of this music that's basic and exemplary of our vernacular, in depth, over 48 hours. Will I listen to every moment? Er, maybe, maybe not. But someone will be listening at all times.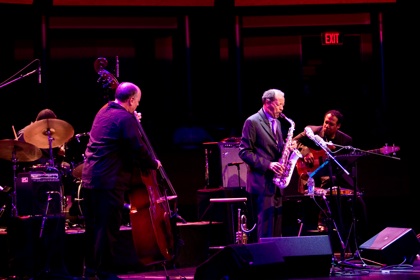 OC's current quartet, as on Pulitzer-Prize winning album
Sound Grammar
: Denardo Coleman (obscured) on drums; Tony Falanga, bass; Ornette playing alto sax; Albert McDowell, electric bass guitar. photo c by Nick Himmel
howardmandel.com
Subscribe by Email |
Subscribe by RSS |
Follow on Twitter
All JBJ posts |