Composer-saxophonist Henry Threadgill performed his quicksilver music with quintet Zooid at the Jazz Gallery a few days back: here are the photos. He talked at Jazz at Lincoln Center, also: a brief synopsis.

I was putting final touches on the article Down Beat commissioned about Threadgill, who I first heard perform live in the early 1970s, when Ken Drucker, general manager of media for Jazz at Lincoln Center, held a rare public discussion with him in JALC's Diamond Education Center. Here's how Ken described the session:

Henry is quite talkative but doesn't necessarily always speak directly to the questions asked. He spoke about the nature of his compositions and how they develop once they're played by his band. We didn't get to the intervallic nature of his music but did get to the opportunities for performing and the nature of his audiences.

He did talk about his early days in New York and playing with Howard McGhee, which I found interesting, and also about how he goes about finding young musicians to work with. He has very strong views about music education (and is very well-informed about the conservatory system in Cuba), most of which we talked about backstage before the event and which I think only came out a bit in the public portion.

The crowd was kind of interesting, as well, as Liberty Ellman, Steve Coleman and JD Parran were all there. Once the video's edited, we'll put it up here: http://www.jalc.org/jazzED/streamin/index09.asp.
I'm eager to see it — and also the promised 4-camera shoot of Zooid's concert (with guest cellist Chris Hoffman) at Roulette last fall, which will eventually be online at
Roulette TV
. Until then, enjoy this series shot by
Robert Klurfield
at the Jazz Gallery, where Threadgill and Zooid performed to another SRO (though small) crowd, with utter confidence regarding its fast-moving, uniquely structured repertoire: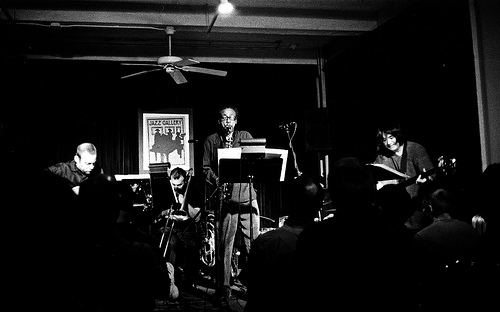 photo c 2010 Robert Klurfield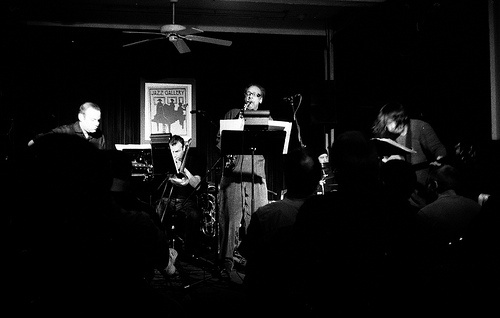 photo c 2010 Robert Klurfield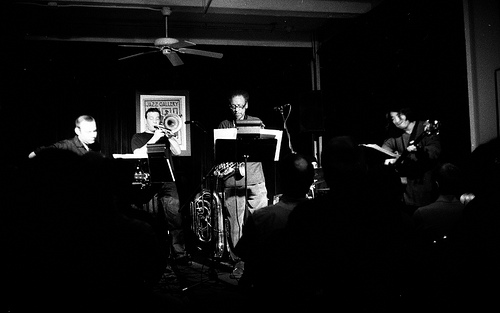 photo c 2010 Robert Klurfield
photo c 2010 Robert Klurfield
howardmandel.com
Subscribe by Email |
Subscribe by RSS |
Follow on Twitter
All JBJ posts |