Last weekend the World Saxophone Quartet and percussion ensemble M'Boom blasted 21st century conventions at Birdland — this weekend Pierre Boulez conducts the Chicago Symphony Orchestra through Bartok's two piano & percussion concerto and Stravinsky's "The Firebird" at Carnegie Hall. Listening opportunities in New York City cover a vast range. Duh, right?

The rapacious James Carter has joined the WSQ, a group formed in 1977 by the late alto saxist Julius Hemphill, altoist Oliver Lake, baritone Hamiet Bluiett (they were all storming New York via St. Louis's B.A.G./Black Artists Group) and tenorist David Murray (then newly roaring out of California). The idea was avant-garde: A sax section standing alone, free to harmonize on tradition-steeped themes or bust forth in collective improvisation. Hemphill left the band in '89, pursuing his own projects including a sax opera Long Tongues, in which precocious James Carter starred) but before he did the WSQ collaborated once or twice with other special ensembles, including M'Boom, the unique percussion troupe founded by Max Roach, in 1981.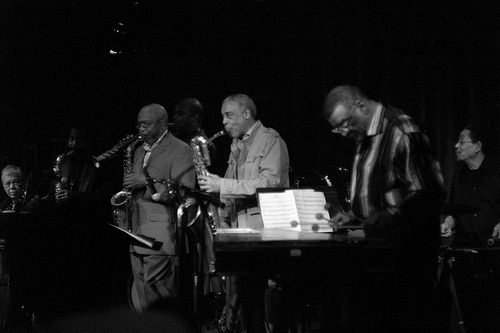 Ray Mantilla, David Murray, Oliver Lake, James Carter, Hamiet Bluiett, Warren Smith, Joe Chambers, Birdland NYC Jan 2010, photo (c)
Robert Klurfield
Flash forward to now: Carter on tenor and soprano saxes out-squeals and 'squalls Murray (not that they're competitive; David stood by James, and during his own solos opted for heroic lyricism, a la Ben Webster). Lake launches his own far-flung elegance and Bluiett has the roughest, toughest golden-hearted bari sound in the business. M'Boom today is led by Joe Chambers, from behind vibes; Eli Fountain, Warren Smith, Steve Barrios and Ray Mantilla produce layers of beats and grooves switching among traps, tympani, congas, chimes, marimba and hand-percussion. The saxes went wild, the percussionists framed, underlined, grooved, gonged — good time had by all.
What's that got to do with going to the symphony? which I seldom do — but look forward to on Sunday night, when I head to
Carnegie Hall
expecting to be enthralled. There's no denying the sweep of a fine orchestra, working with precision to deliver brilliantly composed music, at the command of an incisive, energized conductor who makes it live now. That's what I hope for from Pierre Boulez (85) at the helm of the Chicago Symphony Orchestra (for which he was principal guest conductor, is currently conductor emeritus), realizing two modernist masterpieces and his own piercing
"Livre Pour Cordes
."
Power, intelligence, sensuality and drama are not exclusive features of any one kind of music. I've been listening all week to
early blues
(for a writing project and the class I teach at NYU's School of Professional and Continuing Education). I took time out only to dip into the first volume of
The Last Dance
, pianist Cecil Taylor's marvelous duet with bassist Dominic Duval at the San Francisco Jazz Festival in October 2003. There's consistency in this variety — all the musicians have eagerness to engage, not ignore, complexity; an acceptance if not fascination with or preference for darker regions but not to get lost in them, an desire to court surprise and unlock passion. It's thrilling to listen so widely, to mix it all up — can anyone be against it?
howardmandel.com
Subscribe by Email |
Subscribe by RSS |
Follow on Twitter
All JBJ posts |