A
Chicago
mainstay, whose efforts supported local and touring musicians starting in the early '40s but who didn't record under her own name until 2004,
Earma Thompson
deserves to be celebrated as an outstanding example of how women have participated in jazz often more than is acknowledged, from behind the scenes. As the Chicago Tribune's
Howard Reich
wrote in his July 16Â 
obituary
 of this significant pianist and salon —
not
saloon — keeper, "Earma Thompson never really had a chance to become famous."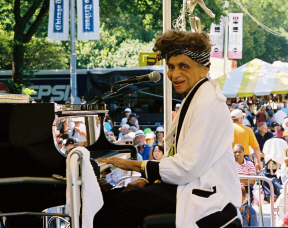 www,JazzChicago.net/jazzfest.html

Thompson's death was brought to my attention by her friend and record producer Steven Dolins, whose small independent label The Sirens comprises just over a dozen Chicago-identified jazz, blues and gospel piano albums (Dolins' own appreciation of Earma is here). Dolins had been introduced to Thompson by our mutual pal blues 'n' boogie pianist Erwin Helfer, but she had long been a local institution. 
A graduate of jazz-renowned
DuSable High School
, which she attended at the same time as  as singer
Johnny Hartman,
pianist
Dorothy Donegan
and tenor sax mainstay of
Sun Ra's Arkestra John Gilmore
, Earma was initially a choir singer and classical and church pianist, introduced to jazz by drummer
Marshall Thompson
, mainstay at the posh London House and later the Playboy Club, to whom she was married for more than 50 years. The couple served as a social hub of the Chicago scene, being friends with
Ahmad Jamal, Eddie Harris, Oscar Brown Jr.
and the like, as well as owners of a Side South three-flat which was often the scene of jam sessions and rehearsals, and in which bassist
Rufus Reid
 long occupied the second floor.
Earma, whose style easily bridges any distinctions between blues, swing and beboppish modernism, backed up singers
Joe Williams
and
Billie Holiday
— who wanted to hire her to tour, but the pianist wouldn't leave home, her husband and their son
Terrance
(they were neighbors of
Michelle Obama
when the First Lady was growing up; Terry, a drummer like his dad, played at the Obama's wedding reception). There is also a nephew named Marshall Thompson, leader of the R&B Hall of Famers the
Chi-Lites.
 
Though she worked professionally in the '50s and thereafter, Earma was rarely lured into the spotlight, but not because of a lack of talent or skill. Her piano touch is traditional in most senses, her ideas based in the urbane blues idiom and turn quirky during solos, typically sporting a lovely lilt.
"She was extremely humble, articulate, intelligent, elegant and had a fiesty side," Dolins reports. "She'd roll her eyes at musicians who didn't know the chord changes." He says it took him a year to persuade her to record
Just In Time
in 2004 with bassist
John Whitfield,
but that after he went with her on a trip to New York City where she performed on
Marian McPartland'
s NPR program
Piano Jazz
Earma and he became really close. Saxophonists
John Brumbach
and
Ari Brown
, plus bass and drums are in the lineup on
Madam Queen,
Earma's second cd for The Sirens, from 2007. "She was a great blues player and could really swing, too," Dolins says with palpable sadness. "I used to talk to her every day."
It takes women like Earma Thompson as well as men like her husband Marshall — credited on some 40 albums from 1958 through 2004, though never recorded as a leader — to create and sustain both the art and community of jazz.
howardmandel.com
Subscribe by Email |
Subscribe by RSS |
Follow on Twitter
All JBJ posts |