Fred Anderson, tenor saxophonist, is one of America's less-acknowledged Jazz Masters, a man of deep musicality who has had enormous influence on three generations of players and listeners drawn by his brawny, free-wheeling Chicago sound. He turns 80 on March 22, and a weeklong celebration at the Velvet Lounge, his music room on the near-South Side, starts tonight, March 15, with the AACM Great Black Music Ensemble. 
A founding member of the
Association for the Advancement of Creative Musicians
, Anderson stayed home when the Art Ensemble of Chicago, Anthony Braxton, Leo Smith and even motivating AACM co-founder Muhal Richard Abrams left for greener pastures. Anderson has always been unassuming to the point of self-deprecation: he didn't record under his own name the U.S. until
The Missing Link
in 1979. But long before then he was positively community-minded, able again and again to find places for himself and musicians he mentored to play and be heard, which has been neither easy nor financially lucrative.
Productive, yes! I wandered into one of Fred Anderson's sets in a Unitarian coffee house near the Northwestern U campus when I was 17, was struck by the power of his self-expression, and have never been the same. Anderson evidently had the same affect to even better purpose on trumpeter Billy Brimfield, his longtime duo-mate; on Amina Claudine Myers, the keyboardist and Ajaramu, the drummer, with whom they played way on Sunday afternoons in Old Town; on Joseph Jarman, later of the Art Ensemble, to whose debut album 
Song For
 Anderson and Brimfield lent their energies; on Steve McCall, Douglas Ewart,
George E. Lewis
, Adegoke and Iqua Colson, Hamid Drake and the rest who developed their ideas at his old North Side place the Birdhouse; on guitarist Jeff Parker, pianist Jim Baker and the many other musicians who've worked with him over the decades, as well as the international artists  and fans who made their way to his low-key tavern on South Indiana Ave., which earned a world reputation on the purity of its vibes.
"This place is a shrine,"
Evan Parker
, the extraordinary British saxophonist, is reported to have said after a night at the Velvet. Other reedsmen with enormous, uncompromising sounds — from New Orleans'
Kidd Jordan
to Germany's
Peter Brotzmann
to Chicago's
Ken Vandermark
— have felt that way. There's something about drawing the air in a joint where the goal has been uninhibited self-expression and cohesive collective improvisation that takes on an aura of sanctity, even if it's a dive called the Funky Butt in a brothel district for sailors like
Storyville
, circa WWI. Not that any of Anderson's venues were ever that rough. 
He used to be an imposing bear of a man (now slimmed by age, he's still got vitality) but was calm and quiet, except for his music. Though self-taught in the sway of the classic jazz saxists Coleman Hawkins, Lester Young and Charlie Parker, Anderson, rather than learn conventions and expand upon them, developed a unique vocabulary and repertoire, encouraging musicians who came under his wing to do the same. For more than 40 years he's blown gut-wrenching, high energy solos as if he was setting them let loose from being caught deep in the bell of his horn.
In an article many years ago for Musician magazine, reflecting on the power with which he blew for young white and black audiences in the late '60s-early '70s, I called Fred Anderson "our Coltrane." I was thinking of his quality as an intrepid searcher, the way he bent into and hunkered down with long, complicated phrases that might include demonic howling wails but usually evolved into impassioned statements of  determination, devotion, transcendence, serenity and implacable strength. Other musicians are not the only ones Fred Anderson has inspired. Thanks, Fred, for the music — thanks to the musicians who are performing in his honor.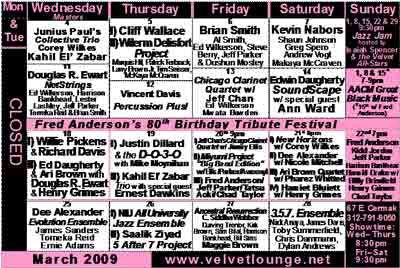 howardmandel.com
Subscribe by Email
Subscribe by RSS
All JBJ posts