The Master Musicians of Jajouka, a troupe from Morocco's Rif Mountains, stretch anyone's definition of "jazz." They sure don't make the cut according to alto saxophonist Lou Donaldson, who regaled the crowd attending his "Jazz Conversation" at the PDX Jazz Festival (Portland OR) with the opinion that he's the only real "jazz" artist on the sched during the fest's second weekend, dissing saxophonists Eric Dolphy, Ornette Coleman and Tom Scott, among others, as having "nothing to do with jazz" slighting Frank Morgan as a "phony" and Cannonball Adderley as "not all they said he was."
Such comments didn't keep the fest's Friday night jam session from having a tap-dancing alto  sax player who calls himself Shoehorn
(photo slideshow here by R. Andrew Lepley
) do a tune,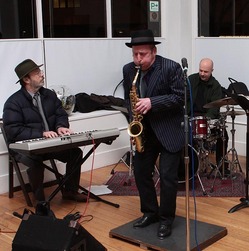 or audiences from sitting raptly for arch cabaretiste
Patricia Barber
, the
Spirits of Havana
quintet led by Canadian sax-and-flutist Jane Bunnett, electric guitarist
Pat Martino
's organ trio. Out of such disparate entertainments, festivity is born.

Apologies to readers of Doug Ramsey's Rifftides who expected immediate and complete  coverage of the Portland fest's second weekend — I try to make amends below.I arrived after a protracted travel day (Alaska Airlines did what it could, but Newark Airport is a dull place to sit for six hours awaiting an electrical repair to tail flaps), my timing all off.
I was too late to catch the 18-piece
Portland Jazz Orchestra
(part of the PDX Jazz education initiative) play a "Blue Note Legends" program that included Herbie Hancock's
"Maiden Voyage"
and a suite based on Eric Dolphy's
Out To Lunch
, two of my all-time favorite recordings. I did make it to the opening blast of the Master Musicians led by Bachir Attar, a fest-associated production put on at the funky Roseland Theater.
Few performing ensembles might seem as far removed from the jazz tradition as the Jajoukans, who end a winter tour at the Knitting Factory (in Brooklyn) February 28. William Burroughs dubbed them "a 4000 year old rock band," and they could be easily be the real-life model for the morphing musicians depicted in the "Pink Elephants on Parade" sequence of 
Dumbo
.
There is much that is otherworldly, primordial and tribal about the eight mostly impassive men dressed in green sheaths and white head-wraps playing chant-like call-and-response patterns, mysteriously synchronized polyrhythms and simple melodic bits on battered violin, raspy double-reed ghaitas and the four-string bass-guitar-like gimbri, all in a rip-roar that becomes hypnotizing. The massive ensemble sound changes through the accretion of overtones from resembling nursery rhymes to opening vast cracks in the sonic world, so the Jajoukans (led by Bachir Attar, who did a fine lecture-demonstration with percussionist Adam Rudolph at my NYU class in "World Music" last summer) are revealed as linked to jazz's legacy of collective improvisation, Count Basie's riffing big band and Albert Ayler, repetitive and phase music compositions by Philip Glass and Steve Reich. When one of the Masters gets up and dances as daintily as Stan and Ollie,
he demonstrates that the low comedy of female impersonation we in the West associate with burlesque, vaudeville and musical hall entertainments dates back much farther. The Jajouka music at first hearing is raw, but within and about it there is complexity and, when that's decoded, delight.
Friday at the fest was diminished by the cancellation of vocalist Cassandra Wilson with opening act pianist Jason Moran. In the absence of such a major ticketed event, I drove to fest-associated gigs around town with PDX artistic director Bill Royston, hearing reedist
Michelle Medle
r's Quartet at the pleasant West Café and a minute of Metheny-esque guitar fusion by
Dan Balmer
at Rogue Ales Green Dragon Bistro (full of 20-somethings, few paying much attention). Hung out at an earnestly ambitious free-of-charge concert at the noisy Art Bar of the Portland Center for the Performing Arts by the two-saxes
Blue Cranes
avant-jazz foursome and the "new music"
Paxselin Quartet
, also comprising two reedists, bass and drums (a keyboardist appeared, when the bands played together), then ended up at the open jam mc'd by ASCAP Young Jazz Composer award winning pianist
Ezra Weiss
, which featured (besides aforementioned Shoehorn) a Steinberger electric guitarist named Chance and go-for-it singer Teresa Ross (is
this
the right Teresa Ross?), who threw down on Monk's "In Walked Bud" (and on Saturday, "Well You Needn't). There was a parade of pianists, drummers and bassists at the jams over two nights — among the strongest sitters-in was young alto saxophonist
Chris Brown
, whose driving solos would have won over even Lou Donaldson.
Donaldson, a star in the 1950s of Blue Note Records (the 70th anniversary of which was the PDX Jazz Fest theme), performed Saturday afternoon with his quartet — Randy Jackson on electric guitar,
Akiko Tsuruga
organ, Fukushi Tainaka drums. At age 82, having come up through Charlie Parker, Art Blakey, Jimmy Smith et al and still blowing with nearly undiminished skill, Donaldson has the right to consider jazz as narrowly as he cares to.
Larry Appelbaum
, jazz specialist at the Library of Congress, had conducted the "Jazz Conversation" as a "Before and After" listening test for
JazzTimes
magazine; he couldn't debate Donaldson's assertion that jazz means funky melodic blues and bebop that doesn't stray far from a tune. The band held fast to that dictum, Tsuruga especially exuberant whooshing on keyboard and footpedals.
Vibist
Bobby Hutcherson
headlined that afternoon concert at the Crystal Ballroom. On Blue Note in the '60s and '70s, he recorded jazz-beyond-jazz (Dolphy's
Out To Lunch
,
Judgement
! with pianist Andrew Hill,
Life Time
with Tony Williams, his debut-as-a-leader
Dialogue
and second effort
Components
) and jazz-jazz (
Idle Moments
with guitarist Grant Green,
Gettin' Around
with tenor saxist Dexter Gordon,
The Procrastinator
with trumpeter Lee Morgan). I also love his 1977 album
The View From the Inside
. Hutcherson has always used his mallets to give extraordinary meaning to notes — no one hits the vibes' metal bars with comparable nuance and panache. Now suffering from emphysema, he let pianist Joe Gilman carry many tunes, soloing sparely but purposefully. I had to leave before he played one of his best-known compositions,
"Little B's Poem,"
and I hope to get a chance to hear him do that live again.
I was off to publically interview
Jane Bunnett
, who, with her trumpeter-husband Larry Cramer, has specialized in Afro-Cuban music in half-a-dozen Blue Note albums. She's a lively, candid speaker, self-deprecating yet spunky and warm — our "Jazz Discussion" will be posted by NPR station
KMHD
, where my "Discussion" with
Ornette Coleman
from last year's PDX Jazz Fest is archived. Bunnett, Cramer and their hot rhythm trio of Afro-Cuban heritage (
Elio Villafranca
, piano; Yunior Terry, bass; Ernesto Simpson, drums) performed tight, well-informed arrangements the next afternoon, opening for guitarist Martino, who gave a generous showcase of his piercingly articulate yet soul-drenched organ trio style. But Saturday night was given to the young Seattle-born, Brooklyn-resident pianist
Aaron Parks
, a recent Blue Note signatory, whose music was laid back and unripened for my tastes, and Chicago-based vocalist-pianist Patricia Barber, whose pretentions I find off-putting. Leaving her set at the cushy Newmark Theater half-way through, I found the perfect antidote in the nearby Art Bar, where
Rebecca Kilgore
offered crystal clear, relaxed and mature interpretations of American songbook standards, backed by quietly hip pianist-composer-writer 
Dave Frishberg
.
Sunday morning the SEI Sounds of Soul Choir, 50-strong, sang with infectious enthusiasm, backed by an electric combo at the Gospel Brunch sponsored by
Self Enhancement, Inc
., a community organization offering Portland youth invaluable after-school and summer programs. The Fest's finale was
Kurt Elling
's "Dedicated to You" show, renditions of songs associated with the classic
Johnny Hartman/John Coltrane
album (on Impulse! rather than Blue Note Records). With commanding voice and convincing stage poses, worthy collaborators including severely under-rated pianist  
Lawrence Hobgood
(responsible for varied, flowing arrangements and inside-outside solos), saxophonist
Ernie Watts
(who blew with both finesse
and
passion) and the local Vox Humana String Quartet, Elling delivered musical drama beyond expectation, especially exciting in his climactic
version
(from his album
Man in the Air
) of Coltrane's "
Resolution
" movement of 
A Love Supreme.
Okay, is that a long sentence? Is this a long posting? It was a long festival weekend, and I predict much of the music will be long remembered by those who heard it. Did it succeed in furthering the fortunes of the PDX Jazz Festival, which you may recall had been cancelled last spring due to the pullout of a major sponsor, then rescued last fall by sponsor Alaska Airlines? There were whispers that the Fest had run in the red, due to a fall-off in ticket sales blamed on the overall US economic crisis, but no official word on that was forthcoming. Will there be another PDX Jazz Festival? Was the impression of a downturn predictive of the jazz fest season to come? Stay tuned, dear readers — research towards answering those questions is promised for postings to come.
howardmandel.com
Subscribe by Email
Subscribe by RSS
All JBJ posts