Prior to tomorrow's inauguration, the New York Times (and I suspect many other publications) has focused in many columns, book reviews and reports on Barack Obama's election as a turning point in the U.S.'s movement towards full civil rights for all people. The entertainment section makes the case for movies having led the way to our first not-completely- "white"-identified President.
I maintain that the jazz community was in the forefront of the civil rights movement, and remains in the lead for demonstrating how all-inclusive
meritocracies
look, sound and work. A historical document highlighting the conjunction of jazz and the Civil Rights movement has come to hand — programs from two nights in 1963 when major players performed and major jazz journalists emceed in benefit for
CORE
(the Congress of Racial Equality) at New York City's Five Spot Cafe, plus a letter of thanks to bassist
Henry Grimes
for his participation.
CORE has been one of the most powerful organizations driving the Civil Rights movement from the late 1940s to this day, employing Gandhi's principles of nonviolent
civil disobedience
with 1950's sit-ins and 1960s' Freedom Rides to combat segregationist policies in the United States.
James Farmer
was a co-founder of CORE and its first national director. Click
here
 for the program of the benefits CORE held October 20 and October 27.
The extraordinary gatherings on October 20 and October 27 of musicians now regarded as jazz giants — among the most recognizable saxophonists Ben Webster (playing tuba? or not the
tenor saxophonist
Ben Webster?), Al Cohn, Zoot Sims, Booker Ervin, Eric Dolphy, guitarist Kenny Burrell, brassman and composer-arranger Thad Jones, pianists Bill Evans, Paul Bley, Sal Mosca, Horace Parlan, Billy Taylor (now
Dr
. Billy . .. ), Don Friedman, Dick Katz, drummers Roy Haynes, Ben Riley (mispelled "Reilly" — and other misspellings abound), Paul Motian, Joe Chambers, bassists Gary Peacock, Ronnie Boykins (of Sun Ra'sArkestra), Ron Carter and vibist Bobby Hutcherson, singers Helen Merrill and Sheila Jordan — were likely prompted by the Civil Rights rally at the Lincoln Memorial on August 28 (occasion of Dr. Martin Luther King Jr's "I Have A Dream" speech)Â and the September 15 bombings by the Klu Klux Klan of Birmingham, Alabama's 16th St. Baptist Church, which targeted church-going children and killed four little girls. That bombing caused enormous outrage, is cited as a turning point against the KKK and in favor of Americans' consititutional Civil Rights over those rights' suppression through murder (i.e., American-born terrorism), and, among other effects, inspired John Coltrane's beautiful, heart-rending composition "Alabama".
The John Coltrane Quartet
played
 "Alabama" on
Ralph J. Gleason
's tv program "
Jazz Casual.
"
The Five Spot, site of legendary performances by Thelonious Monk (with Coltrane), Cecil Taylor, Charles Mingus and Ornette Coleman's 1959 breakthrough band with Don Cherry, Charlie Haden and Billy Higgins, was on the southeast corner of Third Avenue and St. Marks Place (now a bagel and pizza joint). The CORE benefits' emcees, besides
Dr. Taylor
who has made his mark as a jazz televison and radio broadcaster, educator and activist as well as pianist-composer-bandleader, were
 Don Heckman, then writing about music for the Village Voice, soon to go to the New York Times, and today, after a lengthy tenure with the now beleaguered Los Angeles Times, is a key blogger at Notes from the Left Coast and The International Review of Music;
 Alan Grant, then WABC disc jockey behind the radio show "Portraits In Jazz" eventually retired with his wife to New Zealand but with his own Last.fm channel;
 Ira Gitler, a '50s record producer and in '63 the New York editor for Down Beat, a jazz historian, author (with Leonard Feather of The Biographical Encyclopedia of Jazz) and journalist these days teaching at Manhattan School of Music and often read in New York's Jazz Improv magazine.
Many of the musicians at the 1963 benefits are still creating vibrant music today, Among these are bassist and violinist Grimes, who provided the documents. Farmer wrote to him:
"Dear Mr. Grimes, All of us at CORE are deeply grateful for your help in making the benefit performances at the Five Spot a resounding success.
In the extremity of the Civil Rights battle that now confronts us, this kind of tangible and practical support is essential.
Thanking you again, I remain yours in freedom, James Farmer.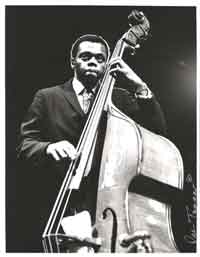 This
photo by Lee Tanner
(thanks, Lee!) is of Grimes in the early '60s, when he was a first call bassist for everyone from Benny Goodman to Cecil Taylor. After his relocation to the West Coast at the end of that decade, Grimes fell into a 30 year period of musical inactivity, but since his 2003 return to New York has made an extraordinary comeback to performing and recording, poetry writing and other forms of expression.
He and his wife, jazz advocate Margaret Davis Grimes, are proud to see the election of Barack Obama. At a dinner party in Berlin the day following Obama's election, Grimes said, "We are rejoicing in getting used to this great new feeling. We have had all the years of wondering when things would ever come right, and now it's all coming together as we have always known things have the power to do." His wife added, "In one brilliant moment, the American people have risen to a higher level of consciousness, elevated and purified by the great light and grace of Barack Obama."
For all the hope and trust of the majority of the jazz community, that community has never been naive, and acknowledges that the struggle continues.