Talk about a legendary career: Chicago saxophonist and clarintest Franz Jackson, who died at age 95 on May 6, spanned American vernacular music from the Roaring '20s to the postmodern present. He began as a 16-year-old professional with stride and boogie woogie pianist Albert Ammons, starred as a featured soloist in the the hottest Depression Era big bands, entertained WWII troops under USO auspices, popularized Midwestern neo-traditional "jass" in the '50s and '60s and kept playin' in essentially uncategorical situations up until a couple of weeks of his demise.
Among Jackson's recent high visibility gigs were his turn at the
New Orleans Jazz and Heritage Festival
of 2007, and also last year's "Tribute to Fletcher Henderson" commissioned by the
Jazz Institute of Chicago
for the Great Black Music Ensemble, performed at the Frank Gehry bandshell in Millenium Park, where he sat amid creative musicians less than half his age, not revisiting the past but rather carrying it forward.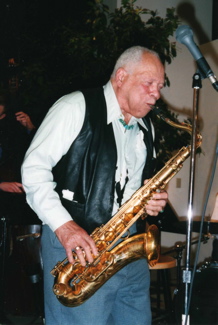 Jackson was also a participant in the Jazz Journalists Association's panel discussion of King Oliver at the Chicago Jazz Festival in 2005. Jackson heard Oliver play at the Royal Garden Inn, where Louis Armstrong joined him, in the mid '20s, and had sharp recall of that experience. His music from his salad days is heard on recordings with the always hardswinging, often groundbreaking Earl "Fatha" Hines big band and some editions of Fats Waller's small groups. 
Jackson was born in Rock Island, IL, lived in Europe for a time, and was beloved in Chicago, where he was based for most of his life. 
photo of Franz Jackson, 2002, courtesty of Bob Cook; from the saxophonist's performance at Quad City Arts, Black Hawk College, for the 

Jazz & Blues Restoration Project, part of the Illinois Mississippi River Valley Project.