Lourdes Delgado, photographer of the series "Jazz in New York: A Community of Visions", has launched a new line — or should that be "cube"? "Geographic Portraits," collages of large format negatives, with strong reference to the Cubism of Picasso (beloved in her hometown Barcelona) and George Braques. Her first such image is on display through August 11 in the 13th Annual International Women's Exhibition at the Soho20 Chelsea Gallery — to see the photos, click "continue reading."

"Jazz in New York: A Community of Visions" now comprises 400 photos of current musicians, record producers, club owners and even critics, seen in the revealing intimacy of their favorite environments. Early on in that ongoing project Lourdes captured me in my office, a shot to exhibit another time. But here's pianist Jacky Terrason at ease in his home.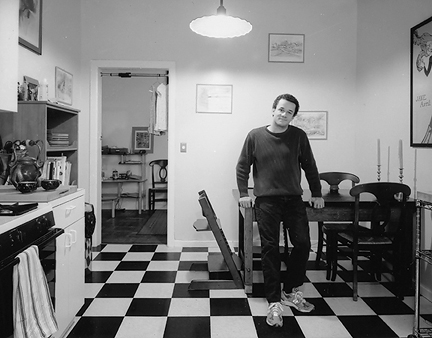 "Jeff" is drummer Jeff Ballard, who got his start with Ray Charles, is co-leader of the collective trio Fly, is scheduled to tour Japan with Brad Mehldau, Pat Metheny and Larry Grenadier in late September — and is Delgado's husband.



Lourdes has written of her new approach: "I use big negatives because of their capability for extreme and accurate physical description bringing something new to the Cubist's use of multiple points of views. The results are contradictory: very intimate, close portraits that at the same time are almost scientific.
"Jeff is composed by 20 black and white contact prints, from 4×5″ negatives, and mounted on a 24×24" black museum board. I use each entire negative without cropping or enlarging. The visual experience seems hyper real, allowing the viewer to see details normally not perceived. For example, one discovers the reflection of Jeff's eyelashes in the iris of his big eye and realizes that they are shown in reverse as in a concave mirror.
"Every portrait explores and solves different cubist problems generated from the lack of continuation between one negative point of view and another. To create a portrait, I held 5 sessions of two hours, shooting around 14 negatives in each. Afterwards I spend some days choosing which of those negatives to use and what direction to take in the next session. The portrait is not entirely defined until the last day."
Selected for the 13th Annual International Women's Exhibition, juried by Carrie Springer, Senior Assistant Curator, Whitney Museum of American Art
Soho20 Chelsea Gallery
511 W. 25 St. Suite 605, NEW YORK, NY 10001
phone 212-367-8994
Web: http://www.soho20gallery.com/
Gallery Hours
July 17- August 11, 2007, Tuesday – Saturday 12:00 – 6:00 pm