This week at the suggestion of composer Alex Shapiro, the Blogger Book Club takes on The Whuffie Factor: Using the Power of Social Networks to Build Your Business by Tara Hunt. Thanks, Alex! I hope it will really open up the chance to think and talk about how music and the related industries we each have contact with are embracing technology and social networking for better and worse. Every time Hunt wrote "business" I mentally substituted "cultural institution" and, whether I agreed with her or not, the ideas popped off the page. Now, here's Alex to get us started…
By Alex Shapiro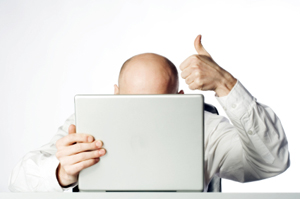 Those of us who are musicians and composers might think that we're in the music-making business, but we're actually in the relationship-making business. In this regard, we're no different than anyone in any business you can think of which relies on others to use or purchase one's wares. Each of us is selling all sorts of things that have little or nothing to do with the actual product we are touting, whether what we're offering is a piece of music, a piece of furniture, a piece of real estate, peace of mind, or even a piece of ass. No, I'm not equating composing with the oldest profession in the world, although I suspect that more than a few of my colleagues have occasionally felt that to be a generous description. But the two do have something significant in common: an attempt to connect with a willing, paying audience.
As artists, we may think that we are selling the product that we create. But in this day and age of what I term "the published life," in which many of us have a ubiquitous online presence that shares information about everything from our latest opus on our website to our latest ham sandwich on Facebook or Twitter, the truth is this: we are the product as much as our art is the product. The creator and the public perception of him or her, have become an undeniable part of what's being sold. Even those artists who spurn the enpixelated self-promo world remain subject to its effects, since potential fans interested in their work immediately head to Google to embark on a little due diligence. The jig is up: in the 21st century, whether we choose to don our pajamas, hide in our garrets, and ignore it all, or don our pajamas, hide in our garrets, and participate, the perception of who we are–or at least who we appear to be–is as important as the essence of what we create. Sometimes, even more important.
Enter "whuffie." Thanks to Cory Doctorow, a number of e-geeks have begun to use the word, which refers to the currency of one's professional reputation. Author Tara Hunt took it upon herself to delve right in and explore the phenomenon in her thorough book, The Whuffie Factor. In many ways, whuffie is nothing new at all: since the beginning of time, relationships, the perception of people, and their reputations have been what have driven human interaction. There are now two new components: the technology at hand that we use to accomplish this, and the global reach of that technology. Instead of one little village in a cozy Kyrgyzstanian corner knowing about Alex's Fabulous New Piece due to word of mouth, now Alex and her nifty piece have the potential to be known to millions with one click of a cheap plastic button on a computer keyboard. I'd call that progress, for any artist looking for a fan base, and hoping to get paid in more than just a barter of one donkey and a bushel of potatoes.
I speak publicly about this new way for artists to get their work out into the world to anyone who will listen. My cats know the spiel well. I'm fortunate to have platforms, live and in print, on which to throw down my soap box and shout about the joys of a happy, moat-less castle of art-making that is less dependent on surly gatekeepers than ever before. Living on a remote island that few have even heard of, I've become an odd, if functional, poster child for all this newfound e-joy. And yet, I am deeply aware that it takes a significant perception shift for some artists to embrace these concepts.
Adherence to tradition has much to do with some creators' resistance to change, as emerging artists coming from academic institutions often have professors who tout degrees and grants as the foremost approach to creating a music career, and are taught virtually nothing about publishing, copyright, web presence management, and other staples related to an ability to generate income from their art. Nothing is wrong with this if the artist is not intending to support themselves to a notable degree from their music. But if they would like to make music their professional career, a sense of entitlement will probably be less useful than an understanding of enterprise. Obtaining degrees and grant funding hinges on external efforts and requests. Building whuffie is generated from within, and becomes the currency of a self-administered "grant" program that pays us back throughout our lives.
Artists have every right to be skeptical as they view the the tricky balance between the quality of their creation and its perceived worth. The latter can be judged on aesthetics and content, or solely on a rumor. The arbitrary and sometimes unfair nature of these judgments can make us cringe, because we've worked hard to develop our talents to a point where we believe they should be appreciated on their own terms for their intrinsic worth. Yet in a world where people are far more likely to glean the buzz about someone's work before they actually, or ever, hear the work itself, it may be naïve for an artist seeking paying fans to compartmentalize the creation of the art from the hype about it. In a fully interconnected world, it is nearly impossible to separate the two parts of the process. And this is where Tara Hunt's The Whuffie Factor kicks in.
One of the limitations of the new music world is its self-referential nature, whereby accepted norms are…accepted norms, and fewer participants think outside of the taco shell. I find myself most stimulated and inspired by the observations of those who are not part of the arts scene, who see the larger trends in society and in the way people communicate. Right now, a working knowledge of the gestalt of the internet and a sense of abundance and global scope when thinking of who might listen to our Nifty New Pieces, may be the best antidote to the scarcity and tribulations of grant monies. Tara Hunt offers what I think is a very solid overview of the huge concept of what it is in this moment, with the tools we have, to build relationships that will build a career. That she is not specifically discussing the small niche of new music but rather the broad world of business, is a boon to artists who want to understand who our listeners are and how we might reach them. Our paying audience is not only each other: it is people from everywhere in the world, many of whom until now would never have been able to find out about us and all our musical niftiness. Whuffie rules.