Valentino's costumes for the fall gala (puffy and ridiculous mainly, making the beautiful women dancers look bulbous and encased and their fine, pointe-clad feet resemble hooves) may have generated the buzz for New York City Ballet this season, but the real excitement was, thankfully, the dances: three programs of pure Balanchine-Stravinsky, the last two of which continue until Sunday. Run!
Here is the start
of last week's review for the Financial Times of program one
:
Balanchine once said: "Probably dance would stop if we didn't have Stravinsky." The composer gave him solid foundations on which to build dances, an education in composition, and confidence. In 1972, a year after Stravinsky's death, the New York City Ballet organised a now-legendary festival of a whopping 31 ballets to his scores, including 21 premieres. For the next two weeks, the company presents the cream of that crop: 13 Balanchines, beginning with Apollo, Orpheus and Agon, the only three whose music Stravinsky made to order. Of this "Greek trilogy", Apollo and Orpheus were conceived as a pair, yoked musically and philosophically and also perfect opposites.
The music for the 1928 Apollo is all grand, sunny certitude. Stravinsky's tell-tale pulse may rollick as the young Olympian struggles to rein in his muses, but the music is too sweet to suggest trouble ahead. As for the choreography, the three muses' spiky legs evoke the sun's rays and their circling arms its body. Even as the steps shift between constructivist flatness and sculptural roundness, Apollo's eventual stature as the pillar of well-proportioned art is assured.
Still, he has some growing to do – where would the drama be otherwise? On opening night, Robert Fairchild presented the god evolving beat by beat. He favoured muscular impetus over static line, a brave and unusual choice that gave the performance the edge it lacked last year at his debut in the role.

Orpheus is as saturnine as Apollo is bright, but it has echoes of the earlier work.
For what those echoes are and what the current interpreters make of them, please click here for the whole Financial Times review.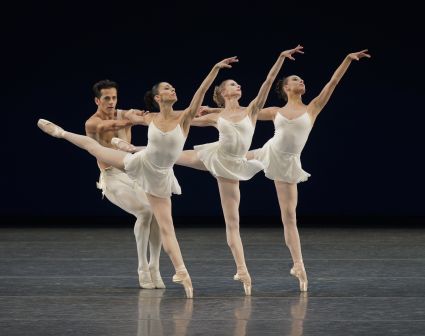 Robert Fairchild reining in his muses: Ana Sophia Scheller as Calliope, Sterling Hyltin as Terpsichore, and Tiler Peck as Polyhymnia. Photo by Paul Kolnik courtesy of the New York City Ballet.