With the Whitney Biennial's embrace of dance for the first time this spring, with commissions to choreographers Sarah Michelson and Michael Clark, and MoMA following suit next month with some sweet day, a curated series of postmodern premieres, it's fitting that fall began with works that also merged the disciplines.
No matter the style, dance involves a paradox: the body's vital solidity against the dancing's ephemerality. Jason Akira Somma's keenly promising Phosphene Variations deploys vaporous films and hallucinatory screen versions of live dancers to home in on this anomaly.
Enclosed in a palm reader's black curtains – though here they are only cordoning off a section of the interdisciplinary SoHo gallery Location One – a holographic Baryshnikov warps and wobbles on a stream of vapour. With every bend in the projector's misty light, his white shirt and beige slacks striate into bars of brown and grey. When you dip your hand into the airstream, he devolves into a muddy swirl, out of which another luminary emerges, such as Ailey alum Carmen DeLavallade or Somma's mentor (under Rolex's arts mentoring scheme) Jirí Kylián.
We do not need to recognise the artist, however, for these 3D figures to prompt a shiver of dread. Baryshnikov's belovedness and his greying may intensify intimations of mortality, but the film's ghostly silence and the cloud by which we see it would arouse such sentiments for anyone. The holograph comes so close to simulating life that you feel the gap.
The ensuing show in Location One's theatre (each week a rotating cast of local performers improvises with their trippy live screen version) might have strayed from this sombre theme – have been a loose end – if not for Frances Wessells. She is 93. The founder of Virginia Commonwealth University's adventurous dance department, Wessells began seated. On four variously sized video screens, Somma multiplied and stacked her silhouette, outlined in fluorescent hues, until it filled a whole virtual theatre, as if all her selves were watching a movie of her years slide by.
Eventually Somma – lanky, muscular and 32 – handed his camera to a colleague and joined Wessells. Imagine a panther cavorting with a dandelion.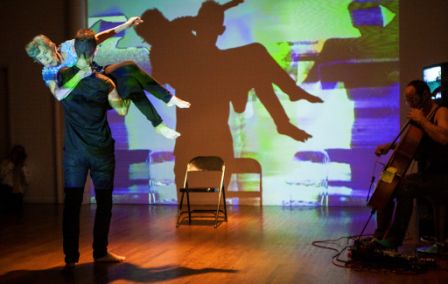 Jason Akira Somma and Frances Wessells with musician-composer Chris Lancaster. Photo: David Phelps
Jonah Bokaer's collaboration with light-installation artist Anthony McCall, which introduced BAM's new space, also took up the time-space continuum: the sheer physics of it. Here are two paragraphs from the middle of
my Financial Times review
of their
Eclipse
:


Eclipse is perfect for inaugurating BAM's handsome, $50m, 250-seat Fishman Space for experimental work, around the corner from the opera house. Taking full advantage of the flexible seating, Bokaer has the audience frame the dancers both at ground and balcony level. McCall's tilted grid of 36 hanging light bulbs also calls attention to dimension and perspective. The piece's drama is largely spatial: the romance of volume and plane. At the hour's cosmic start, all the Mars-red bulbs blazing at once seemed to emanate from a distant point.



Everyone but the choreographer. Photo by Stephanie Berger



The dancers brought the astral plane down to earth, beginning with Bokaer, who palmed one globe, then another, and kneeled to enfold a nimbus of light in a muscular embrace – an odd and poignant gesture. The other four (the excellent Tal Adler-Arieli, CC Chang, Sara Procopio and Adam Weinert) left the bulbs alone to translate space into time. If objects appear closer together the farther away they are from us, movement – time embodied – seems to slow as it recedes. So the dancers on the perimeter progressed through chunky patterns at zombie speed and orbited tightly around themselves while a gravity-driven loner reversed his path repeatedly as he slipped and slid, lunged, turned and flailed. Eventually someone else assumed his role and he gravitated to the margins.