August's week-long, free, outdoor Downtown Dance Festival has closed every year for the last five with the Indo-American Arts Council's increasingly popular, adventurously curated Erasing Borders show, which combines classical Indian dance with an Indian hybrid– this year, mid-century Bollywood by way of the Russian provinces.
Here's a bit from my Financial Times review of a month ago:



The Bollywood dances combined bouncy Indian folk rhythms with the veils, bare bellies, voluptuous arms and "come hither" glances of a hedonistic east borrowed from 1950s Hollywood, of all things. In a perfect Duck Soup update, the Mayuri Group we were watching hails from Russia, whose enthusiasm for Bollywood reaches back to the Cold War, when India supplied the Soviets with extra musicals. In one solo to the swinging 1958 ditty "Mera Naam Chin Chin Chu", Natalia Fridman swished and galloped and batted her eyes more like Betty Boop than like your average avenging Hindu goddess.
For that we had the splendid Kuchipudi dancer-actor Padmavani Mosalikanti as the vanquishing deity Durga. As the buffalo demon Mahishasura, her husband Jaikishore let down his guard: what could a mere woman do to him who had terrorised the universe? She knocked him to the floor and stabbed him with the trident of her three fingers as her eyes crossed with conquering fury. He gnashed his teeth and rolled his eyes in agony. It was glorious.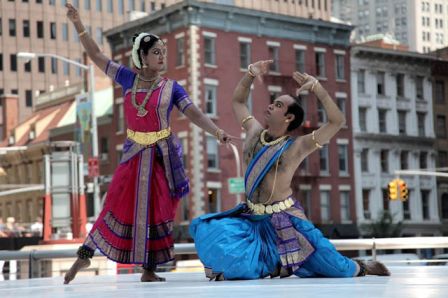 Photo by Darial Sneed
Having completed the task for which she was supernaturally born – through the combined powers of Brahma, Shiva and Vishnu – this Durga folded one leg atop the other as if sitting on air and gazed out serenely like a statue in a shrine.
For the whole Financial Times review (this bit is from the middle) and the end of this summer's dance, click here. Soon Foot will catch up with fall.