The first time I saw the company, with him still dancing strong, I was 14, it was 1978, and there, at Zellerbach in Berkeley —Sounddance. I leaned so far forward in my seat–drawn into the vortex of the dance–that I fell on the floor.
On paper, in description, Cunningham's kind of dance wasn't what I thought would move me. I was a repressedly moony teenager–the kind of girl who reads Sons and Lovers and can't understand why Paul prefers translucent Clara to the gloomy, entangling succulent, Miriam. But it did move me, more than almost anything else–and has done for 30 years. That's the sign of genius–to make a person alive to something that wasn't even in her. He changed me.

Every time I've shown up, I've wondered, Will the spell have worn off? Will the dance become what I've always anticipated it would be: cerebral and faraway? And every time, there it startlingly is.
Click for Alastair Macaulay's fascinating obit (did you know Cunningham started at Cornish as a theater major?) and here for a lovely video tribute (with clips from a few dances).

The New Yorker is also offering a bounty of archived articles and reviews–by Joan Acocella, Calvin Tomkins, Alma Guillermoprieto–on its website, some of which are available to anyone and some of which you need a subscription for. If you have a print subscription, they tell me, you can sign up for the electronica free here.

UPDATE: Guillermoprieto posts a short, very poignant remembrance of a Cunningham birthday party, with organic cake on paper plates, in his shabby loft.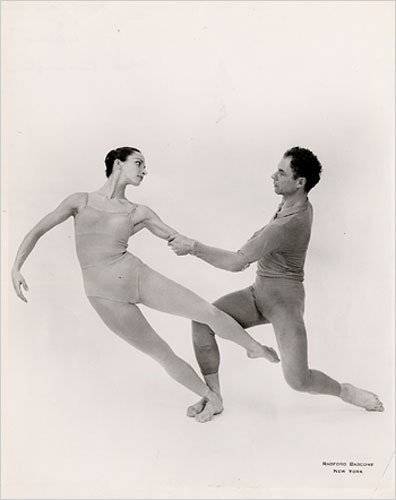 Carolyn Brown and Cunningham in Suite for Five. (Photo by Radford Bascombe for the Cunningham Dance Foundation. Via the New York Times).