But first, Benjamin Millepied.
The increasingly sought-after choreographer (and City Ballet principal) can make inventively odd dances, often when he's working in a minimalist mode. His 2005 quartet for men, "Circular Motion," at Fall for Dance, and his "Double Aria," at the 2005 New York City Ballet fall gala, transferred the workmanly, incremental procedures of Steve Reich or early Trisha Brown — and the fascination they slowly build–to ballet steps. But Millepied can also recycle tired sentiments, as he did in "Closer," the duet he created for Gillian Murphy and Ethan Stiefel in the last Joyce outing, in 2006, for Danses Concertantes, his young pick-up company. And his sequences of steps can be awkward to no purpose.
This year's show features a bit of all these things–the inventive, the staid, and the awkward. There's also romance and an almost comical, thoroughly delightful, downward-driving pluck that takes over whenever the Brahms or Chopin piano pieces, played live and magnificently by Natasha Paremski and Pedja Muzijevic, get brash. (Monsieur Millepied, use more music like that.)
Earlier this year at the Paris Opera, Millepied debuted "Triad" as part of an homage to Jerome Robbins; the two works tonight were further homage–specifically to the late choreographer's romantic and communal ballets, such as his portrait of three couples, "In the Night," or his ballet of friendships and love affairs formed in the moment, "Dances at a Gathering."
Millepied's dances don't illuminate the electricity between people the way Robbins can, and though they create bursts of mood, they don't sustain the mood, probably because the choreographer isn't thinking in sufficiently theatrical terms, as Robbins did. But there are some really nice moments and great qualities, mainly in the world premiere, "Without," to the Chopin preludes, etudes, and a nocturne. Here, in brief (because I have about 10 minutes for this), are some reasons to get to the Joyce this week:
u The virile leaping about and slashing of legs–and arcing, sudden arabesques–of the men when the piano moved into the lower register and got bombastic.
u The places the couples touched each other: a woman's hands embracing a man's bowed head, like a blessing in the form of ear muffs, causing the man to rise to his feet; a man's hand slid between the thighs of a woman laid out in his arms like a plank; a woman's head nuzzling a man's chest like she were trying to nest herself there; etc. These dancers aren't often in leading roles, so they don't entirely know how to free their faces from a mask of neutrality. But if they could, the pas de deux might be really sexy and touching.
u The configurations between the group and soloist or couple late in "Without," with the group as witness or amplification of the singular main event, as in a concerto.
u The musicality: Millepied listens, and reflects the changes in mood and dynamic in the dance. The relation is so just that I didn't often hear the music separate from the dancing. They are a whole–maybe even too one, if that's possible.
u The American Ballet Theatre corps members and soloists taking center stage. ABT has contributed 11 of the 12 cast members. Alexandre "Squeaky Slippers" Hammoudi, Sarah Lane, Luis Ribagorda, and Melissa Thomas were particularly excellent.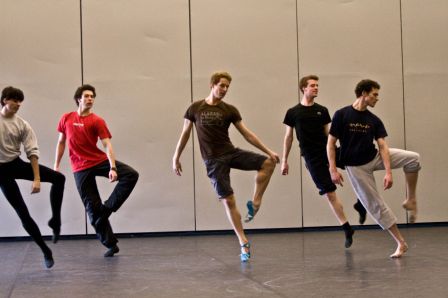 From left: Luis Ribagorda, Thomas Forster, Blaine Hoven, Eric Tamm,
and Cory Stearns in rehearsal. (Photo by Matthew Murphy)
u Thomas Forster. How could I have missed him? While I'm familiar with the other ABT dancers, I have no memory of this corps member, and he's been in the company for a whole year!
What I noticed first were his arms: relaxed and stretched, with the motion coming freely from the shoulder (imagine Michelangelo's Adam dancing), as it often does with people who use their arms feelingly.
Forster makes good use of momentum and gravity, which gives his movement a bounding, spontaneous quality. And he associates movement with feeling, so whatever he does conveys drama even when it's something simple like running across the stage. The other dancers look like they were told to run; he moves like there's an emergency.
When he partners the lovely Melissa Thomas in a romantic duet (they're a good match), he holds her as if he's holding himself back: so sexy.

"It's impossible to take your eyes off him," exclaimed my friend Amanda, a regular ballet-goer. You know when you see a movie star on stage, and you realize it's not just the screen making him larger than life, he really is? Forster was like that.
And he's a thoroughly contemporary creature: his looseness, his ease, his lack of ballet affectation, or even nobleness. He's perfectly suited to Millepied's work.
He'd also be great in (I'll start with dances in the ABT rep) anything by Tharp (which I see he's already been cast in, though I missed it) or Ratmansky; Agnes de Mille's "Rodeo"; Paul Taylor's "Airs"; and Balanchine's "Apollo" and "La Somnambula."

I'd also love to see him in things ABT doesn't do: Robbins' "Dances at a Gathering," "In the Night," and "A Suite of Dances"; Balanchine's "Divertimento from 'Baiser de la Fee'"; Wheeldon (who should borrow him for the next Morphoses season); and someday MacMillan's "Romeo and Juliet." Forster already is a Romeo.
n