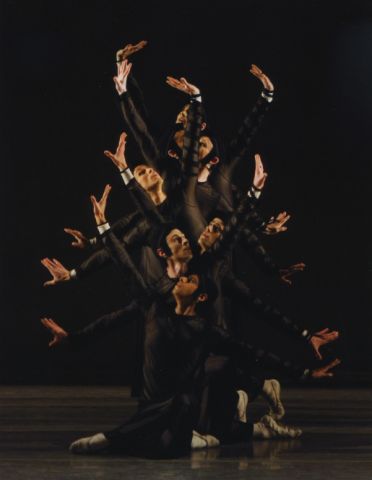 "Dybbuk's" excellent male chorus. Photo by Paul Kolnik for NYCB


So, while Robbins'
"Watermill" (1972) has something of a story but you don't know why it matters (see the
last post), "Dybbuk's" meaning and pathos are perfectly clear, even if the plot you
worry you're supposed to be following isn't.


Of the two problems,
I'll take the second every time. After all, even with "Swan Lake," I can't entirely decode the mime. But when Odette is describing how she ended up a swan, I do
understand there's a good reason for her terror. With "Dybbuk"–in which Robbins was trying to devise
a form in between story ballet and dramatic yet storyless ballet, as he was for "Watermill" –all there is to feel and think is available to you
once you get an idea of how the piece works. "Dybbuk" is more a commentary on the story than a telling of it. It helps to know the story–and then not worry about it.

Solomon Ansky's "The Dybbuk" inspired the dance. The canonical 1914 Yiddish play is about two children pledged to each at birth by their fathers, who are close friends. The boy, eventually a religious scholar, dies when
he discovers the girl's father plans to marry her
to a rich merchant. His spirit possesses her until she also dies, to
join him.

In "Dybbuk," the
male chorus (excellent, with special kudos to Sean Suozzi) plays several parts in turn: the mystics who teach the boy, the angels
of this fated love, and the village elders who will not let the dybbuk possess the girl, Leah, until
an archangel bears down on them. Sometimes it's not clear who is who, but the confusion
serves a purpose, suggesting that these ties that bind like the tefillin snaking
around the cabalists' arms (costumiere Patricia Zipprodt wonderfully reimagines
Chasidic–and angel–garb) are constrictive but also protective, loving
but also punishing. Talk about ambiguity!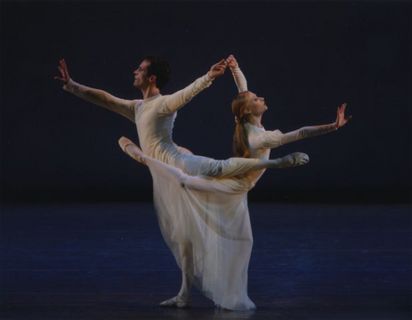 Janie Taylor as the possessed. On Sunday Joaquin De Luz, a dramatic, crazed spirit, plays opposite her again. Photo by Paul Kolnik for the New York City Ballet.




Janie Taylor (yay!
she's back!) as the doubly betrothed Leah brought out all that conflict by
stretching ballet form–in arcs and lines of yearning and despair–almost to the breaking point.

The dance wasn't
well received at its 1974 premiere, which makes some sense. "Fiddler on the
Roof" could be a hit because it mainly skirted the whole religious question for
the safer domain of ethnicity, while "Dybbuk" dips right in. But now that even
the religion of what was once dubbed "the world of our fathers" seems
less terrible–after all, how many of us even have fathers who wrapped
their arms in tefillin for morning prayer?– I don't understand why it's not
better liked.

You have one more
day–Sunday matinee–to give it a try. It's part of a fantastic triple bill, called Bernstein Collaborations, with Robbins' sailor dance "Fancy Free" and a
really excellent compaction of "West Side Story" that the choreographer created
a few years before he died. People left the theater humming.

Cheap standby
tickets for students. Go to nycballet.com for details.