Sometimes when a
Jerome Robbins ballet is making me cringe, I think of Deborah Jowitt's observation
in her wonderful Robbins bio that if the choreographer felt a conflict between
Broadway and ballet–the standard take on his career–it was only because of a more
fundamental opposition he set up for himself: between theatrical effect and
"the delicious ambiguity that dance permits," she says.
The problem is,
it's a false dichotomy. Theatrical effect and poetic ambiguity aren't opposites, they're on the same continuum. Ambiguity, metaphor, feeds off the concrete just as much as storytelling does. Robbins' misunderstanding of what
people who are anxious about it tend to call "abstraction" caused him all sorts
of trouble–including "Watermill," which reappeared last Friday at New York City
Ballet after a deserved rest of nearly two decades.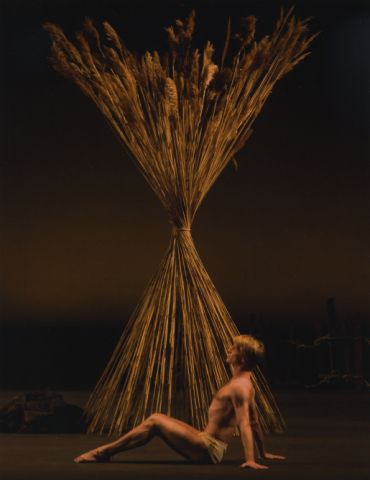 Nikolaj Hubbe in
"Watermill." Photo, Paul Kolnik for New York City Ballet.
"Watermill" involves
a middle-aged man tripping on his life. (The captivating Edward Villella
originated the role in 1972; for this run, NYCB has recruited the recently
retired Nikolaj Hubbe, whose beautifully ravaged body is perfect for the part.)
Reclining among bundled stalks of marsh grass, the man hallucinates his frisky
youth, love affairs that went on without him, and a beautiful woman (Kaitlyn Gilliland) hypnotically brushing her hair. Teiji Ito's flute and percussion score sets the meditative tone.
If a stranger said,
"I love a woman who brushes her hair," he'd still be a stranger. You'd want to
know, Is it the untangling of her tresses, the sensuality of the strokes, the
ritual of hygiene, the way she inclines her head–what? Or, because you'd know too little to begin with, you wouldn't
want to know anything. Even with its protagonist in his underpants, the most
naked thing about this ballet is Robbins' earnest conviction that he's saying something by leaving so much out.

Choreographers are still making this mistake–supposing that if they keep things open, they're giving us more freedom to
imagine. Imagination doesn't need
freedom, it needs something to dig its claws into. And Robbins proves again and
again with his unabashedly theatrical work ("Fancy Free" and "Afternoon of a
Faun," for example) that he knows this. He knows that the situation and the steps–the denotation and the connotation–don't run on
separate tracks. He knows that you don't have more of one when you're missing the
other.
But he forgets
nearly everything when he's trying to be an Artist, rather than just make a
dance.
What, you still want to see it? As part of the Robbins celebration at New York City Ballet that lasts through June (33 Robbins ballets on 10 distinct programs), "Watermill"
plays once more, this Thursday, with the ebulliently goofy "Four
Seasons." Cheap standby tickets for
students. Go to nycballet.com for details.